8 Major Scandals from 8 Minor Sports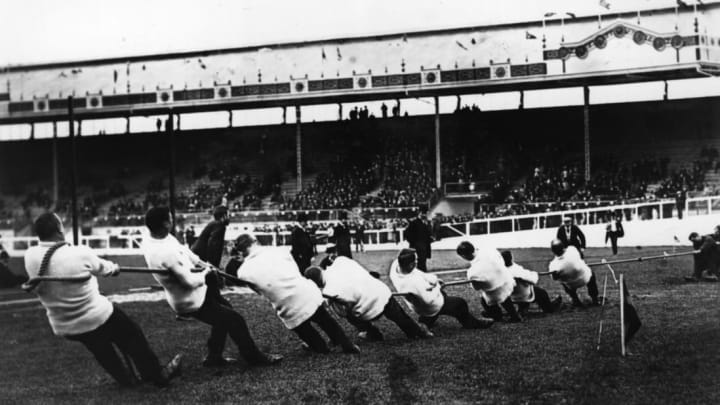 Getty Images / Getty Images
While baseball may have steroids and football may have illicit videotaping, many minor sports outside the mainstream have been shaken by major scandals of their own. Here are eight of our favorites that don't involve performance-enhancing drugs or Tonya Harding.
1. It's a Sprint, Not a Marathon
Cuban American runner Rosie Ruiz didn't just win the 1980 Boston Marathon, she set a new record with a time of 2:31:56. However, on closer inspection, it turned out Ruiz probably hadn't run the whole race. Or even most of it. No one saw Ruiz plodding along in the early going, and she somehow shaved over 25 minutes off her impressively fast time in the 1979 New York Marathon only six months earlier, further raising eyebrows.
It turned out that maybe the New York Marathon time wasn't completely legit, either; a freelance photographer came forward with the revelation that she had definitely been with Ruiz on the subway during the race. Soon, a narrative formed: it seemed that Ruiz had cheated in the New York Marathon, and cheated so well she'd posted an outstanding sub-three-hour time and qualified for Boston, a major achievement for any marathon runner. Her boss was so excited about this triumph that he offered to pay her expenses to run Boston. At this point, Ruiz was probably too embarrassed to fess up to her earlier misdeed, so she went to Boston and waited at Kenmore Square, around a mile from the finish line, jumped into the race, and sprinted to the finish. Most observers don't think Ruiz was trying to win, just post a respectable time, but she jumped in too early and set a new record.
Marathon officials stripped Ruiz of the title after interviewing her and finding she knew very little about the course's landmarks or distance-running jargon, but she still maintains that she finished both races fair and square. As such, Ruiz has never returned her first place medal.
2. The Day the Jai Alai Died
Jai Alai, the handball variant played with long, curved baskets, is one of the world's fastest sports. It's also one of the most popular for gamblers, a fact that tripped up the sport in the Philippines in the mid-1980s. After a massive game-fixing scandal came to light in 1988, the Filipino government decided it would deal with the problem in a manner even Pete Rose would have found extreme: it banned the entire sport. There was no more jai alai in the Philippines. The ban lasted until the game was officially revived in 2001.
3. Badminton: Suddenly Dangerous
Although badminton is usually just played at picnics and in backyards in the U.S., it's a very popular competitive sport throughout Asia. On July 28, 1988, it even turned deadly in India. Syed Modi, a popular figure who had won the national championship eight times as well as a gold at the Commonwealth Games and a title at the 1984 Austrian Open, was gunned down by a group of men as he left a practice session in Lucknow.
The murder became the talk of the Indian press, with speculation raging that the murder was masterminded by one of Modi's friends, who was also rumored to be the lover of Modi's wife. Other members of the press contended this arrest was a red herring perpetrated by prime minister Rajiv Gandhi. Although several arrests were eventually made, no one was ever charged with the murder, and the crime remains unsolved.
4. Harness Racket
Harness racing is a bit different from the horse racing you see in competitions like the Kentucky Derby. Jockeys sit in a little cart called a sulky, and the horse pulls them along at a trotting gait. However, in the 1950s it was as corrupt as any other major gambling endeavor.
Harness racing was quickly gaining popularity in its move from pastoral enterprise to legitimate gambling sport until a major scandal rocked it in 1953. The previous year a labor baron named Thomas F. Lewis had been gunned down outside his apartment in the Bronx, and the investigation into his untimely demise turned up some sordid tales of the racing industry. Lewis had been president of a chapter of the AFL's Building Service Employee's Union, and as such had been the de facto boss of Yonkers Raceway, the most popular harness racing track in the country.
During his rein Lewis forced the course's management to illegally hire hoodlums and ex-convicts as track employees without submitting to background checks. The track was also forced to retain four thugs as "labor troubleshooters" to insure against future labor disturbances that could halt racing. When Governor Thomas Dewey learned of this corruption, he promptly closed the track until each of the 1200 employees could be fingerprinted and properly identified as suitable for a racecourse.
5. Camp Barbed Wire
Rugby union is a major passion in South Africa, and the national team, known as the Springboks, wanted to win the 2003 Rugby World Cup so much that they went a bit overboard in their preparations. When the roster for the event was named in September 2003, coach Rudolph Straeuli decided to send the squad to a police camp in the South African bush. The activity, known as Kamp Staaldraad, or "Camp Barbed Wire," would bring the players together as a team.
This excursion was no corporate team-building retreat, though. It was a bit more brutal: players were allegedly forced at gunpoint into a freezing lake to pump up rugby balls, then dumped naked into a foxhole where icy water was poured on their heads as they sang the national anthem. Other reports included the news that the players were forced to crawl naked across gravel and kill chickens.
When the South African media got wind of this training exercise it became a full-blown scandal that cost Straeulli his job and earned the contempt of most fans. Even worse, the fracas demoralized the Springboks, who couldn't make it past New Zealand in the quarterfinals.
6. Fishy Results
In 2005 angler Paul Tormanen of Lee's Summit, Missouri, was a rising star on the competitive bass fishing circuit, often grabbing his limit of fish within an hour of a contest opening. His career seemed to really be taking off, at least until he was arrested in Louisiana for felony contest fraud. Tormanen admitted a fairly basic scheme for winning some big-money bass tournaments; he'd catch his fish beforehand, take them out on the lake, and tie them to stumps. He used his tethered fish to win the 2005 Red River Bassmaster Central Open in Louisiana, in the process taking home a new fishing boat and $10,000 cash. Unfortunately for Tormanen, another competitor found one of his ringer fish during a practice round and secretly marked it with the help of fish and wildlife officials. When Tormanen weighed in with his catch, authorities caught onto his fraud. The incident earned Tormanen a lifetime ban from B.A.S.S. competitions, and he received a suspended sentence of six months, a fine, 120 hours of community service, and two years of probation
7. Tug of Whine
Tug of war was still a medal event during the 1908 Olympics, and that meant it could become embroiled in a scandal. When a team comprised of Liverpool's finest police officers met the American pullers, the Englishmen quickly dispatched the Yanks. The Americans, though, cried foul. They claimed that the Brits were wearing illegal boots equipped with steel cleats to give them a traction advantage. The Liverpudlians countered that they were just police officers wearing police boots and that the Americans would have to deal with it. This response so enraged the American squad that they abruptly withdrew from the event, and the team from Liverpool went on to win the silver. That fall the Brits magnanimously offered to pull against the Americans with both sides wearing stocking feet and the proceeds going to the charity of their choice. However, it doesn't seem this match ever took place.
8. Drug Racing
Critics occasionally like to poke fun at NASCAR's alleged roots of Southern moonshining and bootlegging, but the now-defunct IMSA GT race circuit was rife with real smuggling during its brief life as an alternative racing league in North America. From at least 1975 to 1986 a handful of top drivers on the tour paid for their racing teams not just by selling sponsorships, but by operating a massive drug-smuggling cartel. How big was their outfit? When the drivers were caught, it was estimated that they'd imported and distributed over 300 tons of Colombian marijuana over the course of eight years. Several drivers, including John Paul, Sr., John Paul, Jr., Randy Lanier, and the Whittington brothers were convicted in connection with the ring. Former 12 Hours of Sebring winner John Paul, Sr. was the alleged mastermind of the operation; he received a 25-year federal sentence for charges that included shooting a federal witness. Pundits noted that the initials IMSA must have stood for "International Marijuana Smugglers Association."
Ethan Trex grew up idolizing Vince Coleman, and he kind of still does. Ethan co-writes Straight Cash, Homey, the Internet's undisputed top source for pictures of people in Ryan Leaf jerseys.