7 Silly Civic Wagers on Sports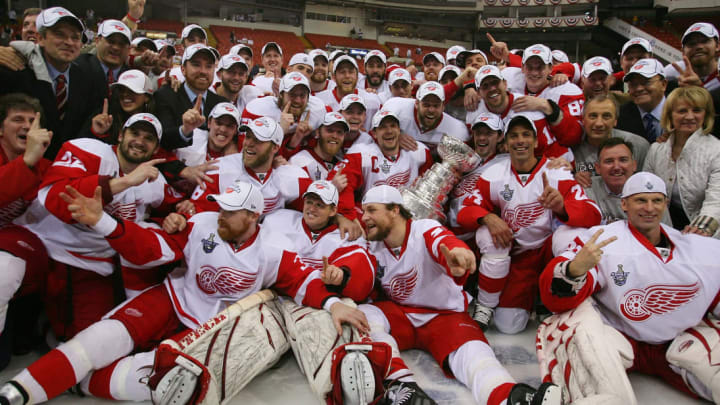 Bruce Bennett, Getty Images / Bruce Bennett, Getty Images
Does ketchup go well with octopus? Detroit Mayor Kwame Kilpatrick is about to find out. Kilpatrick is expected to receive a shipment of Pittsburgh goodies, including Heinz ketchup, Primanti Brothers sandwiches and an octopus from Wholey's Fish Market after winning a bet with Pittsburgh Mayor Luke Ravenstahl on the outcome of the Stanley Cup finals.
No such wager on the NBA Finals was widely reported in the days leading up to Game 1 between the Celtics and Lakers, but there's still time for Boston Mayor Thomas Menino and Los Angeles Mayor Antonio Villaraigosa to announce a bet. Count legendary sportswriter Frank Deford among those who hope they don't. "It's like teams pouring the Gatorade on the coach," Deford told the Boston Globe before February's Super Bowl. "The first time it was funny, the second time, OK. And then it never ends. It's really time to end this."
Is it time for civic bets to be retired? Take a look back at some of the more absurd wagers from the past 25 years and decide for yourself. Future public officials, take note.
1. SUPER BOWL XVII: WASHINGTON REDSKINS VS. MIAMI DOLPHINS
If Virginia Gov. Charles Robb and Florida Gov. Bob Graham wanted to be lame, they might have wagered crates of apples and oranges, respectively, on the 1983 showdown between the Washington Redskins and Miami Dolphins. Instead, they got creative. Robb put a Virginia pig named Josephine on the line, an ode to the Redskins' short and big-bellied offensive linemen, who were collectively referred to as the Hogs. Graham countered with 3,000 live Florida honeybees, a nod to the Dolphins' Killer B's defensive unit led by the likes of Bill Barnett, Bob Baumhower and Doug Betters.
Clearing space for running back John Riggins, the Hogs got the better of the B's in the game and the Redskins won 27-17. The delivery of the bees—Graham tripled his original offering and sent 9,000 total—was delayed until April by cold weather. In the meantime, Washington Post columnist Jack Eisen put in writing what many locals were probably wondering: "What f'hevvin's sake does Robb plan to do with a hive of bees, unless they're trained to sting only Republicans?" In fact, Roanoke, Va., city treasurer and beekeeper Gordon Peters housed the bees in a Super Bowl hive display in his "Honey-N-Hive Supply" store. Naturally, Virginia State Sen. Dudley "Buzz" Emick—his nickname predated the wager, believe it or not "" aided in the delivery.
2. 1986 WORLD SERIES: BOSTON RED SOX VS. NEW YORK METS
If only Boston Mayor Raymond Flynn had the foresight to wager the rights to Bill Buckner in his bet with New York City Mayor Edward Koch. After the Mets capitalized on Buckner's infamous error to come back and win Game 6 and then went on to win Game 7, Flynn sent Koch victory crocks of Boston baked beans and New England clam chowder. Flynn also agreed to fly a New York flag above Boston City Hall for a week, though he refused to unfurl the "I Love the New York Mets: Don't Tread on Me" variety that Koch sent him. That's when this otherwise traditional bet got interesting.
Three days after it was raised, a group that called itself the Red Sox Revenge Squad stole the flag. The group told a Boston newspaper that it would hold the banner hostage until the Mets issued a formal apology "for the behavior of their security force and fans" after Red Sox secretary Jack Rogers was hit by a bottle following Game 7. It also demanded that Koch "dress up in a bunny outfit and scream to the people of New York, "˜Ray Knight (the Mets' third baseman and Series MVP) is my Cabbage Patch twin.'" A cheap imitation flag was raised following the theft and Koch refused to give in to the demands. He issued a warning to the thieves, saying he "salted" the flag with a mysterious substance that causes it and anyone holding it to dissolve in three weeks, "just like the tapes in Mission: Impossible." Koch also suggested that, if caught, the culprits should be placed in the Boston Common stocks. Flynn fired back through a spokesman: "I think New York City should be aware that the punitive treatment applied during the Pilgrim era has gone the way of Cotton Mather." Zing.
3. 1988 NBA FINALS: DETROIT PISTONS VS. LOS ANGELES LAKERS
When Walter Moore learned that Inglewood, Calif., Mayor Ed Vincent was offering up a copy of the Los Angeles Lakers' drug awareness video "˜Just Say No' as his half of their friendly wager, the Pontiac, Michigan mayor's blue-collar influence shined through. "At least he isn't offering sushi," said Moore, who offered two weeks' use of a sparkling new Pontiac Grand Prix and some Everlite bulbs (another Pontiac product) in exchange for the privilege to play the video "for the entire Pontiac City Council." Just say yes to watching the video, which features classic verses like this one:
I'm Kareem, the captain of the team, I don't need drugs, I've got a higher thing, My sky hook makes the team look good, But there's a hook we gotta shake from the neighborhood.
Alas, Moore and the city of Pontiac missed out on Kurt Rambis' short-shorts, A.C. Green's killer shades, and James Worthy's amazing solo, as the Lakers prevailed in seven games. Vincent enjoyed his car, which he presumably drove to all of the local sushi bars while continuing to fight the war on drugs. "It's kinda nice," Vincent said. "Has some nice pistons."
4. 1993 WORLD SERIES: TORONTO BLUE JAYS VS. PHILADELPHIA PHILLIES
A mayor has yet to wager his first born child on the outcome of a sporting event, but the Philadelphia Zoo did put up some of its extremely rare, yet-to-be-born white lion cubs against a pair of Tasmanian devils in a bet with the Toronto Metro Zoo. Alan Tonks, a Toronto zoo representative, said the animals involved in the bet characterized each city's respective team. What better way to represent Lenny Dykstra, John Kruk and the rest of the Phillies than with an animal that treats its prey viciously and emits a foul odor when stressed, right? Toronto's zoo won the bet after the Blue Jays won the series in six games and the first white lion born in America was born in Philadelphia the following March. Tandi—the Zulu word for Joe Carter or Love, depending on who you ask—weighed 2 pounds, 6 ounces and became only the 15th white lion known in existence. Philadelphia made good on the bet by lending Tandi and her two sisters to the Toronto zoo the following summer.
As for the Tasmanian devils, they were to be a gift to Toronto from the Tasmanian government. But when the Australian Wildlife Protection Authority learned that the devils were part of a sports bet, they promptly canceled the shipment. "We don't export animals to be part of bets or publicity stunts," AWPA Director Paul Jewell said.
5. SUPER BOWN XXXIII: ATLANTA FALCONS VS. DENVER BRONCOS
John Elway's second Super Bowl win and final career game in 1999 was preceded by several civic bets between officials in Atlanta and Denver. Peanuts, buffalo steaks, Coca-Cola, an autographed football, Rocky Mountain oysters, custom-made golf balls, pecans and disposable cameras were all wagered, but they all paled in comparison to the bet between Denver Palm restaurant manager Scott Fickling and Atlanta Palm restaurant manager Willy Cellucci.
Cellucci (pictured) paid off the bet by dressing up in a Broncos cheerleader outfit and working as the maitre d' at Fickling's restaurant in Denver for three hours. Thankfully there's no visual evidence, but Fickling, who would've done the same thing at Cellucci's restaurant in Atlanta had the Falcons won, said the results weren't pretty. "Let's just say that Willy has a midriff issue," Fickling told the Denver Post. "We had the cheerleader outfit custom made—by Denver Tent and Awning Company."
6. 2002 STANLEY CUP FINALS: CAROLINA HURRICANES VS. DETROIT RED WINGS
Perhaps Detroit Mayor Kwame Kilpatrick was too busy texting his ex-top aide to take the time to figure out that the Carolina Hurricanes play in Raleigh. Kilpatrick reportedly phoned the mayor in Charlotte—a three-hour drive from Raleigh—to work out a wager before he realized his mistake. "Perhaps by the time the series is over, the Mayor of Detroit will know where the Hurricanes are based," Raleigh Mayor Charles Meeker told the press. When the two mayors finally connected, Kilpatrick (pictured) wagered a Michigan cherry tree and a 20-pound octopus, while Meeker put up a North Carolina oak tree.
The Red Wings won the series and Kilpatrick won his tree, but he likely earned little respect from the people of Raleigh. The eco-friendly bet, though, paved the way for future "green wagers." St. Paul mayor Chris Coleman will plant a tree in front of the Xcel Energy Center wearing a Colorado Avalanche jersey before the Republican National Convention in August, the payoff for losing a bet on a first-round NHL playoff series to Denver Mayor John Hickenlooper.
7. 2007 Grey Cup: Saskatchewan Roughriders vs. Winnipeg Blue Bombers
Any bet that involves the loser and winner doing anything outside in Saskatchewan in February is worthy of making this list. In case you've been living under a rock, the Saskatchewan Roughriders beat the Winnipeg Blue Bombers 23-19 in last year's Grey Cup to win the CFL championship. As a result, Winnipeg Mayor Sam Katz had to stand on a street corner in downtown Regina, Saskatchewan, wearing a Saskatchewan jersey and holding a sign that proclaimed the Roughriders as the greatest team in Canada. Katz had previously worn the jersey to a council meeting and donated four sets of Roughriders season tickets to charity as part of the bet. Regina Mayor Pat Fiacco braved the cold and stood next to Katz for at least part of the frigid ordeal, answering questions about who is the better mayor and muttering something about taxes. Only in Canada.