Even More Secrets from the Set of Roseanne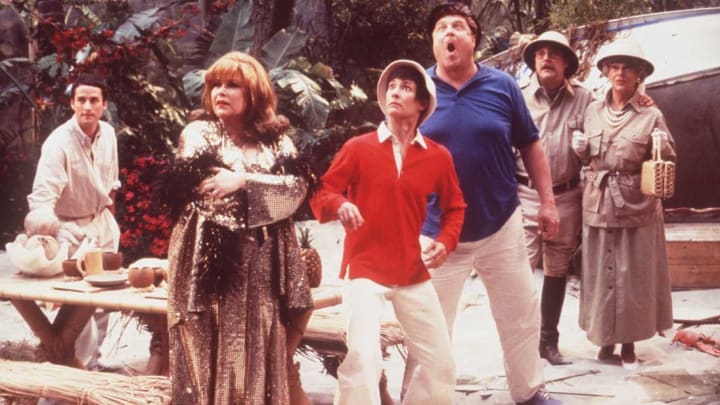 Getty Images / Getty Images
When we left you last week we were in the midst of some Roseanne behind-the-scenes trivia. We now continue with all the facts that fit—or at least all those we couldn't fit in the first time.
ENTERING SEASON THREE WITH TREPIDATION
The San Diego Padres invited Roseanne to sing the National Anthem prior to a game against the Cincinnati Reds on July 25, 1990. Perhaps the first finger of blame should point at the Padres management—what were they thinking? Roseanne was a sitcom star, not a singer, and her speaking voice alone should have clued them in that she was no Barbra Streisand (or even no Ashlee Simpson). Nevertheless, Roseanne agreed to the gig and was flown via helicopter along with husband Tom Arnold to Jack Murphy Stadium. In one of his rare lucid moments, Tom peered out of the 'copter at the crowd below and suggested to his wife (who had already made it clear that she intended to "have fun" with the anthem) that she may want to reconsider. "There are a lot of people out there," he warned her, "and they probably take the National Anthem very seriously." Roseanne shrugged off his warning and went ahead to screech "The Star Spangled Banner" off-key and capped off her performance by grabbing her crotch and spitting. She was unanimously trounced by the media the next day, with even then-president George Bush denouncing her performance as "disrespectful." Needless to say, the producers and sponsors of her show were nervous about the upcoming Season Three, due to start filming in a few days. Would the public remember the National Anthem debacle by the time the first show aired and boycott the series? In typical Roseanne fashion, she had her character poke fun at the situation, with Roseanne Conner announcing at the beginning of the season opener "It's such a beautiful morning today, it just makes me want to sing!" The spontaneous applause of the studio audience was an indication that all was forgiven.
REVOLVING BECKIES
Alicia "Lecy" Goranson was the first and original Becky Conner. She left the series at the end of the end of Season Four in order to attend Vassar College full-time. Or so went the official explanation. However, several years later Roseanne was a guest on Howard Stern's radio show, and Robin Quivers asked her something along the lines of "Is it true Lecy Goranson left the show because she was being sexually harassed by one of the producers?" Roseanne was momentarily taken aback and asked, "Where did you hear that?" before quickly changing the subject. Goranson graduated from Vassar in 1996 with a degree in English (with a concentration in poetry). She re-appeared as Becky for what was supposed to be the final season of Roseanne, and then left the show again. Alicia (as she prefers to be called now) has appeared in a few films and on some TV shows, and was recently spotted reading tarot cards for money at the Gowanus Yacht Club in Brooklyn, New York.
Sarah Chalke, who took over the role of Becky Conner after Lecy left (both times), expressed a desire in 2001 to take a break from acting in order to go to college. But later that same year she landed a co-starring role on the hit sitcom Scrubs.
THE CHUCK CUNNINGHAM SYNDROME
Natalie West was cast as Roseanne's best friend and co-worker, Crystal Anderson. Crystal was consistently unlucky in love (with several failed marriages in her past) and her character alternated between naive and just plain goofy. The character of Crystal was conceived during the original "pitch" meetings before the Roseanne show was sold "" after all, it's a golden rule of sitcoms that every main character needed a wacky friend or neighbor to "bounce" off. However, as the series progressed, it became evident that not only did Laurie Metcalf ("Jackie") and Roseanne Barr have better chemistry, it was also easier for the writers to concoct situations involving Roseanne and her sister than Roseanne and her best friend (especially since Crystal had a young son to care for). When Roseanne married Tom Arnold and he joined the cast as Arnie, Sandra Bernhard was brought aboard as Arnie's free-wheeling love interest (Nancy) in order to provide story lines for Roseanne's new hubby. With Jackie acting as Roseanne's best friend and Nancy providing the wackiness quotient, there wasn't much left for Crystal to do, so Natalie West was eliminated from the opening credits after Season Four and reduced to "recurring character" status.
SHE LOOKS THE SAME BUT SHE ISN'T THE SAME
During the hiatus after Season Five, Roseanne treated herself to some major plastic surgery: face lift, nose job, cheek implants, eyes, chin, the works. Unfortunately her surgeon (according to Roseanne) sewed a scalpel inside her face and she had to undergo a second round of surgery to have it removed. As a result, she hadn't completely healed by the time filming for Season Six began. In the first few episodes, the heavy makeup she wore to cover the bruises gave her face an almost orangey glow
THE 9TH RING OF SIT-COM: THE AWFUL SEASON
Season Nine was the final one for Roseanne, and it also marked the first time that the show failed to crack the top 25 in the Nielsen ratings. Not surprising, since the stories and characters had strayed far from their original Blue Collar premise. Sturdy, dependable Dan Conner suddenly left his family to head to California where he had an "almost" affair with a nurse. (This story arc was used to accommodate John Goodman's schedule; he had a burgeoning film career and hadn't wanted to return for the show's final season.) Then the Conners won $108 million in the Illinois lottery and went on a variety of bizarre spending spree-type adventures. Since the main source of comedy on the series was the family's never-ending struggle to pay their bills, this plot twist truly confounded the show's fans. However, there was some twisted Roseanne Barr reasoning behind the lottery episodes: she had purchased the U.S. rights to the hit British TV series Absolutely Fabulous, but had been unable to sell it to any of the major networks. So she simply turned her own show into Roseanne-Fab, and even had Joanna Lumley and Jennifer Saunders guest star in one episode for those who didn't "get" the joke.
SHOULDN'T YOU "BEEP" WHEN YOU BACKPEDAL THAT MUCH?
Roseanne had been pummeled from all sides by critics, fans and Nielsen numbers during that disastrous ninth season, so in an effort to maintain some professional dignity and credibility, she used a classic TV escape valve: all those lousy episodes never really happened. During the season finale, it was revealed that all of the last season (and parts of earlier seasons) had come from the pen of Roseanne Conner, the writer. Roseanne's dream of becoming a writer had been mentioned often during the course of the series, so apparently it seemed logical to her to make much of her sitcom fodder for a book she'd been writing all along. Remember Dan's heart attack at Darlene's wedding? Turned out he'd actually died shortly afterward. His California affair was Roseanne's mind trying to reconcile the fact that he'd left her. After his death, she'd imagined what it would be like to have all the money in the world, hence the lottery episodes. By the way, Darlene actually married Mark and Becky married David, and Jackie was a lesbian"¦ Oh heck, it's easier if you just keep track on your own scorecard while you listen to Roseanne explain it all herself: