How Billionaire Sports Owners Made Their Fortunes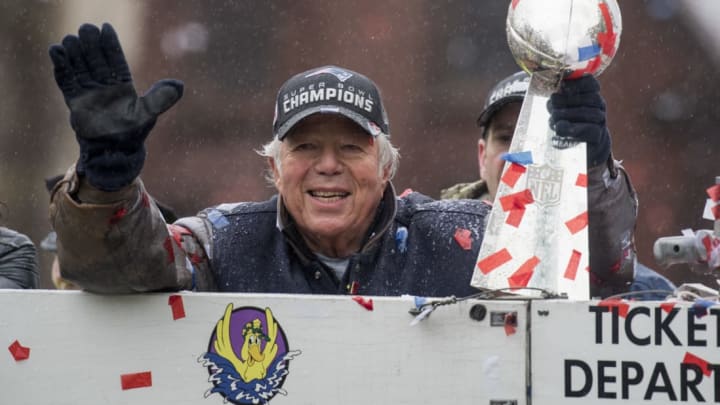 Michael J. Ivins/Getty Images / Michael J. Ivins/Getty Images
Owning a professional sports franchise is my dream job. (I'm willing to relocate.) Of course, I could never afford my own team. There's a better chance I'll miraculously develop an unhittable slider, or learn to punt.
You obviously must be exceedingly wealthy to become an owner. Did you ever wonder how all these people made all that money? I sure hope you did, because we went and did all this research. Here's a list of eight billionaire owners and how they built their fortunes.
1. Rich DeVos, Orlando Magic (NBA)
In 1959, DeVos and high school friend Jay Van Andel started selling all-purpose cleaner. Their business grew to become Amway, which now brings in $6 billion each year under the ominous-sounding Alticor name. Whether you see Amway as an empowering direct sales company or as something resembling a cult, it sure was good to DeVos. Forbes estimates his wealth at $3.5 billion, making the paltry $85 million he spent on the Magic in 1991 a minor investment.
2. Robert L. Johnson, Charlotte Bobcats (NBA)
Lower on my list of dream jobs is running a cable network that caters to urban youth. So I'm all kinds of envious of Robert L., who founded BET and sold it to Viacom for $3 billion in 2001. His fortune was depleted by an expensive divorce, but Johnson's estimated net worth is still $1.1 billion. His resume is full of firsts — BET was the first African-American owned company traded on the NYSE. He was the first African-American billionaire in the U.S. And, in 2002, he became the first African-American majority owner of a professional sports franchise.
3. Robert Kraft, New England Patriots (NFL)
I'd never really given it much thought, but I'd always assumed Kraft bought the Patriots with big cheese money he'd inherited. But Kraft got his start in the paper business. His wife, Myra, is the daughter of Massachusetts philanthropist Jacob Hiatt. After Kraft finished Harvard Business School, he went to work with his father-in-law's packaging company. In 1972, Kraft founded International Forest Products, which is now part of the Kraft Group—a diversified collection of companies ranging from Gillette Stadium to the New England Revolution (Major League Soccer) to Carmel Container Systems (Israel's largest packaging plant). Kraft is seen as a savior in New England—before he bought the team in 1994, the Pats seemed destined for relocation to St. Louis. Plus he's made them really, really good, winning three Super Bowls this decade.
Another reason I'm so keen on owning a team is the access to foreign heads of state. In 2005, Kraft met Vladimir Putin, who walked off with one of Kraft's Super Bowl rings. Kraft now claims it was a gift, but that might just be what you say when a Russian leader steals your jewelry.
4. Hiroshi Yamauchi, Seattle Mariners (MLB)
Despite America's strong resistance to Japanese ownership "" and despite his admitted lack of interest in baseball "" Hiroshi Yamauchi became majority owner of the Seattle Mariners in 1992. Yamauchi is the man credited with transforming Nintendo from playing-card company to video game giant. His 55-year tenure saw incredible growth. But that doesn't mean there weren't a few bumps along the way. Forays into instant rice, taxi service and short-stay hotels (also known as "love hotels") did not pan out.
5. Jerry Jones, Dallas Cowboys (NFL)
jerry-jones.jpg /
Jerry Jones built an oil empire in the early 1970s, striking gas in the first thirteen wells he drilled. His father had given him a head start; Pat Jones sold the Modern Security Life Insurance Company for millions.
An undersized guard, Jones was captain of the 1965 Cotton Bowl-winning Arkansas Razorbacks. Future Cowboys coach Jimmy Johnson was a teammate, and Johnson's successor, Barry Switzer, was a Razorbacks assistant.
Jones bought the Cowboys for an estimated $140 million in 1989. He immediately made waves by firing Tom Landry "" the only coach in Cowboys history "" and replacing him with his college buddy (the aforementioned Jimmy Johnson, who was coaching the University of Miami). After a rocky 1-15 start in 1989, the Cowboys went on to win three Super Bowls in the 1990s. [Photo courtesy of the Dallas Morning News.]
6. Malcolm Glazer, Tampa Bay Buccaneers (NFL), Manchester United (English Premier League)
Malcolm Glazer inherited a small jewelry repair business from his father. But it was Malcolm's investments in Florida trailer parks that started his financial ascent. He went on to become president and CEO of First Allied Corporation, which now owns 6,700,000 square feet of retail space. He was also chairman of Gilbert/Robinson, Inc., which managed over 100 restaurants, including Houlihan's and Darryl's. Today, the Glazer family oversees strip malls and nursing homes throughout the land. Glazer also has a large stake in Zapata, an oil company founded by George H.W. Bush.
Glazer made five previous attempts to join the elite ranks of NFL ownership, including a failed 1993 bid to bring an expansion team to Baltimore. The New York Times said Glazer had "a reputation as a franchise window shopper, one who looks at virtually every team that comes up for sale." But in 1995, he outbid George Steinbrenner for the downtrodden Tampa Bay Buccaneers. Under his leadership, the franchise was righted, earning a Super Bowl title in 2003. Glazer also bought Manchester United, and fans weren't exactly pleased.
7. Daniel Gilbert, Cleveland Cavaliers (NBA)
With $5,000 he'd earned delivering pizzas "" and after a stint as a TV reporter "" the future Cavs owner started a small mortgage company called Rock Financial in 1985. In 1999, the company was bought by Intuit for $532 million. Three years later, Gilbert bought it back for $64 mil, renaming the company Quicken Loans. He purchased the Cavaliers for $375 mil in 2005. He also owns Fathead, which makes wall decals and tiresome ads. On the side, Gilbert is working to beat Michigan's steroid-free bench-pressing record.
8. Stephen Bisciotti, Baltimore Ravens (NFL)
At 48, Stephen Bisciotti is one of the NFL's youngest owners. He made his money in staffing "" specifically, finding talented engineers for the aerospace industry. With Jim Davis, Bisciotti founded Aerotek in 1983 (he was 23). Their staffing company, now known as the Allegis Group, had revenues of $4.4 billion in 2005. Bisciotti bought 49% of the Ravens in 2000, and purchased the rest from Art Modell in 2004.