The Quick 10: 10 Shocking Hollywood Deaths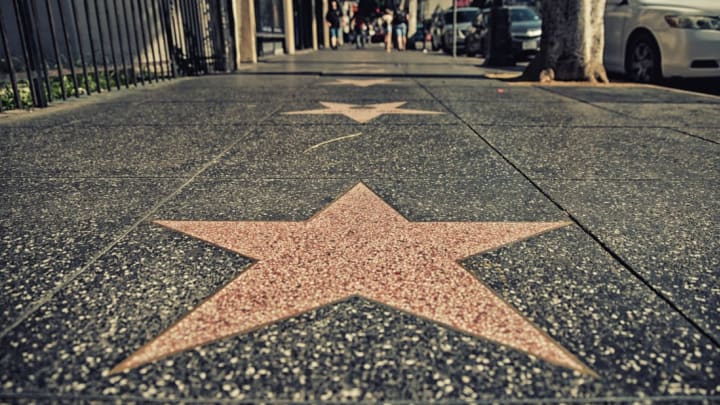 atosan/iStock Editorial via Getty Images / atosan/iStock Editorial via Getty Images
Does it seem like only 15 years ago that we were all plastered to the screen, watching a white Bronco speed down Interstate 405? That's because it was. Although it's definitely up there in terms of media coverage, it's far from the first scandalous murder to befall Hollywood. Here are 10 others that stunned the world.
1. Virginia Rappe. In what was one of Hollywood's first big murder scandals, huge (literally and figuratively) film star Fatty Arbuckle was accused of raping actress Virginia Rappe, who then died, allegedly of injuries she sustained during the rape. Arbuckle and Rappe were both guests at a party at the St. Francis Hotel. Rappe, who had a reputation for such things, became rip-roaring drunk and started tearing her clothes off and screaming. She somehow managed to stumble into Arbuckle's bathroom; he walked in and very unexpectedly found her vomiting in the toilet. She swore she was dying and loudly told anyone within earshot as much. And she was right - the next day she died due to a ruptured bladder. The friend she had been at the party with told police that Fatty had raped Virginia and police concluded that her bladder had ruptured under Arbuckle's immense girth. The problem is that it seemed completely out of character for him - people testified that he was a very shy man, especially with women, and was probably one of the most chaste men in Hollywood. After three trials and more than seven months of sensational newspaper headlines, Fatty was unanimously acquitted by a jury who also issued a written apology to the actor. But the harm was done - his career was pretty much over, his marriage was ruined and he was too far in debt to his lawyers to recover. It was later thought that Virginia's ruptured bladder was the result of a recent abortion - one of many - gone wrong.
2. William Desmond Taylor. Taylor was well-known in Tinseltown, directing the likes of Mary Pickford, Wallace Reid and Mary Miles Minter. It was quite a shock when he was found shot to death inside his L.A. bungalow in 1922.
The crime scene was shockingly sloppy - people traipsed in and out, items were removed and Paramount's general manager went in and destroyed evidence. It's speculated that this was allowed because the police were highly influenced by Adolph Zukor, then head of Paramount. Because of all of the tampering, we don't know who shot Taylor to this day. Suspects include two of his lovers (Mabel Normand and Mary Miles Minter), Minter's mother, Taylor's valet and his former valet, and an actress named Margaret Gibson. The latter confessed to his murder on her deathbed in 1964.
3. Charles Lindbergh, Jr. It's every parent's worst nightmare: a kidnapping. The 20-month-old baby Lindbergh was discovered to be missing from his crib on March 1, 1932. A handwritten note demanded $50,000 and said that further instructions would come. Coming up with the money wasn't a problem - the government offered $25,000 on top of the $50,000 the Lindberghs were willing to give up. No less than Herbert Hoover said he would "move Heaven and Earth" to find the baby, but it was to no avail. On May 12, a truck driver pulled off to pee in the woods just 4.5 miles from the Lindbergh house and found the corpse of a toddler. It was badly decomposed and it was obvious that the kidnappers hadn't waited long to kill Charles, Jr. And yes, I know that the actual kidnapping didn't take place in Hollywood, but because of the elder Lindbergh's star status, I'm counting it.
4. Johnny Stompanato. Blonde bombshell Lana Turner had been dating mobster associate Johnny Stompanato for over a year when, learning of his crime ties, she decided to break things off. But he wasn't ready to break things off and followed her to England, where she was filming Another Time, Another Place with Sean Connery. The story goes that Stompanato thought that Lana was having an affair with Mr. Bond and stormed on to set with a gun; Sean Connery quickly dispatched him and punched him in the face. Whether that's true or not, Stompanato had a nasty habit of showing up on airplanes and in hotels where Lana was staying even after they broke up. He wouldn't let her break up with him, essentially, and even beat her pretty badly on at least one occasion. Finally, on April 4, 1958, it all came to a head. In the middle of a fight at her house, Stompanato threatened to ruin her face and, therefore, her career. Lana's 14-year-old daughter had been listening to the whole argument from her room, and, fearing that her mother was in danger, rushed in and stabbed him in the stomach. She sliced a kidney and punctured his aorta and it was basically all over for Stompanato. It was decided that the murder was justifiable homicide based on the fact that Lana's daughter thought she was protecting her mother and no one served any jail time.
5. Thelma Todd. This comedic actress of the late '20s and early '30s was found dead in her car in the garage of another actress. It appeared to be a suicide from carbon monoxide poisoning, but things didn't add up - she had no obvious motive to kill herself and had been in good spirits at a party just hours before her body was found. There are a few theories, including that she accidentally fell asleep in the garage, but since this post is about murders, we'll focus on that one. The first murder theory says that it was her ex-husband, whom she had had a public spat with earlier in the evening. The second says it was Lucky Luciano, because supposedly she wouldn't allow her club to participate in his illegal gambling schemes. And a third says that her current boyfriend locked her in the garage to keep her from going on to another party and accidentally killed her with carbon monoxide. Murder or not, the true reason behind Todd's death was never discovered because her body was very quickly cremated - another reason to suspect foul play, say conspiracy theorists. The reason listed on her death certificate is accidental poisoning.
6. Sharon Tate. Everyone knows this sad tale - young, beautiful and pregnant, Sharon Tate, along with Jay Sebring, Abigail Folger and Wojciech Frykowski, was brutally murdered by members of the Manson Family on August 8, 1969. The murders, along with the LaBianca murders that happened the following night, went unsolved for several months until Family member Susan Atkins bragged to a fellow inmate that the murders were her doing. The Hollywood community was shocked and scandalized, convinced that someone was hunting down celebrities. Dominick Dunne later reported that Steve McQueen was so concerned that he brought a gun to Jay Sebring's funeral.
7. Dominique Dunne. Speaking of Dominick Dunne, he endured tragedy in 1982 when his daughter, the actress who played the oldest daughter in the Poltergeist movie, was killed by her ex-boyfriend. He surprised her in the driveway of her home, and, after a short fight in which she refused to get back together with him, he strangled her. She was in a coma for five days before dying on November 4. The boyfriend, John Thomas Sweeney, was found guilty of manslaughter but served less than four years in prison.
8. Natalie Wood. Another "accident" that maybe wasn't so accidental. On November 29, 1981, Natalie was out on a yacht with husband Robert Wagner and family friend Christopher Walken (yep, that Christopher Walken). Not much is known about exactly what happened, except that Natalie apparently left the yacht in a small dinghy in the middle of the night when waters were quite choppy. Some reports say Walken and Wood had been getting quite chummy, even going ashore without him while he slept, and that Wagner made no bones about his displeasure. Over the years, Wagner and Walken have given contradictory statements to the media, so what really happened that night might not ever be known.
9. Bonnie Lee Bakley. E Tu, Baretta? Robert Blake started dating Bakley sometime in 1998. She got pregnant and told Blake he was the father - but she also told Christian Brando that he was the father, because she had been simultaneously dating him. She had a history of pursuing older celebrities - Bakley unsuccessfully tried to woo Frankie Valli and when that didn't work, set her sights on Jerry Lee Lewis. She even moved to Memphis to try to encounter him more often. Knowing her history, Blake insisted on a paternity test, which proved that the little girl was indeed his. He reluctantly married her in 2000. She moved into the guest house on his Studio City property, but things were less than peachy. On May 4, 2004, the two of them went out to dinner at Vitello's, one of Blake's favorite haunts. When dinner was over, they were just getting ready to pull away when Blake remembered he had left his handgun inside - he always carried one. He ran back inside to get it, and when he came back out, Bakley had been shot twice and was slumped over in the seat. She was dead before the paramedics got her to the hospital. Police reportedly suspected that he was involved just hours after her death. He wasn't arrested until nearly a year later. Two stuntmen came forward and said that Blake had tried to hire both of them, on separate occasions, to kill his wife. After standing trial, Blake was found not guilty on March 16, 2005. Bakley's children filed a wrongful death suit, however, and won $30 million. Blake filed for bankruptcy shortly thereafter.
10. Lana Clarkson. Even if you don't know Phil Spector, you've almost certainly heard one of his albums - he produced everything from River Deep, Mountain High by Ike and Tina Turner to Imagine by John Lennon to End of the Century by the Ramones. That was all well and good until February 3, 2003, when the body of actress and nightclub owner Lana Clarkson was found in his house with wounds that suggested someone had put a gun in her mouth and pulled the trigger. The two had first met on February 2. Spector insisted it was a suicide, but both his valet and his butler said that when he called them to report the death, he stated, "I think I killed somebody." Coroner's reports said that the bruising on her tongue indicated that someone had shoved a gun in her mouth pretty forcefully, and people testified that Spector was prone to pulling firearms when he was drunk. Spector's first trial was declared a mistrial; the second found him guilty of second-degree murder. He was sentenced to 19 years to life on May 29 of this year.
Whew! That's a lot of scandal. Let me know which ones I missed. And for scandals not necessarily involving death (some do and some don't), there's this old chestnut from last year.
twitterbanner.jpg /