A $500 or $10,000 Bill? The Story Behind Large-Denomination Currency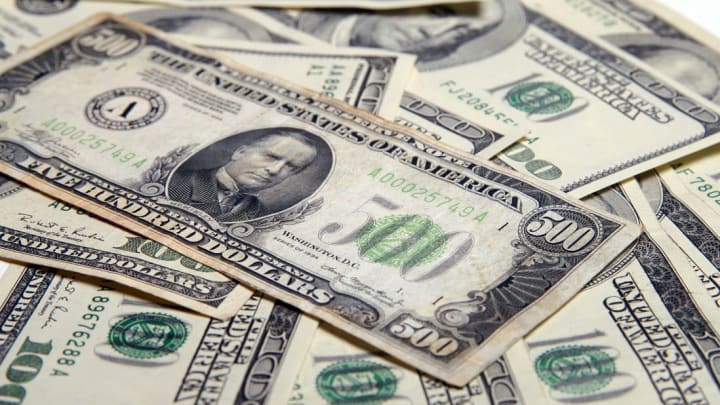 Currency denominations don't cap out at $100. / m.czosnek/iStock via Getty Images
Your local convenience store may not accept bills larger than $20, but once upon a time you could have paid for your gum with a nice, fresh $10,000 bill. What's the story behind the large-denomination bills that the government used to issue?
What big bills has the U.S. issued?
In 1928, the federal government overhauled its system of printing banknotes. It shaved about an inch of length and just under a half of an inch in width off the bills and issued the new smaller bills in the $1 to $100 denominations with which we're familiar. However, the Treasury also issued larger denominations. They featured William McKinley ($500), Grover Cleveland ($1,000), James Madison ($5,000), and Salmon P. Chase ($10,000).
Who the heck was Salmon P. Chase?
His name might not be as familiar as those of the presidents featured on the other big bills, but once upon a time Chase was a big wheel in American politics. Chase, a mid-19th century politician, served as Chief Justice of the United States, spent stints as Ohio's governor and senator, and was Lincoln's first Secretary of the Treasury.
Nice resume, but how did Chase end up on the $10,000 bill?
He was in the right place at the right time. When the federal government started issuing greenback notes in 1861, Chase, as Secretary of the Treasury, was in charge of designing and popularizing the new currency. The politically ambitious Chase had to pick a portrait subject for the first $1 bill, and he chose Salmon P. Chase.
Although putting his face in everyone's pocketbooks never propelled Chase to the presidency, when the Treasury started issuing the new $10,000 bills in 1928 they put Chase's portrait on the obverse to honor the man who helped introduce modern banknotes.
Even if you don't have a $10,000 bill Chase's name might still be in your wallet. Chase National Bank, the forerunner to Chase Manhattan Bank, was named in his honor.
Why on earth was the government printing such giant bills in the first place?
Believe it or not, it wasn't just to save space in fat cats' wallets. When the Treasury started printing these giant bills, their main purpose was making transfer payments between banks and other financial institutions. Before sophisticated wire transfer systems were fully developed, it was apparently easier and safer just to fork over a $5,000 bill to settle up with a fellow bank. Once transfer technology became safer and more secure, there really wasn't much need for the big bills anymore.
What's the largest denomination of currency the U.S. has printed?
That would be the Series 1934 $100,000 gold certificate. The Bureau of Engraving and Printing only made these notes during a three-week stretch during December 1934 and January 1935. Even the few plutocrats who had that much cash during the Depression couldn't carry one of the $100K bills, though. They were only used for official transactions between Federal Reserve Banks, and the Treasurer of the United States only issued them to Fed banks that had an equal amount of gold in the Treasury. The note featured a picture of Woodrow Wilson.
Are any of these bills left in circulation?
There sure are, but don't expect to find a $500 bill the next time you make an ATM withdrawal. The Treasury announced on July 14, 1969, that it would quit issuing the $500, $1,000, $5,000, and $10,000 notes immediately, since the bills were so sparsely circulated. It's not like the Bureau of Engraving and Printing had to stop the presses, either; the bills hadn't seen an actual print run since 1945.
When the Treasury discontinued the bills, they rapidly fell out of circulation. However, a few are still lingering; as of May 2009, there were still 336 $10,000 bills at large. At the same time, Slate reported that there were also 342 $5,000 bills and 165,732 $1,000 bills still floating around.
If they're out of circulation, can you still spend them?
Although the Treasury is no longer issuing these bills, according to the Fed they're still legal tender. So yes, although it would probably raise some eyebrows, you could walk into Best Buy and plunk down a $1,000 bill to pay for a new TV.
That wouldn't be the smartest move, though. Most of the high-denomination bills that are left in circulation are in collectors' safes, and at auction the bills tend to fetch prices that far exceed their face values. For instance, a pristine $10,000 bill can command a price as high as $140,000 on the open market depending on condition.
What happens if you bring one of these big bills to a bank?
If you put it in your safety deposit box, your bill will be safe. Chase Bank actually acquired one of the $10,000 bills in its currency collection when a deceased customer's family found the bill in her deposit box and traded it for $10,000 in cash. Deposit the historical loot into your checking account, though, and it's bad news for the bill. You'll get the cash deposited in your account, but since the 1969 order to stop distributing these bills, Fed banks have been pulling the notes from circulation and destroying them whenever they are received.
So there was never a real $1 million bill?
Nope, but that doesn't mean that people haven't tried to make one. In 2004, a woman in Covington, Georgia, tried to pick up a $1,675 tab at a local Wal-Mart with a forged $1 million bill featuring a picture of the Statue of Liberty. Police quickly arrested her. It's hard to say what's more ludicrous: trying to pass off a million-dollar bill or thinking that Wal-Mart would just fork over $998,325 in change.
Someone gave me a fake $1 million bill as a joke. Was that illegal?
As long as you don't try to spend it or deposit it, you're in the clear. Gag makers and some religious and political groups have printed novelty $1 million bills for decades. In 1982, these novelty bills came to the attention of the Secret Service, which ruled that since there wasn't a real $1 million bill, these joke versions weren't technically forgeries or violations of any laws.
What about the opposite of these bills: the elusive $2 bill?
Although you don't see the $2 bill all that often, it's still a circulating denomination of American currency. According the U.S. Treasury, there are over $1.5 billion worth of $2 bills currently circulating around the world. However, since the bill changes hands less frequently than other denominations, it's not printed as often, either.