The Quick 10: 10 Grown Up Facts About Dr. Seuss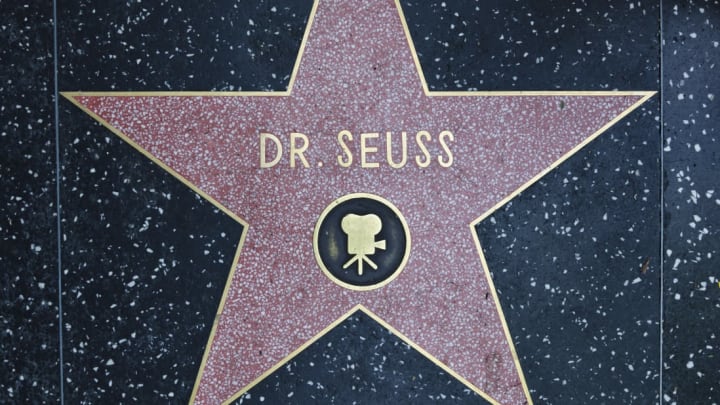 iStock/dcdebs / iStock/dcdebs
If Dr. Seuss were still alive today, we could read his own Happy Birthday to You! book to him - he would be 106 years old today. Everyone adored him as a children's author and illustrator, but Theodor Geisel had a very grown up side to him as well. Here are 10 facts about the side of the good Dr. that most people don't know much about.
 1. And to Think That It Happened on Mulberry Street was only Dr. Seuss' first published children's book. He had a couple of other adult titles under his belt by that time, including Boners and More Boners. They were later packaged as The Pocket Book of Boners.
2. He also wrote a book called The Seven Lady Godivas, a tale about the seven Godiva sisters, all of whom rode around naked on horses just as the most well-known Lady G did. It was targeted at adults and was a pretty spectacular flop. Some people believe it was this poor reception that led Seuss to write for children almost exclusively.
3. Ted Geisel won an Academy Award for writing the 48-minute-long documentary film Design for Death, a WWII piece about Japanese culture and the war.
4. Seuss' first wife, Helen, committed suicide. She had a long history of health problems and was fighting a losing battle, but likely also contributing to her decision to kill herself was the fact that her husband of 41 years was having an affair with a married woman 18 years younger than him. After Helen died, Seuss married Audrey Dimond, the woman he had been having an affair with. She divorced her husband and sent her kids away to school to be with him. "They wouldn't have been happy with Ted, and Ted wouldn't have been happy with them," she later said.
5. After The Seven Lady Godivas bombed, Seuss didn't write and illustrate another book targeted at adults for about 50 years. After suffering through a series of illnesses and pains related to getting older and spending what he felt was way too much time in hospital waiting rooms, he wrote the tongue-in-cheek You're Only Old Once! in 1987. It was published on his 82nd birthday. Here's an excerpt:
"You'll be told that your hearing's so murky and muddy, your case calls for special intensified study. They'll test you with noises from far and from near and you'll get a black mark for the ones you can't hear. Then they'll say "My dear fellow, you're deafer than most. But there's hope, since you're not quite as deaf as a post. We'll study your symptoms. We'll give you a call. In the meantime, go back and sit down in the hall.
6. Geisel may not have been crazy about kids, exactly, but he and his first wife did want to have children of their own - they just couldn't. To try to make light of the sad situation, Dr. Seuss made up a fake child named Chrysanthemum Pearl and often referenced her when friends were bragging about the accomplishments of their own kids. She apparently made a mean oyster stew with chocolate frosting and flaming Roman candles. He even dedicated The 500 Hats of Bartholomew Cubbins to her, writing, "To Chrysanthemum Pearl, age 89 months, going on 90."
7. Horton Hatches the Egg (1940) was Seuss' last book for seven years - after the wild success of the book, he took some time off from the world of children's publishing to draw political cartoons for PM newspaper during WWII. This included Mein Early Kampf, which showed Hitler as being a hateful baby who refused milk because it came from Holstein cows.
8. He was stripped of his duties as the editor of Jacko, Dartmouth's humor magazine, when he and a bunch of friends were caught sipping on a bottle of bootleg gin during Prohibition. He was put on probation for "defying the laws of Prohibition, especially the night before Easter." He continued to draw for the magazine using a series of pseudonyms, though. That was actually the first time he ever used "Seuss" professionally.
9. As amazing as Dr. Seuss was as a writer and an illustrator, he once said he felt his biggest accomplishment had nothing to do with his profession. He was most proud of the lion wading pool at the San Diego Zoo, which he paid for in 1973.
10. Quitting smoking is a pretty grown up thing to do, but Dr. Seuss took a rather fun, child-like approach to it. He liked to smoke a pipe, so he filled the pipe with dirt and planted strawberry seeds in it. When he felt the urge to smoke, he watered his pipe with an eyedropper instead.
twitterbanner.jpg /
buy-2-get-1 /
super-shirt-sale /
[Sale ends March 3, 2010, at 11:59pm]