10 Pats Born on St. Patrick's Day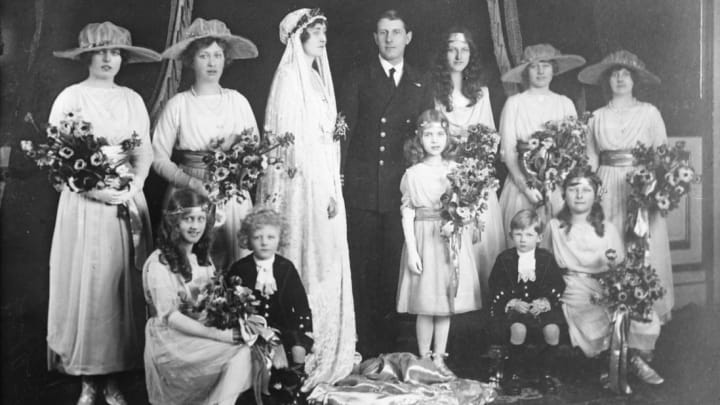 Need some St. Patrick's Day conversation fodder that doesn't involve leprechauns or four-leaf clovers? Ask your friends to name a "Pat" born on St. Patrick's Day. If they can't, they owe you a drink—then you can wow them with this list of 10.
1. PRINCESS PATRICIA OF CONNAUGHT
Princess Patricia was the granddaughter of Queen Victoria, who gave up all of her royal titles when she married a commoner. She was born at Buckingham Palace on March 17, 1886.
2. PATRICK DUFFY
The Dallas star was born on March 17, 1949. And here's a totally random fact about Duffy: His nephew is Barry Zito, former MLB pitcher for the Oakland Athletics and the San Francisco Giants.
3. PATTIE BOYD
Larry Ellis, Express/Getty Images
Pattie Boyd is well-known to lovers of classic rock: She has been married three times, including once to George Harrison and once to Eric Clapton, who both wrote a couple of the most romantic songs in rock history in her honor (including The Beatles's "Something" and Clapton's "Wonderful Tonight"). Boyd was a model when she met Harrison on the set of A Hard Day's Night in 1964; the pair were married two years later. They divorced in 1977 and she married Clapton, Harrison's close friend, in 1979. She also had an affair with Ronnie Wood of the Rolling Stones toward the end of her marriage to The Quiet Beatle.
4. PAT RICE
Belfast-born Pat Rice is a former footballer and coach who spent the bulk of his career with Arsenal F.C. (that's "football club," a.k.a. soccer to us Americans). He joined the Gunners in 1964 as a mere apprentice, turning pro a couple of years later. He became captain in 1977 and left the club for a few years in the early 1980s to go to Watford, but returned after he retired from playing in 1984. In 2012, after nearly 30 years with the organization, he announced his retirement.
5. PATTY MALONEY
Patty Maloney is an actress with dwarfism who stands just three feet, 11 inches tall. She has appeared in many movies and T.V. shows over the years, including operating the Crypt Keeper puppet in Tales from the Crypt. She also played Chewbacca's son Lumpy in The Star Wars Holiday Special.
6. MATHEW ST. PATRICK
HBO
Ok, so Mathew St. Patrick is the stage name of the actor, but he was born Patrick Matthews in Philadelphia on March 17, 1968. You probably know him best as David's boyfriend Keith on Six Feet Under.
7. PATRICK ADAMS
He may not be a household name, but the recording artists Patrick Adams writes for and helps produce certainly are. Adams has been involved in the careers of Salt-N-Pepa, Sister Sledge, Gladys Knight, Rick James, and Coolio, among others.
8. PATRICK MCDONNELL
It's possible you look at Patrick McDonnell's work every day, depending on which comics your newspaper carries. McDonnell draws a strip called Mutts featuring a dog and a cat named Earl and Mooch, respectively. Charles Schulz called it one of the best comic strips of all time.
9. BILLY PATRICK CORGAN
Evan Agostini, Getty Images
Yes, you know him better as just plain old Billy Corgan: he's the face of the Smashing Pumpkins, engages in public feuds with Courtney Love, and maybe once dated Jessica Simpson. He made his debut on March 17, 1967.
10. PATRICIA FORD
Patricia Ford is a retired model probably best known for her Playboy photoshoots in the 1990s.