Bud Shaw's Year in Review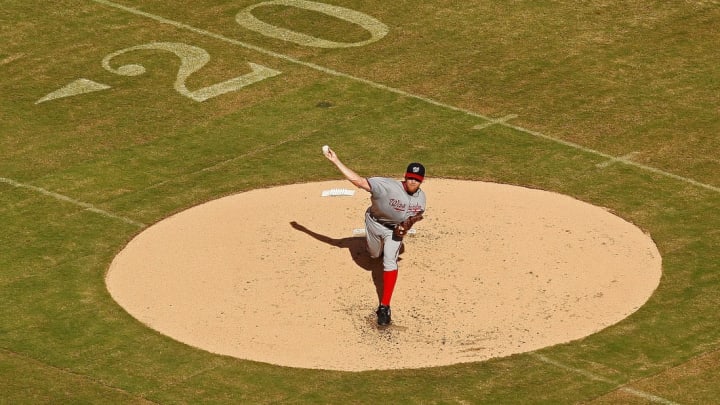 Mike Ehrmann, Getty Images / Mike Ehrmann, Getty Images
In 2010, retired heavyweight Mike Tyson appeared on Animal Planet.
As a pigeon racer.
The Pittsburgh Pirates fired a pierogi mascot for ripping the team on Facebook.
A Norwegian cross country skier blamed failing to win a gold medal in the Winter Olympics on watching too much porn.
A Phillies fan purposely threw up on a man and the man's daughter during a game.
An NFL executive asked a draft prospect if his mother was a prostitute.
Baltimore Orioles player Brian Roberts missed the last six games of the season with concussion-like symptoms after hitting himself in the helmet with a bat in frustration after a ninth-inning strikeout.
Joslyn James, one of Tiger Woods' mistresses, complained that Woods led her to believe she was the only one in his life...other than his wife.
And thus was the sanctity of adultery compromised.
We come today not to salute the last 12 months as much as shake a finger at the sky and blame it on the heavens.
In November, Buffalo Bills receiver Steve Johnson dropped a sure touchdown pass in the end zone in overtime. The Steelers prevailed over his Bills.
Johnson did not blame his hands, a case of nerves or even the sun (this was Buffalo after all). He blamed God.
Tweeted Johnson: "I praise you 24/7!!! And this how you do me!!! You expect me to learn from this??? How??? I'll never forget this!! Ever!!"
As if to mitigate the fallout of angering a vengeful deity, he added:
"Thx tho."
* * *
Atlanta Falcons receiver Roddy White tweeted that the New Orleans Saints won the Super Bowl last February because "the grace of god gave them tht championship so tht city wouldn't wouldn't fall apart."
White apologized (sort of), saying, "I'm sorry. I really didn't say anything about the hurricane but they took it that way."
So what did he mean? Mardi Gras?
Not all the signs from above were divinely inspired.
Tiger Woods, who talked of his re-commitment to Buddhism after months of scandal linked him to women all over the country, was greeted on the first tee at The Masters in April by a plane trailing the following message:
"Tiger: Did you mean bootyism?"
Some people showed they literally do not know what "literally" means.
After losing lots of weight, golfer John Daly signed a deal with Slix underwear.
The press release called Slix "thoughtfully designed garments that literally change lives" and that "literally put a spring in your step."
Ben Roethlisberger, for one, literally changed one aspect of his life.
That was his vow after NFL Commissioner Roger Goodell suspended him for another off-field incident.
So the former pride of Findlay, Ohio, reportedly changed his biographical information in the Steelers' media guide.
The Associated Press said Roethlisberger was upset with some unflattering things said about him in his hometown after he was accused (but not charged) in a sexual assault incident in the offseason. So he dropped Findlay and listed Corey Rawson, Ohio as his hometown.
Introducing the greatest, unparalleled, best-ever, life-changing "Overstatements of the Year."
"Tim Tebow is 250 pounds of concrete cyanide." -- Jon Gruden, before the April NFL draft.
* * *
"He came from a team that was always looking for a savior to a team that knows how to win. No one would understand what he's been through unless you've been drowning." -- Malesa Plater, Braylon Edwards' mom, to the New York Times on the tribulations her son endured while playing in Cleveland.
* * *
Sociologist Harry Edwards explained the cultural divide between white college coaches and black players this way to Yahoo! Sports.
"At the end of the day, you have a situation where it's Lawrence Welk and Pat Boone talking to Snoop Dogg, Ludacris and Vanilla Ice in the locker room. They don't get it. They don't understand it."
At least not like they get Lawrence Welk references.
* * *
Curtis Wenzlaff, the man who supplied steroids to baseball slugger Mark McGwire, told ESPN's Outside The Lines the combination of steroids McGwire used would make anybody bigger, stronger and faster.
"Will it help you hit a baseball?" Wenzlaff said. "Let me put it to you this way. If Paris Hilton was to take that array, she could run over Dick Butkus."
* * *
And the winner is...
"We've become a nation of wusses. The Chinese are kicking our butts in everything. If this was in China do you think the Chinese would've called off the game? People would've been marching down the stadium. They would've walked and they would've been doing Calculus on the way down." -- Pennsylvania Gov. Ed Rendell after the NFL canceled Vikings-Eagles this past Sunday due to a blizzard.
Of all the reasons the U.S. has fallen behind China, not being willing to risk life and limb to get to a football game is somewhere down the list.
When some athletes don't feel the love, they make up for it by taking a hard look at themselves...in the mirror.
"I feel love for me. I love me." -- baseball player Milton Bradley on Milton Bradley.
"People love me everywhere I go. I'm excited to bring a lot of joy to a lot of people." -- Manny Ramirez.
"I am a complete football player. If anybody wonders about me I'm a complete football player. I can say that twice. You can't do better than me." -- wide receiveer Michael Crabtree.
"I mean, even my family gets spoiled at times watching me doing things that I do, on and off the court," LeBron James telling GQ Magazine he didn't regret saying during a season-ending playoff loss to Boston that he spoiled Cleveland fans with his "greatness."
Sometimes logic was downgraded from "probable" to "ridiculously doubtful."
Bengals' receiver Chad Ochocinco said he jogs naked on the wooded property he owns.
"What's wrong with that?" Ochocinco told SI.com. "I take a shower naked."
Indianapolis Colts' punter Pat McAfee was arrested for public intoxication after he appeared to take a pre-dawn swim in a canal. The shirtless McAfee was soaking wet. He blamed it on rain even though it hadn't rained for days. Asked by police how much he had to drink, said McAfee, "A lot cause I'm drunk..."
A 69-year-old Michigan man delayed getting a pacemaker so he could watch Michigan State play Michigan in football. "Whatever happens," he told The Detroit News, "I want to see the game."
Joseph Rimmer, an amateur English soccer player, didn't like a referee's call. So he drove his Range Rover onto the field and got the ref in his sights.
That upped the discipline from a yellow card to a six-month jail sentence.
No marijuana was used (that we know of) in the making of this statement.
Snowboarder Graham Watanabe was asked what it was like to make the U.S. Olympic team.
"Try to imagine Pegasus mating with a unicorn and the creature that they birth. I somehow tame it and ride it into the sky in the clouds and sunshine and rainbows. That's what it feels like."
If only mulligans applied off the golf course...
Oprah Winfrey got up out of her chair to wipe at the smudge she thought was lipstick on the side of New Orleans Saints' quarterback Drew Brees' face during a post-Super Bowl guest appearance.
It was a birthmark.
(Fortunately, she fought the urge to scream to her audience, "You get a permanent blemish, you get a permanent blemish, e-ver-y-bod-y gets a permanent blemish.")
"The pregame altercation got us going. We were like pit bulls, ready to get out of the cage." -- Eagles' receiver DeSean Jackson on a pre-game scuffle with the Washington Redskins.
(Come on, your teammate is Mike Vick. Do I have to say more?)
"You can't have the cavalry come in and save your butt every time you feel a little stiff shoulder, sore elbow," Washington Nationals TV analyst Rob Dibble on his XM Sirius Radio show after Stephen Strasburg grabbed his elbow and left the field.
(A week later, Strasburg was scheduled for Tommy John surgery and will miss at least a year. Dibble was fired.
LeBron James denied he said contraction in the NBA would be good for the league.
"That's crazy, because I had no idea what the word 'contraction' meant before I saw it on the Internet," James said. "I never even mentioned that. That word never even came out of my mouth. I was just saying how the league was back in the '80s and how it could be good again. I never said, 'Let's take some of the teams out.'"
As comedian Jay Mohr pointed out, James' statement that he didn't know the meaning of the word "contraction" contained three contractions.
The stone-cold lock of the year...
Sept. 11, 2010 was the 25th anniversary of Pete Rose breaking Ty Cobb's all-time record for hits.
Rose is banned from his sport for life for betting on baseball but the Reds got clearance to honor him.
Except they had to move the celebration to Sept. 12 because Rose had a previous engagement.
He was making an appearance in Lawrenceburg, Indiana.
At a casino.
Some showed razor-like focus and child-like tendencies.
Guard Larry Hughes reportedly grew his beard in protest of his diminished playing time with the Knicks.
Hughes has played for seven teams. After the beard incident, his fan club consisted only of ZZ Top band members.
NBA big men Shaquille O'Neal and Dwight Howard actually spent time debating which of them should get to call himself "Superman."
Once again, it was good advice to be wary of false advertising.
A website dedicated to Major League Umpire and self-proclaimed Renaissance man Joe West describes him as a "true Patriot, Humanitarian, a Believer and a person with millions of funny stories to tell but also a man that will give an answer to any question."
After getting fined by Major League Baseball for his antagonizing a situation during the White Sox-Indians game, West was asked for a comment: "I will say that's none of your business," was his non-answer.
The Surgeon General warns you could put a hole in somebody'e ear lobe with one of those things.
Nine Miami Dolphins' players raked the field in search of defensive end Kendall Langford's diamond after Langford forgot to remove his earrings and lost one during practice.
The size: 2.5 carats.
The value: $50,000.
Knowing you out-blinged Zza Zza Gabor: priceless.
The fine line between sharing athletic insight and giving too much personal information. Norwegian cross country skier Odd-Bjoern Hjelmeset attributed his disappointing silver medal in the 4x10-kilometer relay at the Winter Olympics to less than focused preparation.
"I think I have seen too much porn in the last 14 days," he said.
At least he didn't blame God.