10 Facts About Green Bay, AKA the Toilet Paper Capital of the World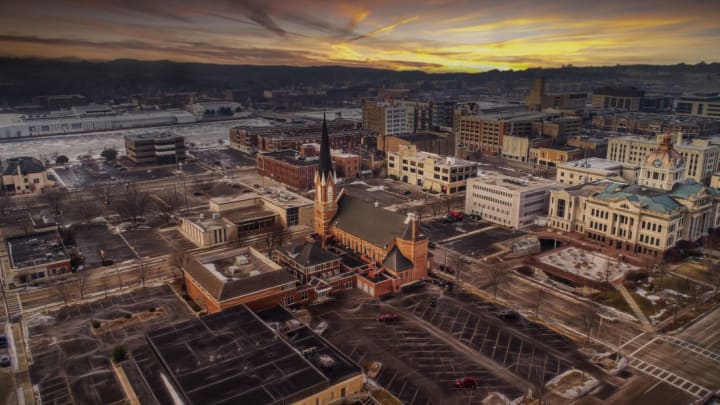 iStock / ImagesbyK / iStock / ImagesbyK
Fair is fair - we couldn't pay a virtual visit to Steel City without also roadtripping to Titletown, USA, now could we? So today I'm continuing my quest to help Super Bowl party attendees who aren't necessarily football fans find other inroads to the game day conversation.
1. The Green Bay the city is named after is part of Lake Michigan; it's separated from the rest of the lake by a bit of land called the Door Peninsula. It was originally called Baie des Puants, "Bay of the Stinkers," because the green algae in the stagnant water was quite odoriferous.
2. The City of Green Bay is at the bottom of South Lake Michigan. The City of Green Bay was loaded up with iron ore for a trip in 1887 when strong winds forced her into the shore and sent her crew flying into the rigging. Only one of them could be saved. What's left of the ship can still be seen quite easily from the air.
3. Way back in 1821, the first post office in Wisconsin set up operations in the town of Green Bay.
4. Of course, various NFL notables have called Green Bay home. But I'm more interested in the non-athletes:
Tony Shalhoub grew up there and got his start acting in a high school production of The King and I. He was named Best Dressed and Most Likely to Succeed during his senior year at Green Bay East High School. Soul Asylum's lead singer, Dave Pirner, was born there. My personal favorite? Joel Hodgson, creator of Mystery Science Theater 3000, went to nearby Ashwaubenon High School.
5. There's also a town of Green Bay, not to be confused with the city of Green Bay, which is where the football team is. The town of Green Bay is a few miles northeast of the city and has a population of less than 2,000.
6. Green Bay the city, on the other hand, has a population of more than 100,000. That still makes it the smallest town to host an NFL team, though.
7. I suppose "Titletown USA" has a better ring to it than "Toilet Paper Capital of the World," but both are nicknames for the town. Titletown, obviously, because the Packers lay claim to 12 NFL titles. The, um, crappier nickname is because Northern Tissue - a precursor to Quilted Northern - invented the first "splinter-free" paper in the plant there. Toilet paper with splinters? Yikes.
8. You probably know that Green Bay fans are often called Cheeseheads because Wisconsin is known for its cheese production and because of those massive foam fromage hats people started wearing in the '80s. What you may not know is that it was originally meant as a taunt - Illinois football and baseball fans used it to mock their Wisconsinite opponents.
9. The All-America City is an award given by the National Civic League since 1949 to communities with outstanding citizens who work together. Cities apply for the honor and 10 of them are chosen every year. Green Bay has been in the top 10 twice - 1964 and 1999.
10. The National Railroad Museum may not be everyone's cup of tea (I know, train enthusiasts out there are shaking their heads), but every October, the grounds open up to host "Terror on the Fox," a train ride and haunted house that has consistently been called one of the best (and even the best) haunts in America. Anyone been to it? All of the National Railroad Museum's special events aren't scary, though - they also have "Day Out With Thomas," where Thomas the Tank Engine takes families through some of the exhibits.