12 Subjects We Didn't Realize Had Their Own Fan Fiction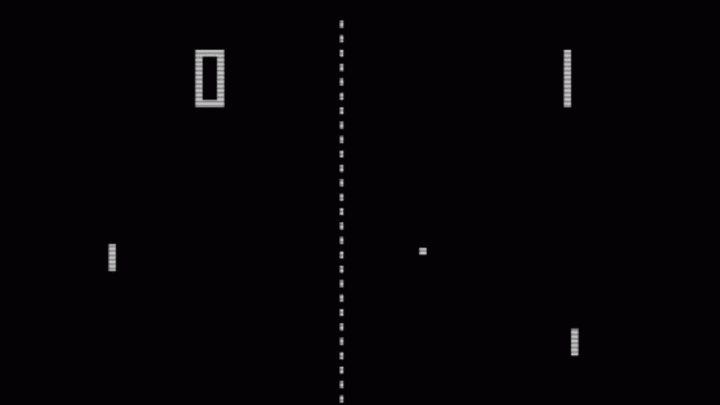 Getty Images / Getty Images
After we stumbled across some Bill Nye fan fiction, we decided to plumb the depths of Fanfiction.net and the rest of the internet to see what else is out there. Here are some of the weirdest fan fiction subjects we could find. And this is only the beginning. (Click at your own risk—here be smut!)
1. Pong
Think there couldn't possibly be fan fiction about a set of paddles and a ball bouncing around on a black screen? Think again. Fanfiction.net has 114 fanfics—not counting crossovers—devoted to this 1972 video game. Some writers express disbelief that there's a Pong category; others embrace it with relish. A few standout stories:
"The Last Chance" — Imprisoned and exhausted, Ball knows he has only one chance to escape. "Blood and Thunder" — The arena roars in anticipation of the battle of a lifetime. Two titans clash, one will fall, one will triumph. Don't miss out on this epic of bloody, thunderous proportions. You'll regret it. No, really. "PONG: A Curse" — A man has been playing Pong for his entire life ever since he was six. He is in a way cursed to play it. But one day, he meets a woman and falls in love with her. Will love lift the curse? "A Day in Pong" — At an old beat-up arcade cabinet, the two paddles and the ball remember the good old times when they were the popular ones. Wait...why does Pong have a category, and why did I write this?
If video game fanfic is your thing, you might want to check out the Guitar Hero stories.
2. NASCAR
Buckle your seatbelts: NASCAR fan fiction isn't so much about changing a tire at breakneck speed as it is about romancing the racecar driver of your choosing. There are at least two main sites: FanFicNation—"NASCAR fan fiction community where NASCAR fans of all drivers can come together to read, write, discuss, and giggle about their favorite drivers. It doesn't matter if it's Tony Stewart or Brian Vickers, you can find your driver here"—and Loose Lugs: "Why 'Loose Lugs' you ask? Well, to begin with, we're all a little off our rocker arms to read and write stories based on racecar drivers! How many times have you heard a driver shout 'I've got a vibration!'? And what's usually the cause of said vibration? Yep, loose lugs. Besides, it's sorta cool to call each other 'lugnut.'"
3. Classic Literature
Getty Images
Ever wonder what might have happened after the ending of that classic book you read in 10th grade English class? The internet has every possible answer. On Fanfiction.net you can find 458 stories about To Kill A Mockingbird, 169 stories about Of Mice and Men (what would Steinbeck think?!), and 110 stores about The Crucible. Some fanfic about these books that you might want to read, based on description alone:
"Tales of a Fourth Grade Lovely" — Now in fourth grade, Scout's getting prettier and making more friends. However, a lot of them are boys. Yet she promises to be Dill's forever. But can she keep her promise? "And I Get to Tend To the Rabbits" — George and Lennie meet again after George dies. "The Ballad of Curley's Wife Call Me Maybe" — Just a little musical interlude, Curley's Wife sings about how she met Curley "Futuristic Assassinating Lover" — My name is Angel and I'm on a mission. I must go back in time to the Crucible and change it. Abigail Williams must die. Got the title from Katy Perry, but this is NOT a songfic. it's futuristic though... meaning time travel. "God is Just A Bit Sick and Twisted" — Title says all.The Truth behind how Lucifer was really born.A short story on why the Salem witch-hunts occurred. crackfic. warning: a bit of sugar induced blasphemy.
Head over to the Books forum to find more literary fanfic.
4. TV Commercials
Getty Images
Sometimes, a TV commercial leaves you wanting. So head on over to this forum, which is devoted to the post-commercial lives of iconic advertisement characters and more. A few of the more ridiculously enjoyable stories (at least judging by their descriptions):
"That's Why Trix Are For Kids" — The Trix rabbit longs for a bowl, a spoon, a taste. When he finally has an opportunity, what will the consequences be if he attains his prize? Both humor and tragedy, but isn't that the way of the rabbit's life? "Activio" — "I should be studying, I should be studying" 4 bonus points if you get this. Rated K for weirdness, and stuck in the "Drama" genre because there is nothing more dramatic than irregularity. "Folger's House" — The commercial with the couple? From the 1980's? I'm ending it my way. "I Hate The Snuggie" — This is what I think of the Snuggie commercial. Please R&R! Flames are not appreciated.
5. Kevin Smith
Getty Images
Smith's fans are busy creating homages to his work—including Clerks, Chasing Amy, and Mall Rats— in fanfic forums. For example:
"Cheer Up, Silent Bob" — Sing to the tune of "Daydream Believer" by The Monkees "Haikus for Clerks" — Just like the title. A small collection of short, pointless haikus for Clerks and maybe Clerks 2. "Jay & Silent Bob Visit the Magical World of Disney" — While visiting Disneyworld, our favorite drug dealers come across a portal to another world while following what appeared to be a mining dwarf. They end up in a world full of princes, princesses, and talking animals and objects. As they travel, they soon realize that their supply of pot is running low. How will Jay and Silent Bob survive with less than a pound of weed while trying to help the heroines with their quest to marry the man of their dreams?
6. Ancient Literature
Getty Images
Interested in the continuing adventures of your favorite Norse gods, Biblical heroes, or ancient Greeks? There's fanfic for that!
"Bailing Yourself Out With A Straw" — Jesus and the disciples and the women drive around America in a multicolored minibus. "Digestives of Troy" — Biscuits, always a vital part of life, have been mysteriously omitted from the Iliad. I blame later editing. But what if they were included once more...? "The Daughter of Apollo" — What happens when the daughter of Apollo is allowed to fight in the Trojan War? Warning: Contains a lot of mythological inconsistancies and chronological errors.This is done on purpose. "The Raven and The Milkmaid" — Freyja's necklace has been stolen, Heimdall is on the hunt for Loki, and Sigyn is just trying to milk the cows in peace. And maybe outsmart a trickster while she's at it. "Sins of the Father" — Are monsters born or are they made? This is the story of the Norse serpent god, Jormungund, and how he fell.
BuzzFeed has also gathered some of the saucier Biblical fanfic for your reading, um, pleasure.
7. Kids' Television Shows
Wikimedia Commons
This, in my opinion, is the weirdest category on this list. Why would anyone want to write fan fiction about Dora the Explorer and Thomas the Tank Engine, among other kids' shows? To be fair, I haven't seen Thomas since Ringo was conductor, so maybe there's something I'm missing. But here are a few examples that show just how weird kids' television fanfic (or in Dora's case, hatefic) can get:
"DORA'S GONE RAMBO" — DORA'S GONE ON A KILLING SPREE! Stupid, isn't it. "A Typical Day for Dora" — A typical day in Dora's adventuring life. Yes, it does include the farting Maps, giant poop and a weird gizmo... Note: Rated for VIOLENCE and LANGUAGE. Not for Dora-lovers! "Steamies vs. Diesels: Dawn of the Rebellion" — A humanised story about a war between the Steamies and the Diesel. An evil empire donimates the world and a small band of rebels fight for freedom and to end its tryanny. "End of an Era" — In the future, steam engines have been made illegal, and any steam engines found by authorities are scrapped. On tank engine, Johnny, enters a resistance movement and encounters a very famous old engine . . . DISCLAIMER: I DO NOT OWN THOMAS AND FRIENDS "The Survivors" — Thomas finds out that he's the alst E2. He doesn't take it too well. Luckily, his friends are there for him. It's kinda soppy. Oneshot.
8. Judy Blume
Getty Images
There's no underestimating the impact Judy Blume's books had on millions of young girls. Theoretically, these are the same ladies who are now paying homage to Blume's works and iconic characters—including Fudge, Blubber and Margaret—in fanfic. Some are true to Blume's original intentions, and some ... are not ("Blubber's Revenge," anyone?).
9. Perry Mason
Wikimedia Commons
You can still catch Perry Mason reruns on TV today—but why watch when you can read what fanfic authors have in store for the defense attorney? There are 222 stories on Fanfiction.net—here are just a few of the stranger stories you might want to check out:
"Got Rhythm" — In the mid 80s, Della's got rhythm when she welcomes the day with some modern music and invites Perry to share it accordingly. "Statistics" — Because I had this vision of all the main characters standing around watching someone flip a coin while Perry called every toss correctly ... "The Case of the Memento Mori Murderer" — Perry is abducted by a vengeful young man and his unknown accomplice. Hamilton Burger and Lt. Tragg join Della and Paul in a desperate attempt to find him before it's too late. And what bearing does an unsolved 80-year-old mystery have on the case?
Of course, you could also read Erle Stanley Gardner's Perry Mason mystery novels, but where's the fun in that?
10. Citizen Kane
Getty Images
Proof that for this newspaper tycoon from the classic 1941 film, there is life after Rosebud—at least on the internet, via stories like "Charlie's Love Nest."
11. Carl Sagan
Getty Images
Fan fiction doesn't need to be about fictional characters. Real people have fans too! Take, for example, the late Carl Sagan, one of the greatest astronomers of our time. He popularized science through his television show, Cosmos; wrote about space in science fiction novels like Contact (which was eventually turned into a movie starring Jodie Foster); and waxed eloquent about the pale blue dot we live on in "Reflections on a Mote of Dust." Sagan has no shortage of fans, and some of them have chosen to write about him or use him as inspiration:
"The Wormhole in my Mind" — Carl Sagan fanfic. Is that a thing? Well, it is now. After finding a golden ticket allowing travel in space and time, with a guest alive, dead, or fictional, I go on an adventure with Carl Sagan through the cosmos. "Canned Primate" — "Houston, we've had a problem." The two tall, slender men were sprawled outside on a park bench on the Cornell University campus. It was April 13th 1970, the Ides of April. One was wearing a bright orange nylon parka, the other a long wooly brown coat... "Eighteen Hours" — Based on the film adaptation of the novel "Contact" by Carl Sagan: A recount of of Ellie's journey via the Machine in Hokkaido, from the perspective of Dr. Kent Clark.
12. Frosty the Snowman
Getty Images
There's no letting Frosty the Snowman melt away in the fan fiction world. If you want to liven up your annual holiday caroling, sub out the regular "Frosty the Snowman" lyrics for the words from "Frost-T The Kill Bot, Wherein a Snowman-shaped Killer Robot Goes on a Homicidal Rampage."