The Many Hats of Dr. Seuss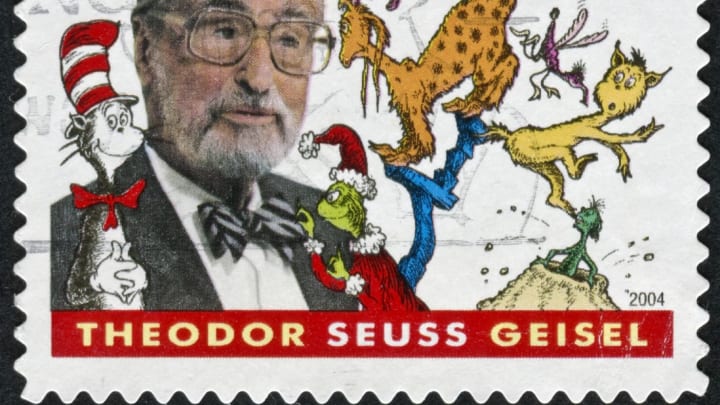 iStock.com/traveler1116 / iStock.com/traveler1116
Children's author and illustrator Theodor Geisel has educated generations of children with silly stories and a fanciful way with words. Before the later popularity of his nonsensical rhymes, Dr. Seuss penned a prose work called The 500 Hats of Bartholomew Cubbins, featuring the eponymous Bartholomew and his enviable collection of headwear—a collection based on Dr. Seuss's own menagerie of fantastic hats. In honor of the 75th anniversary of the book's publication, Geisel's widow has opened her late husband's hat collection to the public in a traveling exhibit called "Hats Off to Dr. Seuss!"
Geisel's hat collection remained something of an open secret: Though his penchant for silly hats was well noted by his friends and family, the general public remained unaware that the author maintained a fully stocked hat closet in his San Diego residence. In a 1937 newspaper interview, his sister Marnie outed the inside joke, informing the reporter, "Ted has another peculiar hobby—that of collecting hats of every description. Why, he must have several hundred, and he is using them as the foundation of his next book. I have seen him put on an impromptu show for guests, using the hats as costumes. He has kept a whole party in stitches just by making up a play with kitchen knives and spoons for the actors."
With Dr. Seuss, it seems that every dinner party was a hat party. No matter how elegant the occasion, he would insist that his guests don an additional whimsical accessory from his collection. In the picture above, Geisel, with his wife (now widow), Audrey, wears a nonchalant expression that belies his white, faux-fur head accessory. According to Audrey, it was a conscious hosting choice that worked to their advantage: "Believe me, when you get a dozen people seated at a fairly formal dinner party and they've all got on perfectly ridiculous chapeaus, the evening takes care of itself." 
Which came first, the cat or the hat? No one's sure, but either way, Geisel strongly identified with one of his most morally ambiguous characters, drawing himself into the character.
With its ribbons and frills and furbelows, the straw hat could be a character in a Seuss story all on its own, and is characteristic of the diverse array of millinery in which Geisel delighted.