How Climate Change Shaped This Adorable Skunk's Evolution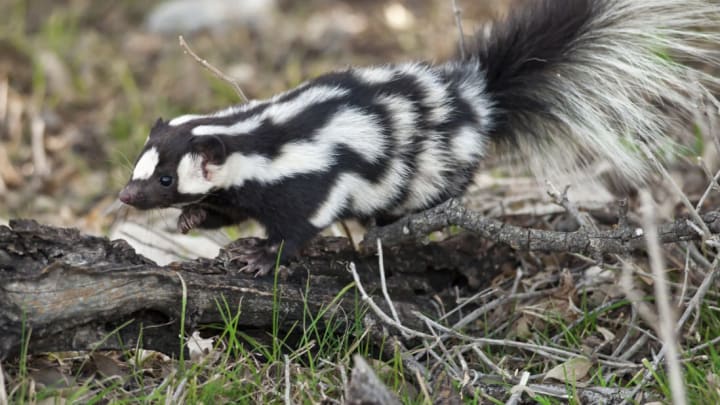 The Field Museum/Robby Heischman / The Field Museum/Robby Heischman
If you're like many people, you've often thought, "Boy, am I sure glad there are lots of types of spotted skunks." (Us too.) And thanks to science, we now know whom to thank for this wonderful diversity: climate change. A report on the sweet-faced skunks' strange history was published this week in the journal Ecology and Evolution.
Robert C. Dowler
The western spotted skunk (Spilogale gracilis) is a button-nosed, wee critter, maxing out at around just 2 pounds. To maximize its stench-dispersal powers, the skunk flings itself into a little handstand, waving its back legs and rear in the air as noxious gas sprays from a gland under its tail.
Jerry W. Dragoo
For all its exotic appeal, S. gracilis is surprisingly local, making its home up and down the left side of North America from the temperate rainforests of the Pacific Northwest to the hottest desert in Mexico.
Speciation, or the splitting of one species into two, usually happens when two populations of organisms are divided by some physical boundary, like a mountain or a waterfall. Because the two groups are living in slightly different environments, they face slightly different pressures, and eventually evolve into slightly different creatures.
To find out if that's what happened with S. gracilis, the authors of the current study collected DNA samples from 97 skunks in a range of habitats and areas of the American Southwest.
Sampling skunks is odiferous work. / The Field Museum
They found that the skunks could be divided into three subtypes. But the subtypes aren't separated by rivers or mountain ranges, nor have they ever been. Instead, the researchers say, the family was split up by climate change a very, very long time ago.
"Western spotted skunks have been around for a million years, since the Pleistocene Ice Age," lead author Adam Ferguson, of The Field Museum and Texas Tech University, said in a statement. "During the Ice Age, western North America was mostly covered by glaciers, and there were patches of suitable climates for the skunks separated by patches of unsuitable climates."
It was largely these shifting patches of hostile terrain that kept the skunk families apart. These findings are important not only for lovers of skunk history, but for scientists, conservationists, and policy-makers who care about where our planet and its inhabitants are going.
"What we know about the past can inform what we expect to see in the future," says Ferguson. "Understanding these genetic subdivisions that happened as a result of changing climatic conditions can help us conserve skunks and other animals in the future."