Grave Sightings: Charlie Parker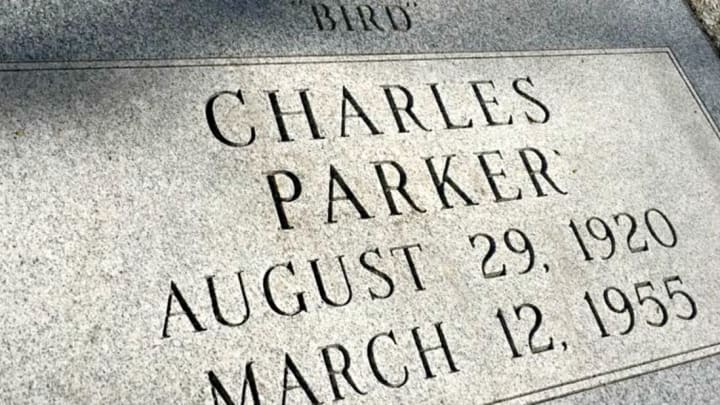 Stacy Conradt / Stacy Conradt
Legendary jazz musician Charlie "Bird" Parker was just 34 when he died of pneumonia in 1955, but he packed a lot of living into those few decades. In fact, his body was so ravaged from years of drug and alcohol addiction that the coroner who conducted his autopsy initially estimated Parker at 55 or 60 years old.
Charlie Parker playing the saxophone at the Three Deuces jazz club in New York in 1947. / Library of Congress
To add insult to injury, Parker's final resting place in Kansas City, Missouri is about 1200 miles away from where he wanted to be buried, according to his common-law wife, Chan Parker. She said Bird wanted to be buried in Long Island next to his daughter, who had died from a heart condition at the age of 2. Parker's mother, however, wanted him home in Missouri. Ultimately, a committee of Parker's friends claimed his body at the funeral home and sent it home to his mother. Addie Parker had her son interred at Lincoln Cemetery on the outskirts of town and was buried next to him when she died in 1967.
Stacy Conradt
But Bird's afterlife problems don't end there. His name was misspelled as "Charley" Parker in his Kansas City obituary. And the marker that designates his final resting place has been plagued with problems since the day it was installed. The original headstone listed the wrong death date—March 23 instead of March 12—and though the egregious engraving error was eventually fixed, the whole thing was later stolen in 1992. It took two years to get a replacement, and when it arrived, there was a new mistake: The engraving above the name is a tenor saxophone. Parker played the alto.
In 1998, there was some talk of having Parker moved from the out-of-the-way, difficult-to-find cemetery. Fans, including then-mayor of Kansas City Emanuel Cleaver, had a more fitting resting place in mind: 18th and Vine, a historic jazz location in Kansas City proper where the American Jazz Museum now stands. Cleaver even requested $25,000 from the City Council to help move the city's famous son. "It will be much more than a grave," he said. "It will be a shrine. It will take up about half a block behind the museum. I believe having Charlie Parker's grave near the museum is almost as important as having the home base near the playing field."
Unfortunately for Cleaver, the request was denied, and to this day, Parker remains in Lincoln Cemetery. Even so, the obscure spot gets pretty lively every year on Parker's birthday when the local jazz community shows up to serenade him with a New Orleans-style "21 Sax Salute."