How 9 Louisville Neighborhoods Got Their Names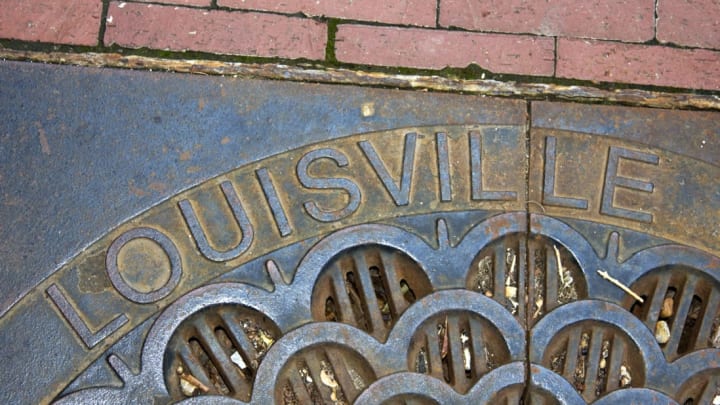 iStock / iStock
Historic Louisville, Kentucky, has got to be a contender for having the most neighborhoods in any American city. Its districts can be small, sometimes comprising only a few blocks, but they number in the hundreds, and each has a distinct personality—and more often than not, an interesting tale to tell. Here are a few of their backstories.
1. LIMERICK
Named after County Limerick by the Irish immigrants who established the area, this neighborhood was a Catholic stronghold in a Protestant city. The area had its own annual St. Patrick's Day parade for 46 years, and roads are named after Catholic saints, such as St. Catherine Street and Bertrand Street (for St. Louis Bertrand, who is also the namesake of the neighborhood's striking Edwardian English Gothic style church). Although some "lace curtain Irish" immigrants built lavish mansions in Limerick, it's historically been home to working-class people, and today supports a mix of Irish-American and black Louisvillians, among other demographics. It's also known for its well-preserved 19th-century architecture.
2. CAMP TAYLOR
Camp Taylor started out not as a neighborhood but a military base. Named after the United States' 12th president, Camp Zachary Taylor was one of the largest military training camps in the U.S. when it was constructed in 1917, housing over 47,000 recruits. It was also, at the time, the single largest building project in Louisville's history.
After World War I ended in 1918, most of the government buildings were torn down and the area was redeveloped to become a residential neighborhood of mostly bungalows—many of which were bought by soldiers returning from war—but the old name stuck around. Author F. Scott Fitzgerald was stationed at Camp Zachary Taylor for one month in 1918 and later name-checked it in The Great Gatsby: The mysterious Jay Gatsby is said to have met Daisy while stationed there.
3. CHEROKEE GARDENS/CHEROKEE TRIANGLE
Both neighborhoods are named after nearby Cherokee Park, a massive 409-acre city park designed by the father of landscape design, Frederick Law Olmsted, who also designed Central Park in New York City. Cherokee Park itself is so named thanks to a 19th-century trend of romanticizing Native American imagery—e.g., Henry Wadsworth Longfellow's The Song of Hiawatha. Olmsted actually went on a tear and named three parks after native peoples: Cherokee, Iroquois, and Shawnee. Later, his sons and their firm would help develop more parks, some maintaining that naming tradition.
4. PLEASURE RIDGE PARK
This somewhat salaciously named neighborhood stems from a resort that was built there in the 1870s. The Paine Resort was adjacent to shady Muldraugh Ridge, a popular spot for dancing and picnicking. It was colloquially renamed "Pleasure Ridge," and the new name later spread to the whole area. (An earlier name for the neighborhood, dating to before L. M. Paine built the resort but still owned most of the surrounding land, was pretty much diametrically opposed its present-day one: Painesville.)
5. OKOLONA
Settled by farmers in the late 1700s, Okolona would eventually get the name Lone Oak, after a huge tree that stood in its center. But when the town tried to register its post office, it learned that there was already a Lone Oak, Kentucky. So the residents roughly rearranged the letters and called it Okolona instead. (For what it's worth, there's also a town called Okolona in Mississippi, but its chamber of commerce claims it was named after a Chickasaw warrior and has nothing to do with oak trees.) The community of Okolona has since been incorporated into Louisville proper, which happened when all of Jefferson County merged with the city in 2003. The lone oak itself was around until the 1970s, when it was hit by lightning and subsequently chopped down.
6. KOSMOSDALE
Located in the southwestern part of Louisville, this area was christened after the Kosmos Cement Company, which began developing the area around 1905. (The company's name itself has been claimed to have come from a type of stone used in the manufacture of cement, or the idea that the product would be sold "around the cosmos," with a spelling change to tie it in to Kentucky.) The company built a row of 12 duplexes on Dixie Highway for its employees to live in, as well as a school, a medical clinic, and a company store, fostering a small community that still stands today. Kosmos Cement Company is now affiliated with Cemex, but the plant still operates out of Kosmosdale.
7. SCHNITZELBURG
In 1866, when developer D.H. Meriwether first planned out this area of Louisville, along with a triangle of land just to the west that bears his name today, it was originally named Meriwether's Enlargement. However, when it turned out that the neighborhood's residents were largely German immigrants, they and other Louisvillians began calling it "Schnitzelburg," probably referring to the popular German/Austrian dish.
8. BUTCHERTOWN
This one is kind of a no-brainer: Butchertown was once full of butchers and stockyards, starting in the 1820s. It was attractive to these business owners because animal remains could be handily dumped into Beargrass Creek, which wasn't allowed next door in the downtown area for hygiene reasons. In 1937, the Ohio River flooded, and 70% of Louisville was underwater. With Butchertown sitting right on the river's edge, the already-seedy neighborhood was sent into even sharper decline, with many homes destroyed—or just left to rot. In the 1990s, though, a major overhaul was launched, old buildings were rebuilt and refurbished, and today's Butchertown is a trendy hotspot known for sleek restaurants, antique boutiques, and art galleries.
9. SMOKETOWN
Smoketown was where Louisville's brickyards were; according to an 1871 directory, 9 out of the city's 20 were located in this area. This was thanks to a giant deposit of clay in the ground (possibly evidenced by the name of South Clay Street, which runs through the neighborhood). The kilns used in brickyards produce smoke as well as bricks, and so the neighborhood's name wrote itself. Folks also called it Frogtown, a name that originated after the brickyards were abandoned in the 1880s, once the clay had been depleted: They left behind empty clay pits that filled with water—and frogs.