10 Composer vs. Composer Insults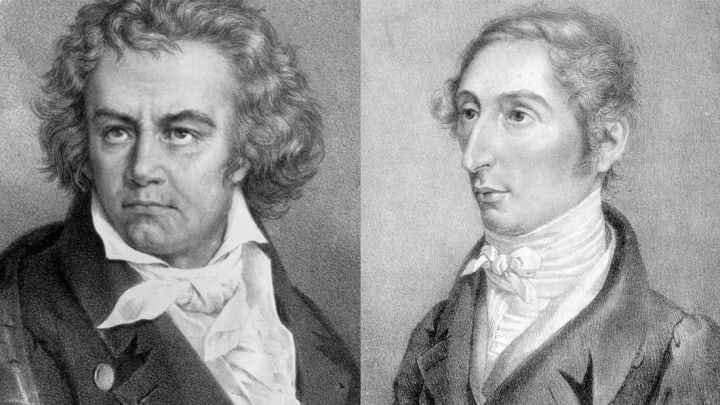 Getty Images / Getty Images
Sir Thomas Beecham was a 19th and 20th century English conductor known for his groundbreaking work with orchestras all across the UK. He was also well known for his acid tongue and his uncompromising opinions on all aspects of music, from critics to instruments, from compositions to their composers.
The sound of the harpsichord, for instance, was likened by Beecham to the sound of "two skeletons copulating on a tin roof in a thunderstorm." Beethoven's 7th Symphony was dismissed as "like a lot of yaks jumping about." Edward Elgar's 1st Symphony was the musical equivalent of "the towers of St. Pancras station." Bach had "too much counterpoint—and what is worse, Protestant counterpoint." And asked if he had ever conducted anything by the German avant-garde composer Karlheinz Stockhausen, Beecham supposedly replied, "No. But I once trod in some."
But that's not to say that Sir Thomas Beecham was the only musical impresario not afraid to voice their opinion on their contemporaries. From Beethoven to Stravinsky, 10 of the classical music world's most cutting zingers are listed here.
1. WEBER ON BEETHOVEN
Beecham wasn't alone in disliking Beethoven's 7th Symphony—despite it being an instant hit with the audience on its debut in 1813. On opening night, Beethoven conducted the symphony himself, jumping into the air and flinging his arms around dramatically on the rostrum, and gave such an extraordinary performance that he instantly acknowledged it as one of his own greatest works; according to musical legend, the famous Allegretto movement (used to memorable effect in the finale of The King's Speech) proved so popular the audience demanded it be encored immediately. But according to an 1840 biography of Beethoven by Anton Schindler, Beethoven's contemporary Carl Maria von Weber was less convinced. "The extravagances of this genius have now reached the ne plus ultra," he once commented. "Beethoven," he continued, was clearly now "quite ripe for the madhouse."
2. BEETHOVEN ON ROSSINI
Weber might not have been a fan of Beethoven's 7th, but Schindler claimed that Beethoven was no less restrained in his criticism of other composers. Gioachino Rossini, the Italian composer of The Barber of Seville and William Tell, "would have been a great composer if his teacher had spanked him enough," he reportedly quipped.
3. BEETHOVEN ON HAYDN
Of Josef Haydn, Beethoven simply stated, "I never learned anything from him." This despite the fact that he was at one point Beethoven's piano teacher.
4. BERLIOZ ON HANDEL
Beethoven was nevertheless a fan of George Frideric Handel, whom he once labeled "the greatest composer that ever lived." Haydn too was a fan (and reportedly burst into tears of joy after hearing Handel's "Hallelujah Chorus" for the first time), as was Mozart, who once commented that Handel's music "strikes like a thunderbolt." The French composer Hector Berlioz, however, was less impressed. To him, Handel was nothing more than "a tub of pork and beer."
5. MENDELSSOHN ON BERLIOZ
If you think Berlioz was being a little harsh on Handel there, leave it to Felix Mendelssohn to redress the balance: In a letter in 1831, he wrote that Berlioz was "a regular freak, without a vestige of talent."
6. SHOSTAKOVICH ON PUCCINI
In the late 1960s, at the height of the Cold War, the English composer Benjamin Britten became close friends with several of his Russian composers—among them Dmitri Shostakovich. During one of their many meetings in Moscow, the pair talked about the Italian composer of La Bohème and Madame Butterfly, Giacomo Puccini. "His operas are dreadful," Britten admitted. "No, Ben, you're wrong," Shostakovich replied. "He wrote marvelous operas but dreadful music."
7. TCHAIKOVSKY ON BRAHMS
Just like Sir Thomas Beecham, the playwright George Bernard Shaw was known for his uncompromising opinions on practically everything and everyone—including the German composer Johannes Brahms. "There are some sacrifices which should not be demanded twice from any man," Shaw once commented, "and one of them is listening to Brahms' Requiem." The Russian composer Pyotr Ilyich Tchaikovsky was even more scathing, and considerably more blunt. Writing in his diary on October 9, 1886, Tchaikovsky wrote, "I have played over the music of that scoundrel Brahms. What a giftless bastard!"
8. COPLAND ON RACHMANINOFF
When Soviet Russia began to crack down on artistic creativity in the early- to mid-20th century, a number of Russia's most famous composers and artists emigrated to the West. In response, a number of Western composers began to forge their own sound, and to reject the Russian influence coming their way—among them, the American composer Aaron Copland. "The prospect of having to sit through one of his extended symphonies or piano concertos," he once commented, "tends quite frankly to depress me. All those notes ... and to what end?"
9. PROKOFIEV ON STRAVINSKY
As if East vs. West zingers weren't bad enough, Sergei Prokofiev memorably turned against his fellow Eastern European composer and conductor Igor Stravinsky when he said that his music sounded like "Bach on the wrong notes."
10. STRAVINSKY ON VIVALDI
Stravinsky wasn't a fan of the Italian Baroque composer of The Four Seasons, Antonio Vivaldi. According to Stravinsky, he was "greatly overrated" and—even worse—"a dull fellow."