10 Brilliantly Creative Ways People Have Gotten Jobs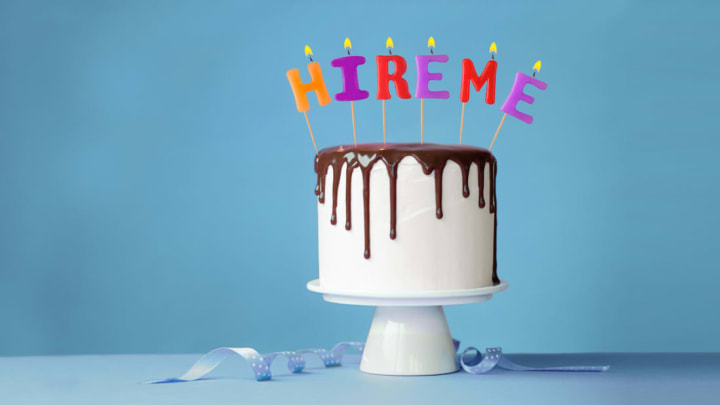 iStock / iStock
If you're having little luck landing an interview (let alone a job offer) with your standard resume and cover letter, it might be time to up the ante. We asked people on both sides of the hiring process about their most memorable applicant stunts. Here are the stories of 10 creative people who went the extra mile with their applications—and scored the job.
1. SWEETEN THE DEAL.
"A prospective hire submitted an application but hadn't received an interview. So he sent a cake to our human resources department. In bright red frosting was this sentence: 'Just give me an interview.' So we did." —Josh Haber, a lead customer success manager at All Set
2. SHOW THEM THE GOODS.
"I applied to a digital agency without any agency experience, and I knew I was a stretch candidate. After the phone interview, the company asked me for a writing sample. I knew my past writing projects were very technical and dry; they didn't give my writing skill set justice. Instead, I took a few hours and researched one of the agency's clients, and wrote a blog for them. I gave them full rights to the blog, and said they could make it public whether or not they hired me. I got the job." —Christina Oswald, digital marketing analyst at a digital agency
3. DROP IN.
"I was offered three different jobs on the spot. I identified a few companies that seemed like a good fit; I dropped in and asked to see the owner; I showed them samples of my work. Years later, I hired an intern on the spot who dropped in looking for a position." —Paul Entin, president of epr Marketing
4. MAKE A CONNECTION.
"When I finished graduate school, I really wanted to work for Office Depot, but I couldn't get an interview with the corporate office. I tried for months through the standard channels, but did not have any luck. Then, I was out to dinner and saw someone wearing an Office Depot shirt at the next table. I approached him, and shared that I loved the company and wanted to work for them. He said he didn't work in HR, but would direct me to someone who did. He gave her my number the following morning, and I had an interview scheduled shortly after." —Amy Cooper Hakim, executive consultant and founder of The Cooper Strategic Group
5. GET A FOOT IN THE DOOR.
"I was unhappy with my job, and quit. I was down to my last $200, when I went to a black-tie event. There was an internship auctioned off for the role of a production assistant with a minimum bid of $75. I couldn't afford it, so my boyfriend at the time bid on it for me and won it. I started an internship in the event marketing and sponsorship department, having spoken to the internal team and asked to be moved to the department I always wanted. My new role reported to the vice president of event marketing in North America: I landed my dream internship. I stayed with the company for four years in various capacities." —Leyla Arsan, strategy director at Lotus Marketing Services
6. MAKE AN IMPRESSION.
"I was working as an actress doing commercials, and I really wanted a job doing a car commercial. I found out that a company was hiring, so I sent them a picture of me with my car, along with a note about how much I loved my car. I also went to an awards ceremony where the company was being honored and sat at their table. While I didn't get the job at first, they hired me after using another actor who didn't work out because I stood out from the crowd." – Julie Austin, CEO of Creative Innovation Group
7. SAY IT IN SONG.
"The company had already been considering a few candidates, and I knew I had to do something quickly to stand out. So the day I found out about the opening, I went home on my lunch break and wrote a song about the company and uploaded it to YouTube to submit with my application. I shared it with a friend who already worked there, and she played it at the weekly company-wide meeting. I submitted my resume and cover letter that night, interviewed over the next few days, and got the job. I played the song live at the office after I was hired." —Arielle LaGuette, singer-songwriter and account executive at Favor
8. UPGRADE YOUR MATERIALS.
"I had no experience in the role that I wanted, so I went for an over-the-top CV. It was clean and minimalist in format, but I used a top-grade business casual photo on the header. Then I bought a custom cover with a wonderful weighty feeling to it, like a cover on a Moleskine notebook, and I custom embossed my name on the bottom with a slight silvery sheen. There was a cut-out on it so my pro-photograph on the resume was visible. I delivered this by hand wearing a suit. Two days later, I was called for an interview, and I got the job. I was told that the owner barely looked at the other CVs because mine stood out, and the owner figured that I was a man who lavished attention on everything I did." —Luís Magalhães, coach and consultant at DistantJob Remote Recruitment Agency
9. STAMP OUT THE COMPETITION.
"An applicant for a writing position at our trucking website sent over her resume and cover letter while also sending over a very unusual yet interesting gift: postcards from local truck stops and diners. Over the course of the few weeks that I was making hiring decisions, her postcards arrived at my address from trucker stops with short messages such as, 'Looking forward to hearing from you about a writing journey down the road.' She made her present indelible and unique, and she immediately demonstrated interest and creativeness, making her an easy candidate for me to choose for the job." —Jake Tully, head of the creative team at TruckDrivingJobs.com
10. START A PASSION PROJECT.
"When I was unemployed for 41 months, I helped launch a nonprofit that hired me as a volunteer, which allowed me to attract my current employer. The mission of the nonprofit was to help put downsized, college-educated professionals back into the workforce. It also allowed me to do the three things professionals must do to get back to work: build new relationships, protect current skills by using them, and learn new skills. I was the executive director and the chief content officer, managing media relations and social media, which is what I do today for clients." —Kenneth Hitchner, public relations and social media director at Creative Marketing Alliance