11 Father's Day Gifts for Every Type of Dad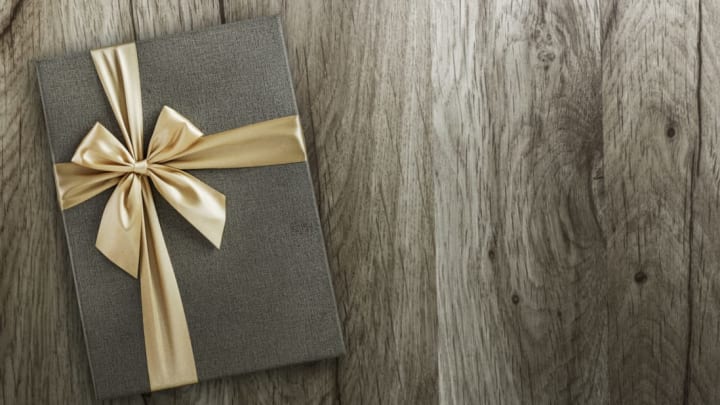 iStock / iStock
This article contains affiliate links to products selected by our editors. Mental Floss may receive a commission for purchases made through these links.
Scrambling to find a last-minute Father's Day gift? You've come to the right place. Whether your dad enjoys playing board games, grilling outdoors, or all of the above, there's likely something for him on this list.
1. FOR THE DAD WHO WANTS TO START A FAMILY BAND.
Fender
Buying your dad a time-consuming new hobby is one way to show him how much you love him. This Fender acoustic guitar looks great, and once your dad learns how to play some real chords, it will sound great too. The CD-60SCE includes a built-in tuner and an "Easy-To-Play" neck, making it the perfect gift for beginning to intermediate level musicians.
Find it: Fender, $300
2. FOR THE FASHIONABLE DAD WHO'S IN TOUCH WITH HIS WILD SIDE
Pladra
If your dad can name his spirit animal without hesitation, this shirt is for him. The inside of this plaid flannel is lined with fabric depicting scenes from nature. In case your dad isn't a bear person, there are other shirts emblazoned with fish, eagles, turkeys, and seals.
Find it: Pladra, $119
3. FOR THE ADVENTUROUS GRILLER DAD
Amazon
Even master grillers can learn new tricks. After 20 minutes on the barbecue, this Himalayan salt block becomes a sizzling hot surface that imparts natural salt to whatever it cooks. What a steak cooked on the slab lacks in grill marks it makes up for in flavor.
Find it: Amazon, $18
4. FOR THE DAD WHO'S A CRAFT BEER FANATIC
Though your beer-loving dad would probably be happy with a six-pack for Father's Day, you can do better. Leave the beer selection up to the experts and buy him a membership to the Microbrewed Beer of the Month Club. Each month, members receive a dozen 12-ounce bottles from two boutique microbreweries in the U.S. The package includes a newsletter with tasting notes, potential food pairings, and profiles of the breweries.
Find it: Microbrewed Beer of the Month Club, $27.95 per month
5. FOR THE ACTIVE DAD
Decibullz
Working out is hard enough—the last thing fitness fanatics need is a loose earbud disrupting their gym flow. That's not a problem with these custom-fit earphones. Before popping them in, wearers must first run the thermoplastic molds under hot water and attach them to the pods. The pliable material is then ready to conform to the unique shape of any ear. So whether your dad does cardio to '90s hip hop or heavy metal, an uncomfortable listening experience won't be an issue.
Find it: Decibullz, $35
6. FOR THE ASPIRING ASTRONOMER DAD
Amazon
With this gift, a clear night spent star gazing can quickly turn into an astronomy lesson. The handheld device can identify over 1500 stars. After setting the latitude, date, and time, users peer through the Stellarscope to study an accurate star map superimposed over the real night sky. It's the perfect way for your dad to entertain himself while sitting by a campfire this summer.
Find it: Amazon, $33
7. FOR THE DAD WHO LOVES BOARD GAMES
Amazon
At the next family game night, give your dad a chance to show off his intellect. Wit's End remixes the traditional trivia board game format by phrasing questions as puzzles and brainteasers. Players race around the board navigating subjects like history, popular culture, geography, and science. The questions get tough, so don't be surprised when your father's competitive side starts to show.
Find it: Amazon, $29
8. FOR THE DAD WHO'S A PALEONTOLOGY NERD
Amazon
If you can't afford to get your dad an annual museum membership for Father's Day, this mug is a good alternative. At room temperature, it depicts a Tyrannosaurus rex stalking its prey. After the hot liquid is added, the dinosaurs fade into lifeless fossils in an exhibit.
Find it: Amazon, $15
9. FOR THE UTILITARIAN DAD
Amazon
The leather exterior of this iPhone case will appeal to your dad's simple taste. But inside there's a secret: The case comes with built-in pockets for holding bills, cards, or anything else that goes in a wallet. It also features a magnetic seal that opens easily and snaps tightly shut to keep contents secure.
Find it: Amazon, $17
10. FOR THE ECO-FRIENDLY COMMUTER DAD
Amazon
While your dad is out saving the environment by biking to work each day, make sure he doesn't neglect his own safety. This tricked-out helmet will protect him on the road without compromising his style. The integrated turn signals connect to detachable handlebar controls and the red brake light illuminates automatically when the bike slows down. The gadgetry is also water-resistant, so your dad can keep up his eco-friendly habits rain or shine.
Find it: MoMA Store, $179
11. FOR THE DAD WHO LOVES BASEBALL
UncommonGoods
A piece of MLB history is knitted into each one of these beanies: the wool yarn used to make them comes from the insides of baseballs used in professional league games. All hats come with a story card detailing the game in which the ball appeared. So if all goes well for your dad's favorite team this season, he'll be superstitiously wearing the cap to ball games by October.
Find it: UncommonGoods, $225