Nintendo Will Release an $80 Mini SNES in September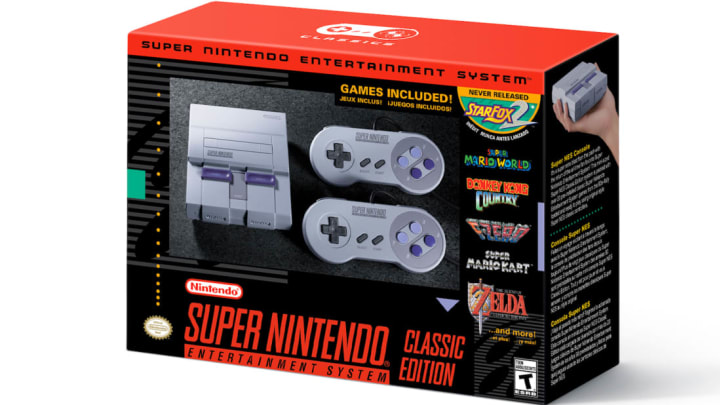 © Nintendo / © Nintendo
Retro gamers rejoice: Nintendo just announced that it will be launching a revamped version of its beloved Super Nintendo Classic console, which will allow kids and grown-ups alike to play classic 16-bit games in high-definition.
The new SNES Classic Edition, a miniature version of the original console, comes with an HDMI cable to make it compatible with modern televisions. It also comes pre-loaded with a roster of 21 games, including Super Mario Kart, The Legend of Zelda: A Link to the Past, Donkey Kong Country, and Star Fox 2, an unreleased sequel to the 1993 original.
"While many people from around the world consider the Super NES to be one of the greatest video game systems ever made, many of our younger fans never had a chance to play it," Doug Bowser, Nintendo's senior vice president of sales and marketing, said in a statement. "With the Super NES Classic Edition, new fans will be introduced to some of the best Nintendo games of all time, while longtime fans can relive some of their favorite retro classics with family and friends."
The SNES Classic Edition will go on sale on September 29 and retail for $79.99. Nintendo reportedly only plans to manufacture the console "until the end of calendar year 2017," which means that the competition to get your hands on one will likely be stiff, as anyone who tried to purchase an NES Classic last year will well remember.
In November 2016, Nintendo released a miniature version of its original NES system, which sold out pretty much instantly. After selling 2.3 million units, Nintendo discontinued the NES Classic in April. In a statement to Polygon, the company has pledged to "produce significantly more units of Super NES Classic Edition than we did of NES Classic Edition."
Nintendo has not yet released information about where gamers will be able to buy the new console, but you may want to start planning to get in line soon.