You Can Buy Jackie Kennedy Onassis's Childhood Home for $50 Million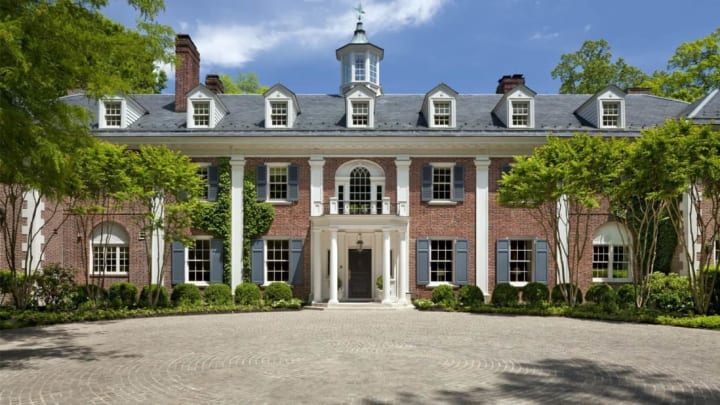 Sotheby's International Realty / Sotheby's International Realty
Before Jackie Kennedy Onassis was a famous first lady, she was Jacqueline Bouvier, a girl growing up in McLean, Virginia. Now, the Observer reports that the American icon's childhood home, Merrywood, has hit the market for a price just shy of $50 million.
Young Jackie lived in the home with her mother Janet Lee Bouvier Auchincloss, her sister Lee, and her stepfather, Standard Oil heir Hugh Dudley Auchincloss, Jr. The early-20th-century, Georgian-style mansion covers 23,000 square feet and sits on a property spanning seven acres. The interior has nine bedrooms and 11.5 baths. Prospective buyers will also find a wine cellar, two dressing rooms, and a gym while touring the building's four floors.
There's plenty to explore beyond the main house as well: The estate includes a tennis court, indoor and outdoor swimming pools, and several outdoor garden rooms, all set against the backdrop of the Potomac River.
As an adult, Jackie didn't venture too far outside McLean, Virginia when she settled into her most famous place of residence in Washington, D.C. Today, the Virginia home is owned by AOL co-founder Steve Case and his wife, Jean. If the couple sells the property for the listing price of $49.5 million, it will break the record for most expensive piece of real estate ever sold in the area.
Sotheby's International Realty
Sotheby's International Realty
Sotheby's International Realty
Sotheby's International Realty
Sotheby's International Realty
[h/t Observer]