25 Things You Should Know About Columbus, Ohio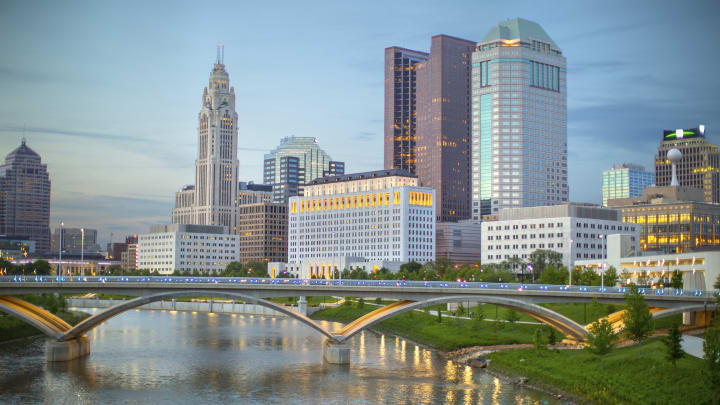 Columbus, Ohio. / Holly Hildreth/Moment/Getty Images
Columbus, Ohio, is a diverse city with funky festivals, die-hard sports fans, and beautiful parks. Read on for more facts about the capital of the Buckeye State.
1. Columbus is central to a lot of people.
Columbus is never too far away. / Tim Boyle/GettyImages
Forty-eight percent of Americans live within 600 miles of Columbus. Major cities like Atlanta, Chicago, and New York City are less than a day's drive away.
2. Columbus wasn't always the capital of Ohio.
A vintage Ohio postcard. / Found Image Holdings Inc/GettyImages
When Ohio obtained its statehood in 1803, Columbus hadn't been built yet. Chillicothe, a modest city on the Scioto River, was the original state capital. The seat of government temporarily moved to Zanesville in 1810 before Chillicothe regained its capital city status three years later.
3. Columbus became the capital before it was even a city.
The Ohio Statehouse, circa 1897. / Print Collector/GettyImages
In 1810, Ohio's general assembly voted to choose a new, permanent capital. The lawmakers agreed that whichever locale they picked would have to lie within 40 miles of the state's geographic center. Four businessmen from the small town of Franklinton offered 20 free acres of land. On February 14, 1812, this land was selected as the site of Ohio's current state capital; Columbus was incorporated in 1816.
4. Some fascinating people were born in Columbus.
Columbus native Guy Fieri. / Ethan Miller/GettyImages
Famous Columbusites include R.L. Stine, author of the bestselling Goosebumps novels, and celebrity chef Guy Fieri. His birth name was actually Ferry, an Americanized version of his grandparents' surname Fieri, which he adopted in 1995.
5. Wendy's originated in Columbus ...
Columbus is an incubator for fast food empires. The very first Wendy's restaurant opened on East Broad Street in November 1969. Today, the franchise is headquartered in Dublin, Ohio, a suburb of Columbus.
6. ... And the city is now home to White Castle's headquarters.
Burger chain White Castle was founded in Wichita, Kansas, in 1921, but has been based in Columbus since 1933.
7. Columbus almost had a different name.
Columbus, Ohio, circa 1897. / Print Collector/GettyImages
The Ohio state legislature picked the name Columbus for the still-unfinished capital on February 20, 1812. It had also considered a much duller alternative: Ohio City.
8. Columbus has had a variety of nicknames over the years.
Columbus has had many aliases, including Cowtown and Cbus. Arch City, an 1890s nickname, stemmed from the city's construction of arches over key streets. The arches provided power to the city's new electric streetcars.
9. The city is home to some oddities.
The Ohio History Center has a genuine two-headed calf, stuffed and mounted for display. The short-lived anomaly was born in 1915; its preserved body was donated in the 1970s.
10. Abraham Lincoln found out he would be president while in Columbus.
President Abraham Lincoln. / Getty Images/GettyImages
In 1861, Abraham Lincoln was visiting then-Governor William Dennison Jr. at the Ohio Statehouse when he learned that the Electoral College results were in and he'd been elected president.
11. A famous Columbus attraction has a bit of a morbid past.
Established in 1876, the North Market was originally located at the city's public cemetery on Spruce Street. It has since moved into a multistory building. A favorite of both locals and visitors, the market houses more than 30 vendors selling prepared Midwestern and international foods, fresh produce, meats, cheeses, and beer.
12. The name of the Columbus Blue Jackets is a nod to the city's role in the Civil War.
After the National Hockey League awarded a franchise to Columbus on June 25, 1997, a region-wide "name the team" contest was held. Out of more than 14,000 entries, the Columbus Blue Jackets was picked. The name stems from the fact that, during the Civil War, Columbus manufactured thousands of blue uniforms for Union troops; Ohio also provided more soldiers to the Union forces than any other state.
13. The Ohio State University was once rocked by an a-moo-sing scandal.
Not Maudine. / Tim Graham/GettyImages
At The Ohio State University (yes, "The" is part of its name), football is a really big deal, as are the Columbus-based school's homecoming festivities. In 1926, the student body elected Rosalind Morrison as homecoming queen, but there was evidence of voter fraud: Only 10,000 people were eligible to cast ballots, yet Morrison received 12,000 votes. So the homecoming crown went to her runner-up, Ms. Maudine Ormsby, a cow nominated by the College of Agriculture. Maudine attended the homecoming parade but missed the dance.
14. The first woman to fly solo around the world was from Columbus.
U.S. President Lyndon B. Johnson awarding the Federal Aviation Agency's Gold Medal Award to Jerrie Mock. / Washington Bureau/GettyImages
OSU graduate and Columbus resident Geraldine "Jerrie" Mock was the first woman to fly solo around the world. Her chosen ride was a single-engine Cessna named the "Spirit of Columbus," which took off March 19, 1964, from the Port Columbus International Airport. Twenty-nine days later, 5000 admirers gathered to watch Mock's triumphant return.
15. People in Columbus celebrate the Doo Dah Parade.
Every July (usually on the Fourth), Columbusites gather to promote "satire, liberty, and lunacy" at the annual Doo Dah Parade. Just about everybody can participate in this decidedly offbeat spectacle. One might see drummers wearing Easter Island heads, Rocky Horror cosplayers, or mustache-wearing cars.
16. Columbus was home to the world's oldest captive gorilla.
Colo, who lived at the Columbus Zoo and Aquarium, was the world's oldest captive gorilla. Born on December 22, 1956, she was also the first gorilla to be bred in captivity. Her parents, Millie and Mac, were both wild-caught apes from Cameroon who had been shipped to Columbus in 1951. Before this western lowland gorilla was known as Colo, a portmanteau of Columbus and Ohio, she was named Cuddles. Sadly, she died in 2017.
17. Columbus has a gorgeous park full of roses.
If you're in Columbus during the warmer months, the Park of Roses is a must-see. This colorful, 13-acre garden within Whetstone Park contains more than 11,000 bushes representing 350 types of roses. Some varieties date back to the turn of the 20th century.
18. Columbus has a surprising connection to Arnold Schwarzenegger.
Arnold Schwarzenegger. / Antony Jones/GettyImages
A bronze statue of action star and former California governor Arnold Schwarzenegger is located downtown and celebrates his relationship to Ohio's capital. In 1970, Schwarzenegger won a Columbus weight-lifting contest over several better-known athletes and told event organizer Jim Lorimer, "When I retire from bodybuilding, I'll be back, and you and I will put together a major bodybuilding competition right here, every year." They teamed up to create the Mr. Olympia contest (1975–1980); in 1989 Schwarzenegger launched the Arnold Sports Festival, one of the biggest fitness expos on Earth, which takes place annually in Columbus.
19. The first junior high school in the U.S. opened in Columbus.
At the turn of the 20th century, elementary schools in Ohio taught kindergarten through 10th grade and only 7 percent of Columbus students went on to get their high school diplomas. To increase the number of graduates, administrators opened America's first junior high school, Indianola Junior High School, in 1909, to teach seventh through ninth grades.
20. Columbus has a "cornhenge."
The suburb of Dublin is the home of 109 concrete ears of corn. In 1994, artist Michael Cochran built the sculptures to honor Ohio's agricultural roots and arranged them in rows in a field. Each statue is 6 feet, 3 inches tall. Officially, this outdoor artistic display is known as Field of Corn (with Osage Oranges). Unofficially, it's called Cornhenge.
21. College football is a huge deal in Columbus.
O-H! / Gregory Shamus/GettyImages
The OSU Buckeyes play at legendary Ohio Stadium. Capable of seating 104,944 scarlet-clad fans, it's America's fourth-largest on-campus college football facility. Since 1949, average home-game attendance has never fallen below fourth place in the national rankings.
22. Seven U.S. presidents were born in Ohio.
President William Henry Harrison wasn't born there, but people count him as a president from Ohio, too. / Fine Art/GettyImages
So far, the United States has had 45 different presidents. Seven were born in Ohio: Ulysses S. Grant, Rutherford B. Hayes, James Garfield, Benjamin Harrison, William McKinley, William Howard Taft, and Warren G. Harding. Though William Henry Harrison was born in Virginia, people often count him as being a president from Ohio, too, because he lived there. The Ohio Statehouse's hearing rooms are named after each of these men.
23. A Columbus airport is named after astronaut John Glenn.
John Glenn. / NASA/GettyImages
A lot of astronauts are from Ohio. John Glenn was one of the astronauts who called the Buckeye State home. Columbus's John Glenn International Airport was named in honor of the first U.S. astronaut to orbit the planet, who also later represented Ohio as a U.S. senator.
24. Columbus has a thriving LGBTQ+ community.
The Pride flag. / Mike Kemp/GettyImages
According to a 2015 Gallup estimate, 4.3 percent of residents in the greater metro area identify as gay, lesbian, bisexual, or transgender. The Columbus Pride Parade has been around since 1981 and now ranks among the largest in the Midwest, attracting about 500,000 participants and spectators each year.
25. Columbus has an art-inspired topiary park.
Neo-Impressionist painter Georges Seurat immortalized a group of French picnickers in his masterpiece A Sunday Afternoon on the Island of La Grande Jatte—1884, the first work in which he used his new technique called pointillism. Columbus, in turn, celebrates Seurat's figures in Topiary Park, where shrubbery has been trimmed into the shapes of every person in the painting.
A version of this story originally ran in 2017; it has been updated for 2023.