What Is Gluten?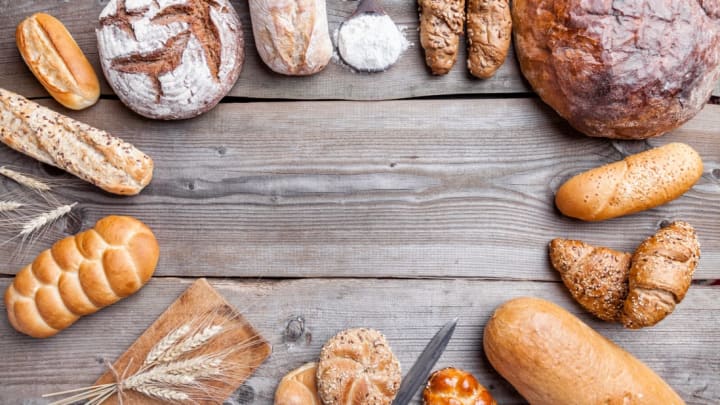 iStock / iStock
Gluten is one of the most talked about topics in nutrition today—a quick googling yields more than 280 million results—and nearly everyone has an opinion on it. In 2014, talk show host Jimmy Kimmel summed up L.A.'s consensus on the subject: "It's comparable to Satanism." But despite the mother lode of information (and misinformation) available, few people actually know what it is. Mental Floss spoke to a pair of experts about this misunderstood substance. Here's the lowdown.
Gluten is a marriage of two proteins found in wheat, barley, rye, and oats. A marvel of food chemistry, gluten mixed with water transforms into a gluey, stretchy mass. Heat up the mixture, and you get a light, airy framework, making it a valued partner in the kitchen. "Gluten provides structure to baked products," Carla Christian, a registered dietitian and professional chef, tells Mental Floss. "Without gluten, you'll end up with a product that's crumbly and will fall apart because there's nothing holding it together."
Chefs and home cooks rely on gluten to provide the textural and aesthetic qualities in baked goods such as breads, pastries, and cakes. Gluten also plays an important nutritional role, providing a tasty source of plant-based protein in seitan and other meat substitutes, including mock duck, with its strange "plucked" texture.
Its culinary and nutritional qualities notwithstanding, gluten has a darker side. "For some reason, gluten seems to be the trigger in developing celiac disease in those who are genetically susceptible," Runa D. Watkins, an assistant professor and pediatric gastroenterologist at University of Maryland's School of Medicine, tells Mental Floss.
Celiac disease is an autoimmune disorder that affects the small intestine. When a person with celiac disease eats foods containing gluten, their immune system reacts by attacking their small intestine, destroying its ability to digest and absorb nutrients. Celiac disease can cause diarrhea, bloody stools, skin rashes, vitamin and mineral deficiencies, and a host of other unpleasant symptoms.
Although as much as 40 percent of the population carries the gene for celiac disease, fewer than 1 percent—roughly 3 million people in the U.S.—will develop the condition. Why some do, and others don't, is a mystery, says Watkins. The prevailing theory is that some sort of infection is the trigger. One recent study found a virus that can cause celiac disease.
The default setting in the human gut is one of tolerance. It typically receives all visitors (in the form of foods, beverages, or microbes) and allows them to pass without argument. After an infection, however, the gut can become hypervigilant—overly cautious about who comes and goes. In some cases, gluten becomes an unwelcome guest.
Although scientists aren't sure why gluten becomes so offensive, the reasons may lie in the protein's unique makeup.
Proteins are strands of amino acids folded into long, twisty coils. Gluten is rich in two particular amino acids, proline and glutamine, that set it apart from other proteins.
Proline makes gluten "kinky"—helping it form a tight, compact structure that's nearly impenetrable to digestive enzymes, a biological version of a lock-on. Some scientists believe gluten's impervious nature is responsible for triggering an overzealous immune response in susceptible people.
The glutamine in gluten (say that five times, fast) is a target for an enzyme called tissue transglutaminase, or tTG for short. Under certain conditions, tTG goes rogue: It alters glutamine's otherwise benign structure, making it more allergenic and initiating a cascade of immune-related events that ultimately leads to the development of celiac disease. When doctors test for celiac disease, they look for abnormally high amounts of antibodies like tTG in the blood. However, the only definitive way to diagnose the condition is by biopsy of the lining of the small intestine.
The only "cure" for celiac disease is total avoidance of gluten. "If a person has celiac disease, even a little bit of gluten can make them very sick," says Christian.
That can be hard, because gluten is everywhere. It can be found in the usual wheat-containing suspects (breads, pasta, cereals), less obvious candidates (communion wafers), and hidden in strangely odd places (soy sauce, beer, and some cosmetics). The average person consumes between 4 and 20 grams of gluten per day. Most of that comes from wheat-containing bread: One slice contains about 4 grams of gluten. To counter this abundance—and to capitalize on the myth that gluten is bad for everyone—a thriving gluten-free market has emerged. In 2015, one market analysis estimated that the global market for gluten-free foods was worth roughly $4.2 billion; an analysis from May 2017 put it much higher, at nearly $15 billion. 
With celiac disease affecting only 1 percent of the population, why are so many people buying and eating gluten-free foods? Gluten takes the blame for a litany of other ills, ranging from skin disorders and headache to fibromyalgia and psychiatric problems, often lumped into a condition known as non-celiac gluten sensitivity, or NCGS, for short. The number of people with NCGS may be high—as many as 18 million people in the U.S.—but its occurrence is hard to measure.
"Unfortunately, there's no specific test for [NCGS], so it's basically a diagnosis of trial and error after ruling out celiac disease," says Watkins. Scientists aren't in agreement that NCGS is a legitimate health concern, however, and some suggest its symptoms might be due to something unrelated to gluten.
With all the talk about gluten, it seems gluten sensitivities are becoming more common. "Celiac disease is becoming more prevalent because we're doing a better job of finding it, I think," says Watkins. But the rest of it? Probably just a fad.
Editor's note: This post has been updated.