Why Does Having a Fever Make You Feel Cold?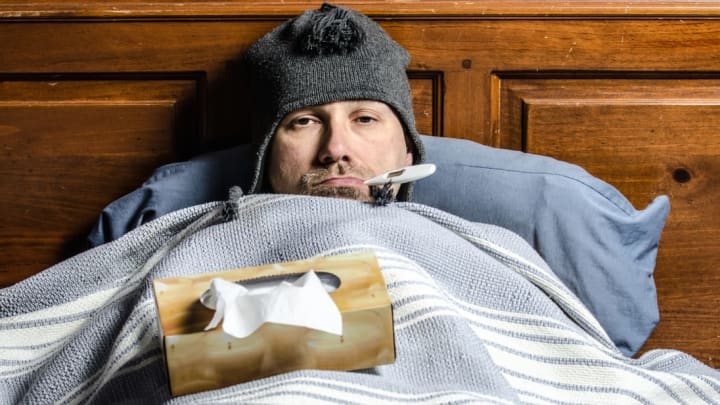 iStock / iStock
During fever, why do we feel cold when our body temperature rises?Nicole Van Groningen:
Anyone who has ever had the flu knows that fever isn't uncomfortable because you feel hot—it's uncomfortable because you feel freezing cold. You get goosebumps, you're shivering, you're piling on the covers.
Fever, also known as pyrexia, is defined as an elevation in body temperature above the normal range due to an increase in the body's natural set point. Most people associate fever with infections, but fever can also frequently occur with autoimmune diseases, cancer, drug reactions, and even blood clots. Fever is not a direct result of these conditions, but rather a consequence of triggering the body's inflammatory pathways. One key member of this inflammatory cascade is a group of molecules called pyrogens, which directly interact with the hypothalamus in the brain to produce fever.
The hypothalamus serves as the body's thermostat. When triggered by pyrogens, the hypothalamus tells the body to generate heat by inducing shivering, goosebumps, and constriction of blood vessels near the surface of the skin. It even causes a subjective feeling of cold, which encourages behavioral responses to raise the body temperature, like reaching for the covers.
All of these things are adaptive when your body temperature falls below its usual set-point (about 98.6 degrees Fahrenheit), which typically occurs in cold weather. But they become abnormal in the setting of fever, when your hypothalamus signals to the body to raise its temperature well above the normal range.
If pyrogens suddenly disappear from the bloodstream, as is the case with intermittent fevers, the hypothalamus all of a sudden senses that things are way too hot, and tells the body to kick in its usual cooling-off mechanisms. That's why people sweat profusely when their fever "breaks."
This post originally appeared on Quora. Click here to view.