Fossilized Poop Shows Some Herbivorous Dinosaurs Loved a Good Crab Dinner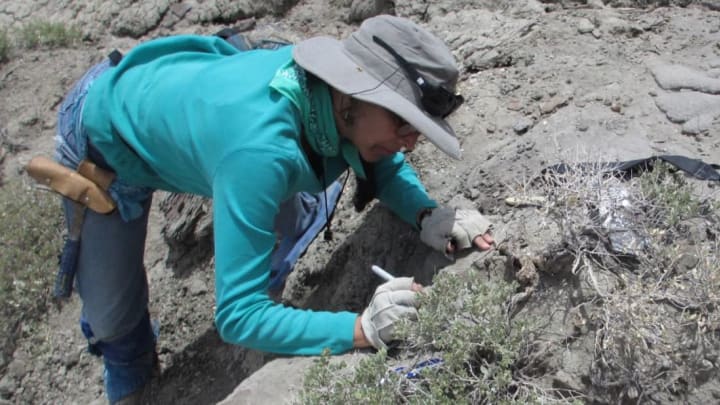 Lead author Karen Chin of the University of Colorado Boulder / Courtesy the University of Colorado Boulder
Scientists can learn a lot about the prehistoric world through very, very old poop. Just recently, researchers from the University of Colorado-Boulder and Kent State University studying fossilized dinosaur poop discovered that some herbivores weren't as picky about their diets as we thought. Though they mostly ate plants, large dinosaurs living in Utah 75 million years ago also seem to have eaten prehistoric crustaceans, as Nature News reports.
The new study, published in Scientific Reports, finds that large dinosaurs of the Late Cretaceous period seem to have eaten crabs, along with rotting wood, based on the content of their coprolites (the more scientific term for prehistoric No. 2). The fossilized remains of dinos' bathroom activities were found in the Kaiparowits rock formation in Utah's Grand Staircase-Escalante National Monument, a known hotspot for pristine Late Cretaceous fossils.
"The large size and woody contents" of the poop suggest that they were created by dinosaurs that were well-equipped to process fiber in their diets, as the study puts it, leading the researchers to suggest that the poop came from big herbivores like hadrosaurs, whose remains have been found in the area before.
While scientists previously thought that plant-eating dinosaurs like hadrosaurs only ate vegetation, these findings suggest otherwise. "The diet represented by the Kaiparowits coprolites would have provided a woody stew of plant, fungal, and invertebrate tissues," the researchers write, including crabs (Yum). These crustaceans would have provided a big source of calcium for the dinosaurs, and the other invertebrates that no doubt lived in the rotting logs would have provided a good source of protein.
But they probably didn't eat the rotting wood all year, instead munching on dead trees seasonally or during times when other food sources weren't available. Another hypothesis is that these "ancient fecal producers," as the researchers call them, might have eaten the rotting wood, with its calcium-rich crustaceans and protein-laden invertebrates, during egg production, similar to the feeding patterns of modern birds during breeding season.
Regardless of the reason, these findings could change how we think about what big dinosaurs ate.
[h/t Nature News]