5 Ways You Can Help Puerto Rico Right Now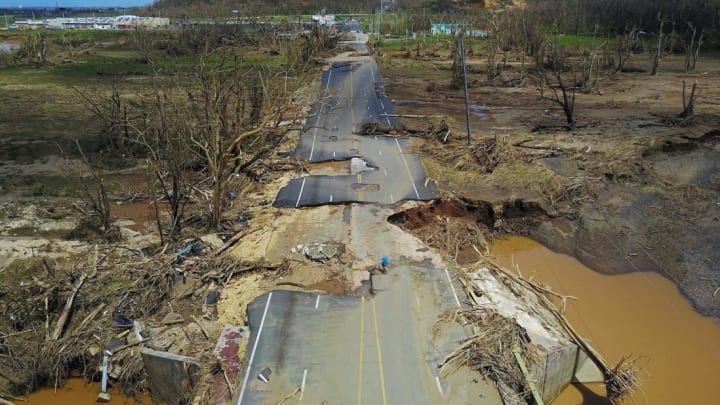 Ricardo Arduengo, Getty Images / Ricardo Arduengo, Getty Images
Less than two weeks after Hurricane Irma hit, Hurricane Maria made landfall over Puerto Rico on September 20, battering the island with category 4-strength winds and flooding it with record amounts of rain. Now, 3.4 million American citizens in the territory are without electricity, and many of them are struggling to find food, shelter, and clean drinking water. As first responders give aid to victims on the ground, here are some ways you can help from home.
1. DONATE TO UNICEF
The United Nations Children's Fund (UNICEF) is a charity that provides humanitarian aid to children and mothers around the world. In light of Hurricane Maria's devastating impact, UNICEF has been mobilizing teams where they're needed most. You can support their effort by making cash donations through their website, with 90 cents of every dollar going to help young victims and their families.
2. DONATE TO THE HISPANIC FEDERATION
For 27 years, the Hispanic Federation has provided important services to Latino families in the U.S. The nonprofit recently announced they were partnering with civic leaders in New York City to bring first responders to Puerto Rico. The first flight left from New York over the weekend, but the relief fund is still in need of donations. One hundred percent of the money raised will go to helping the community get back on its feet. You can pledge money by texting UNIDOS (space) your amount (space) and your name to 41444. You can also make your contribution online or in person at any Popular Community Bank branch.
3. DONATE TO UNITED FOR PUERTO RICO
Puerto Rico's First Lady Beatriz Rosselló spearheaded this campaign to direct aid to the island she calls home as it recovers from this year's devastating hurricane season. She has recruited big-name corporate sponsors like Walgreens and Coca-Cola, but individuals can contribute cash as well. Donate online via PayPal, through text to the number 787-552-9141, or at a FirstBank near you.
4. DONATE TO CONPRMETIDOS
Providing food, shelter, and medical care to residents in the short-term is just one part of the relief process. Puerto Rico will likely be coming to terms with the storm's aftermath long after the flood waters recede, and the island needs money to rebuild. The local organization ConPRmetidos has launched a fundraising effort dedicated to long-term recovery from the recent hurricanes. One hundred percent of the money that's donated will go to victims, with restoring power to the community taking top priority.
5. CALL YOUR REPRESENTATIVE
Getting supplies to Puerto Rico is a hurdle in itself, so giving cash is the most direct and effective way you can help for now. Beyond that the most important thing Americans can do is call for action from their representatives. Several legislators are already pushing to provide federal relief to the U.S. territory as quickly as possible. Look up your representatives here and call them to make sure they're doing all they can to expedite the effort.