3D Modeling Lets You Step Inside a 13th-Century Chapel Filled With Human Remains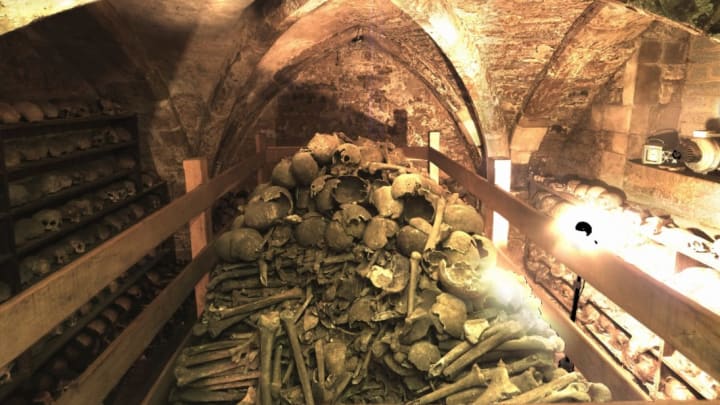 Courtesy the University of Sheffield / Courtesy the University of Sheffield
In medieval Britain, if human remains were disturbed in the grave or disinterred, they would be removed from the cemetery and placed in what was called a charnel chapel, a religious structure that often had walls stacked high with human remains that temporarily lacked a proper resting place. Charnel houses were popular in England between the 13th and 16th centuries (and are still used in some countries). Only two original charnel chapels are undisturbed today in the UK. One, the Rothwell charnel chapel, is now becoming much more accessible to the public through digital modeling.
The Rothwell Charnel Chapel Project at the University of Sheffield is creating 3D models of the chapel so that other researchers and the public can explore the medieval room for themselves. The Rothwell site is the most complete charnel chapel in the UK—most were repurposed, dismantled, or buried during the Reformation—but it's not a highly accessible site. Besides, the room is filled with the bones of hundreds of people, and visitors could pose a threat to its preservation.
Studying the chapel can "advance our understanding of how the remains of the dead were treated during the medieval period," lead Sheffield researcher Lizzy Craig-Atkins explained in a university press release. English charnel chapels are not well studied, since the largely Catholic practice ceased during the Reformation, and much of the evidence of them disappeared. However, the Sheffield team has recently identified 60 potential charnel sites across England.
In predominantly Protestant England, "as opposed to much of mainland Europe," the project website explains, "the practice of charnelling and charnel chapel construction, and all the devotional and liturgical purposes they held, were forgotten." And this makes them largely "a neglected area of funerary archaeology," the researchers point out. There's some evidence that charnel chapels served as confessionals, and that there were priests assigned to pray for the souls of members of the public. But little is known about the British structures, especially compared to their European counterparts.
By sharing their "digital ossuary" online, the team is making it easier for researchers to study the practice of charnelling in England and the role it played in medieval religious practices. And even if you have no stake in studying medieval religion in England, it's still really fun to explore an underground room full of 13th-century skulls.