Take a Virtual Peek Inside Denmark's New LEGO House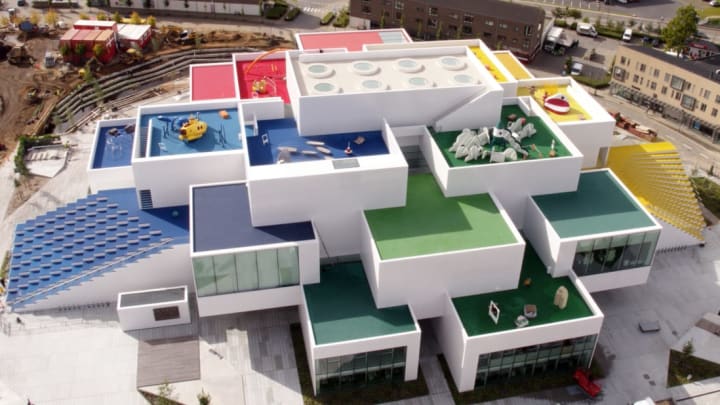 The LEGO Group / The LEGO Group
Grown-ups who wanted to live inside the LEGO-brick homes they built as a kid can now simulate the experience by visiting the Danish toy brand's brand-new LEGO House in the company's hometown of Billund, Denmark.
As My Modern Met reports, the experiential playhouse opened its doors to LEGO loving fans of all ages on September 28, following seven years of planning and a four-year construction period. Danish architecture firm BIG designed the nearly 130,000-square-foot playhouse's exterior to resemble a stack of 21 plastic bricks, with multi-colored rooftop terraces.
The LEGO House contains an official LEGO history museum as well as a Masterpiece Gallery area, featuring elaborate LEGO designs by fans around the world. It also features four color-coded playrooms—each designed to nurture a specific facet of play and learning—and three eateries, including the Mini Chef family restaurant, where customers can build their own orders out of bricks and have the real-life thing served on a conveyer belt by dancing robots.
"With LEGO House, we celebrate creativity and the strength of learning through play," LEGO owner Kjeld Kirk Kristiansen said in a statement. "When they play, children learn the basic skills that they need, such as creativity, collaboration, and problem-solving abilities."
The LEGO House is expected to have over 250,000 paid visitors per year, although fans can visit the site's rooftop playgrounds, shop in the LEGO store, or dine at any of its restaurants without paying an entrance fee. Access to the house's experiential zones costs around $31, and visits must be booked in advance through the LEGO House website due to space restrictions.
Check out some photos of the LEGO House below:
Facade of the LEGO Group's new LEGO® House in Billund, Denmark / The LEGO Group
Aerial rooftop view of the LEGO Group's new LEGO® House in Billund, Denmark. / The LEGO Group
LEGO House visitors browse the Masterpiece Gallery, a display of works by members of the brand's artistic community. / The LEGO Group
Oversize LEGO model sits on a LEGO House terrace / The LEGO Group
Children play near the Brick Builder Waterfall at the LEGO House in Billund, Denmark. / The LEGO Group
Children build LEGO flowers to plant in a special LEGO meadow. / The LEGO Group
Kids play with LEGOs in the World Explorer section, which has three themed islands filled with LEGO mini-figures. The LEGO Group / The LEGO Group
The MINI CHEF family restaurant, where customers build their own order out of LEGO bricks and have them served by dancing robots. / The LEGO Group
[h/t My Modern Met]