10 Alternatives to Columbus Day Celebrated Around the Country
Columbus Day has a complicated history, and many cities have recently voted to rename the annual holiday that falls the second Monday of October as Indigenous Peoples Day, honoring the cultures that existed in North America before Columbus arrived in 1492 and who were decimated by European colonization. Consider these 10 alternative celebrations taking place across the country.
1. TEACH-IN AND FRIENDSHIP DANCE // BOULDER, COLORADO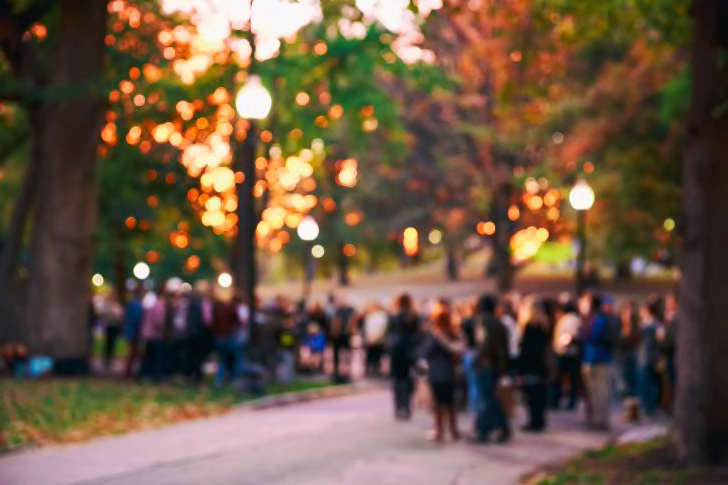 The White Horse Creek Council, a Denver-based preservation society for indigenous culture, is hosting a Mini Pow Wow, Teach-In and Friendship Dance at Boulder's Central Park Bandshell. The October 9 event will include traditional dances with performances from the award-winning Plenty Wolf Singers. Visitors will also get a chance to learn a circle and friendship band and take in an oral retelling of Boulder's history from a Lakota elder.
2. INDIGENOUS PEOPLES WEEK // SEATTLE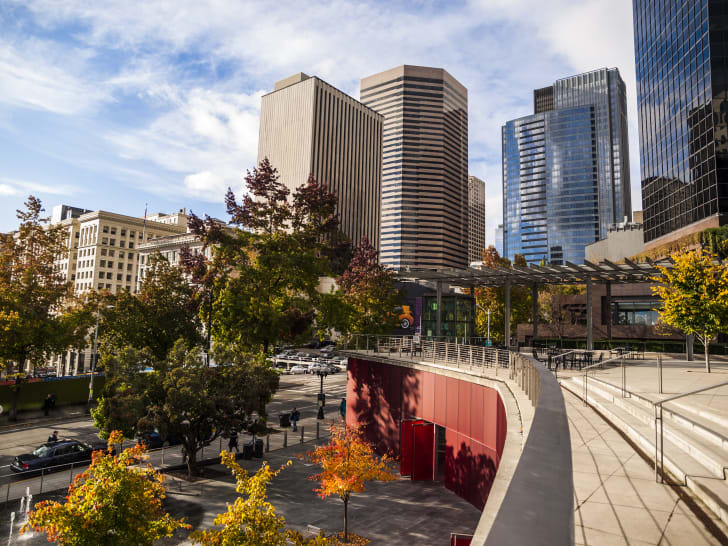 While other cities dedicate a day to honoring their Native American culture and history, Seattle sets aside an entire week, put on by groups like the Daybreak Star Indian Culture Center, the Seattle Indian Health Board, and local community colleges and universities. On October 9, there will be a march to City Hall, canning demonstrations, performances from Tahitian and Alaskan Native Dancers, guest speakers, and more.
3. NATIVE AMERICAN DAY AT THE CRAZY HORSE MEMORIAL // CRAZY HORSE, SOUTH DAKOTA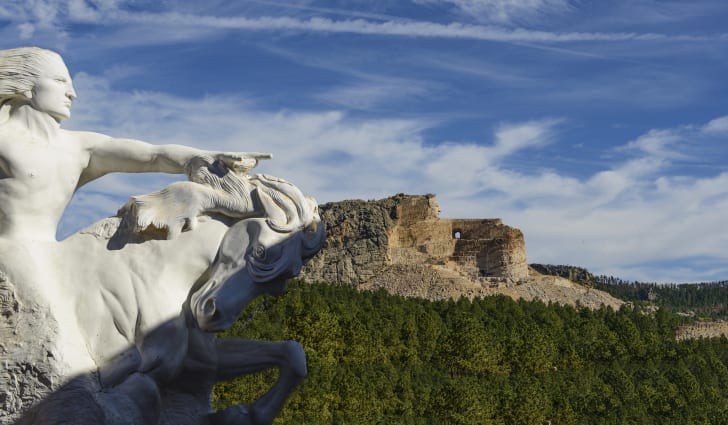 South Dakota has celebrated Native American Day on the second Monday in October since 1990. It was the only state to vote not to observe Columbus Day state-wide until Vermont made the switch to Indigenous Peoples Day in 2017. The first celebration of the holiday was held at Crazy Horse Memorial in the Black Hills, a monument to the Lakota leader who defeated General George Custer at the Battle of Little Bighorn in 1876. The memorial still hosts an annual celebration with performances from Native American dancers, singers, artists, and storytellers. Visitors also receive a free buffalo stew lunch.
4. LIFE BEFORE COLUMBUS FESTIVAL // LOS ANGELES
Los Angeles voted to make Indigenous Peoples Day a city-wide holiday for the first time in 2017, but organizations in the city had already been observing it before the official designation. The Gabrielino Tongva Springs Foundation—a cultural center and museum for the Gabrielino/Tongva Indians native to the Los Angeles Basin area—holds an annual Life Before Columbus festival at Kuruvungna Springs, a California historical landmark. The arts festival features traditional singers and dancers, Native American foods, and workshops and exhibitions on crafting items like reed baskets and traditional Native toys.
5. RETHINKING COLUMBUS DAY // RANDALL'S ISLAND, NEW YORK CITY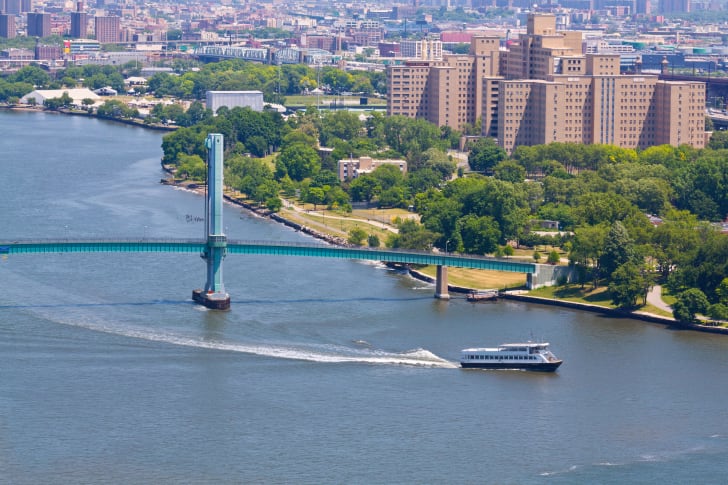 Each year, the Redhawk Native American Arts Council throws a free celebration on New York City's Randall's Island for Indigenous Peoples Day. The two-day event includes an overnight camp out, a sunrise ceremony, spoken word performances, guest talks from activists and cultural groups, and more. The 2017 festival is dedicated to honoring water protectors, according to the event page.
6. INDIGENOUS PEOPLE'S DAY MUSIC & ART SHOWCASE // SAINT PAUL, MINNESOTA
Electric Machete Studios, an art gallery in Saint Paul, is throwing its 14th-annual concert series on October 12. Formerly called the Anti-Columbus Day Concert, it was founded to use "hip hop and community action to raise awareness around the effects of colonization on communities of color and celebrate indigenous culture through art and music." There will be more than eight musical performers throughout the evening.
7. SANTA FE INDIGENOUS PEOPLES DAY CELEBRATION // SANTA FE, NEW MEXICO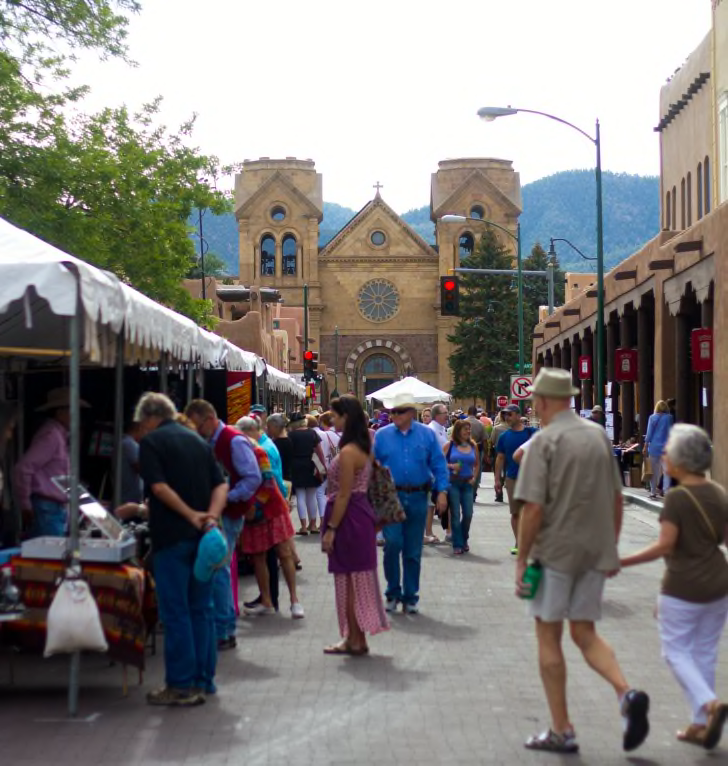 New Mexico, home to 23 different Native American tribes, voted in 2016 to begin recognizing Indigenous Peoples Day. The central Santa Fe Plaza will play host to an all-day celebration on October 9 as well as weekend dance performances. The Monday festivities include morning flute and drum songs and 10 different dances throughout the day.
8. DECOLONIZATION CELEBRATION // ASHLAND, OREGON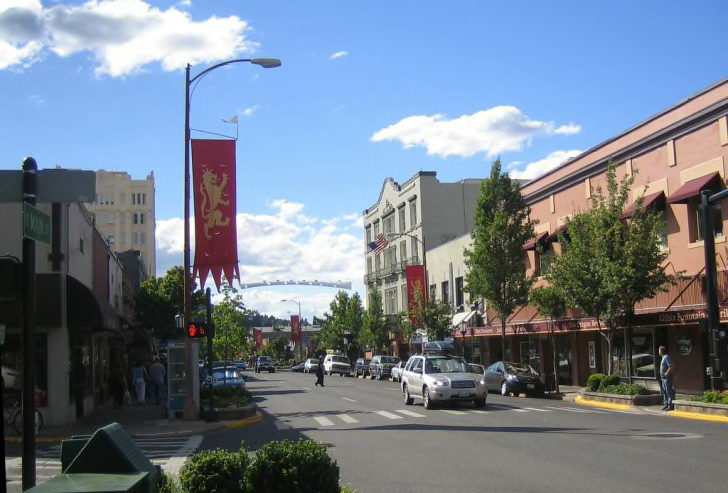 In honor of Ashland's inaugural Indigenous Peoples Day, groups like Southern Oregon University (SOU), the Oregon Shakespeare Festival, and a local grassroots organization called the Red Earth Descendants are holding events like a salmon bake social, a drama workshop, and a performance of the Oregon Shakespeare Festival's first play by a Native American writer, which turns the Bard's Measure for Measure into a Western exploring the legacy of Indian boarding schools.
9. TULSA NATIVE AMERICAN DAY CELEBRATION // TULSA, OKLAHOMA
Tulsa's first-annual Native American Day celebration will be held in the city's downtown arts district. The inter-tribal gathering will include a meet and greet, reading of the city's Native America Day resolution, prayers, exhibition dances, and songs, with speeches by several Native American leaders. According to census data, the area is home to around 30,000 Native Americans, and the city includes the boundaries of three different nations.
10. BERKELEY POW-WOW AND INDIAN MARKET //BERKELEY, CALIFORNIA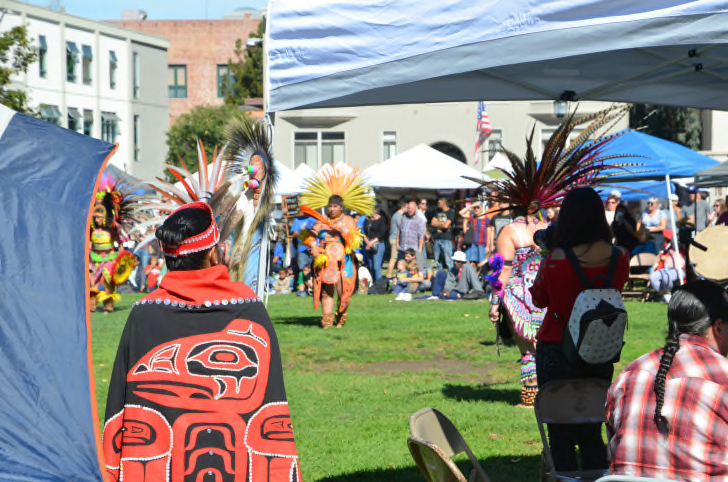 If you miss out on October 9 celebrations, head over to Berkeley, California's 25th anniversary Indigenous Peoples Day festival, which takes place a little after the day itself on October 14. The annual Pow Wow and Indian Market includes a variety of contests, giveaways, performances, and arts and crafts, including an owl dance contest, a "prettiest shawl" contest, and intertribal dance performances.