Look Up! 3 Celestial Events to Watch This October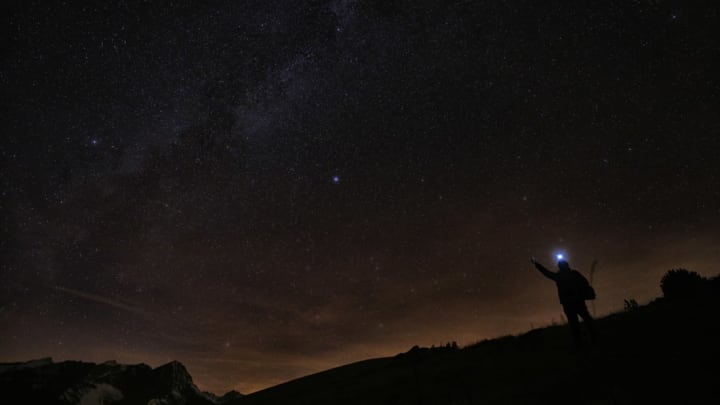 Marco Bertorello, Getty Images / Marco Bertorello, Getty Images
October is always a great month for skywatching, because you get two strong meteor showers and a distant planet desperate for viewing. Events toward the end of the month will be especially stunning as the Moon will offer virtually no interference. If you've ever wanted to get into skywatching, this is your chance. Set your alarm, look up, and keep your eyes peeled for these events.
1. THE DRACONIDS METEOR SHOWER RETURNS.
This weekend the Draconids meteor shower reaches its peak, and while it is not expected to be a beast—count on 10 meteors or so per hour—it can sometimes go full Smaug and lay devastation to the skies. In 2011, there were hundreds per hour—a veritable fusillade of shooting stars. So many rained down that NASA had to evaluate the safety of its orbital assets. Don't expect the Hubble Space Telescope to be destroyed this year, though. (Sometime in the 2030's, however, that's pretty much guaranteed to happen as atmospheric drag finally prevails.)
The Draconids are the product of comet 21P/Giacobini-Zinner, a periodic comet that leaves behind a field of debris as it travels along its 6.6-year orbit. Meteors are produced not by massive chunks of decaying space rock, but rather, specks of dust (and sometimes sand) that collide with the atmosphere at tens of thousands of miles per hour. That kind of speed releases some serious energy, and the bright streaks that course across the sky are the lovely result.
Incidentally, the NASA International Cometary Explorer spacecraft visited 21P/Giacobini-Zinner in 1985 and crossed through its tail. If you lack a personal spacecraft, the best time to view the Draconids this year will be just after nightfall on the evenings of October 7 and 8.
2. URANUS IS AT ITS BRIGHTEST.
Let's get this out of the way right now: unless you really know what you're doing, you probably won't be able to spot Uranus with your telescope. The circumstances required to glimpse it are so remote and challenging as to be basically impossible. There should be zero light pollution. The Moon should be new, or just a sliver. And you need to know what you're looking at, which is probably the hardest part. I'm not saying don't bother, but I am suggesting that you prepare yourself for disappointment. The sky gives, but it doesn't give easy.
On the evening of October 19, Uranus reaches opposition. This means that it is on the opposite side of the Earth as the Sun, and thus is in full illumination. Good news: it's not just the Sun and Uranus doing their part. On October 19, we will have a new Moon. It will be black in the evening sky, reflecting none of its glow down onto Earth below. These conditions are just phenomenal for a rare and extraordinary celestial event.
So what are you looking for? Someone who knows what they are doing! Seek out your local astronomy club and find out if they have organized a viewing. Short of this, get thee to the most remote, lightless area you can find. Here's a quick way to judge a potential viewing area in keeping with this month's Halloween spirit: are you afraid of being axe-murdered by a ghost? If so, then it's dark enough.
Around 8 p.m. EDT, look east. Uranus will cross the celestial dome from east to south, rising in the sky from about 20 degrees over the horizon to just under 70. Again, this planet is 1.7 billion miles from Earth. Even on this, the best viewing night of the year, seeing it is a tall order. Seek out the experts for your best chance of spotting it.
3. ORION EXPLODES.
The Orionids is the second of two meteor showers caused by the debris field left by the comet Halley. (They showers are named for the constellation Orion, from which they seem to originate.) Like Uranus above, all the stars are lining up, so to speak, for this show. First, it's on a weekend. That means you can stay up late without feeling the burn at work the next day: the shower peaks just after midnight on Saturday, October 21 leading into Sunday morning. (You can also make a picnic of the occasion, because it takes about an hour for your eyes to adjust to the darkness. Bring a blanket and a bottle of wine, lay out and take in the open skies, and let nature do the rest.)
Second, the Moon, which was new only two days earlier, is but a sliver in the evening sky, lacking the candle-wattage to wash out the sky or conceal the faintest of meteors. If your skies are clear and light pollution low, this year you should be able to catch about 20 meteors an hour, which isn't a bad way to spend a date night.
If clouds interfere with your Draconids or Orionids experiences, don't fret: there will be two more meteor showers next month, leading into the greatest of them all: the Geminids in December.