Hurricane Ophelia Unearthed an Ancient Skeleton in Ireland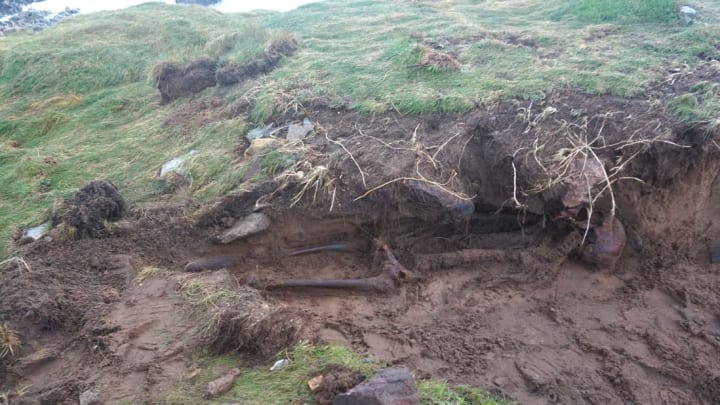 Jim Campbell Photography / Jim Campbell Photography
In the wake of Hurricane Ophelia, pedestrians strolling along the storm-battered coast in County Wexford, Ireland, stumbled across a rare find: an ancient skeleton with intact teeth and skin parts, which may date back to the country's Iron Age (between 500 BCE and 400 CE).
As the Irish Mirror reports, the remains were buried on the shore in Kilmore Quay, a tiny coastal fishing village, and unearthed by wind and pounding waves. Locals discovered the bones on Tuesday, October 17, shortly after Ophelia—the strongest eastern Atlantic hurricane on record—passed over Ireland.
Photographer Jim Campbell arrived on scene the day after the skeleton was found. He managed to capture a few pictures of the bones.
"I got a call from one of my contacts about a body found in Kilmore Quay early on Wednesday morning," Campbell tells Mental Floss. "At first I thought it was a person lost during Hurricane Ophelia, but on arrival I was told that it was an ancient skeleton."
"It was later in the afternoon when the archaeologist was almost finished her examination that I was allowed to take my photographs," he adds. "I was literally given two minutes, as the skeleton had to be taken to Dublin."
A closer look at the skeleton. / Jim Campbell Photography
The skeleton's skull and intact teeth. / Jim Campbell Photography
Estimates peg the skeleton—which was found in a coastal area evocatively called Forlorn Point—as being between 1500 and 2500 years old, according to The Irish Post. Forensic pathologists and anthropologists were called to examine the bones, which are now in the custody of the National Museum of Ireland.
Maeve Sikora, the National Museum's keeper of Irish antiquities, tells Mental Floss that they plan to conduct further research on the skeleton, which was "found buried in an extended, supine position with the head to the southwest," she says. "There may have been a cist structure [a small coffin or burial box] enclosing it, but this was very damaged by the storms, which exposed the skeleton in the first place."
Locals say they weren't aware of a burial ground near Forlorn Point, and are now curious if even more human remains lay beneath the soil. Just two years ago, another old skeleton was discovered in a nearby bay, they point out.
"Kilmore Quay has always been hit with various storms and high winds," Campbell adds—so if an ancient burial ground does indeed exist, there's a good chance that nature will lend a helping hand in its excavation.
[h/t The Independent]