Conservators Discover Grasshopper Embedded in van Gogh Painting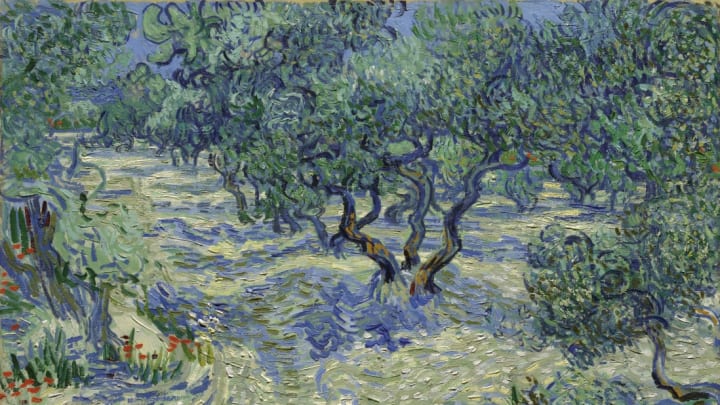 Courtesy of the Nelson-Atkins Museum of Art / Courtesy of the Nelson-Atkins Museum of Art
When Vincent van Gogh painted outdoor landscapes, he was sometimes plagued by hoards of pesky insects. "I must have picked up a good hundred flies and more off the four canvases that you'll be getting," the artist wrote in an 1885 letter to his brother, Theo. Occasionally he missed a few, judging from a tiny grasshopper that conservators recently discovered embedded in one of van Gogh's most famous paintings.
As the Associated Press reports, the grasshopper was identified at the Nelson-Atkins Museum of Art in Kansas City, Missouri, where art experts were researching the museum's French painting collection for an online catalogue. Among their artworks is van Gogh's Olive Trees, which he created in 1889 as part of a larger series.
Conservator Mary Schafer was examining Olive Trees when she noted an insect near the painting's lower foreground, suspended in thick layers of paint. Since it can't be seen with the naked eye, the creepy-crawly addition had gone unnoticed for nearly 120 years.
Photomicrograph, Olive Trees, 32-2. This image, taken through a microscope, captures the grasshopper embedded in the paint of Olive Trees. / Courtesy of the Nelson-Atkins Museum of Art
Schaefer wasn't necessarily surprised to spot the grasshopper, since experts sometimes find bits of plant or insects in landscape paintings. "But in this case, we were curious if the grasshopper could be used to identify the particular season in which this work was painted," Schaefer said in a statement.
University of Kansas paleontologist and entomologist Michael Engel studied the grasshopper, and noted that its thorax and abdomen were both missing. He also observed that it hadn't disturbed the paint, which indicated that it landed lifeless on the canvas instead of dying a slow, sticky death.
Ultimately, the grasshopper didn't yield enough clues to pinpoint when Olive Trees was created. That said, it's still proof that even the best-studied artworks can occasionally yield surprises.
[h/t Associated Press]