German Nonprofit Gives $1.1 Million to Restore World's First Iron Bridge in England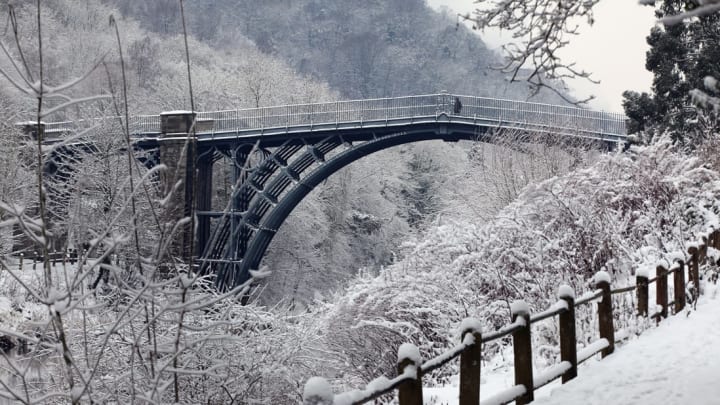 Christopher Furlong/Getty Images / Christopher Furlong/Getty Images
The UK's Iron Bridge is more than just a pretty landmark. Built in 1779, it was the world's first metal bridge, a major milestone in engineering history. Like many aging pieces of infrastructure, though, it's in dire need of repair—and the funds to shore it up are coming from an unexpected place. According to The Times, a German foundation has pledged to pay for the conservation project as a way to improve relations between England and Germany in the wake of Brexit.
Based in Hamburg, the Hermann Reemtsma Foundation normally funds cultural projects in Germany, but decided to work with the UK's charitable trust English Heritage to save the Industrial Revolution landmark as a way to reinforce the cultural bond between the two countries. The foundation has pledged more than $1.16 million to the bridge's renovation effort, which will cost an estimated $4.7 million in total. Now, the UK charity only has to raise another $32,800 to fully fund the work.
The Iron Bridge was cast and built by Abraham Darby III, whose grandfather became the first mass-producer of cast iron in the UK in the early 1700s, kickstarting England's Industrial Revolution. It was the world's first cast iron, single-span arch bridge, weighing more than 400 tons. In 1934, it was declared a historic monument and closed to traffic, and the Ironbridge Gorge was named a UNESCO World Heritage Site in 1986.
"The Iron Bridge is one of the most important—if not the most important—bridges ever built," English Heritage CEO Kate Mavor told the press.
The techniques used to erect the Iron Bridge were later adopted throughout Europe, including in Germany, leading the Hermann Reemtsma Foundation to call it "a potent reminder of our continent's common cultural roots and values."
The already-underway repair project includes replacing elements of the bridge, cleaning and repairing others, and painting the entire structure. Since it sits above a fast-flowing river where erecting scaffolding is difficult, the project is especially complex. It's scheduled to be completed in 2018.
[h/t The Times]