New Images of the Massive Iceberg That Broke Off From Antarctica This Summer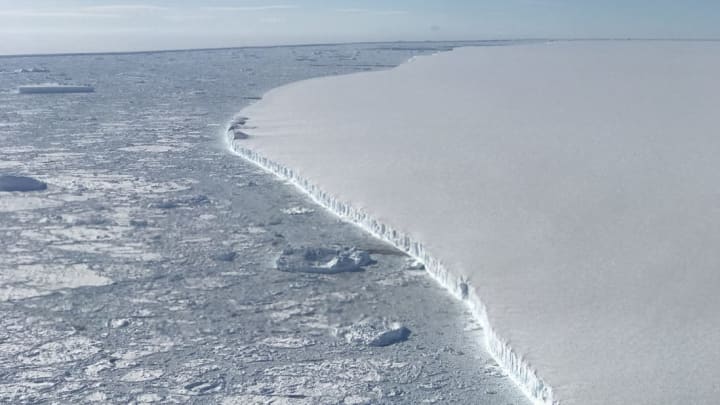 NASA/Nathan Kurtz / NASA/Nathan Kurtz
This summer, a massive crack finally broke apart Antarctica's Larsen C ice shelf, creating one of the world's largest icebergs, called A-68. NASA has taken plenty of satellite images of the area, but now, thanks to flights by the agency's Operation IceBridge, we have close-ups too, as The Washington Post reports.
Operation IceBridge is NASA's project to survey and map the status of polar ice via plane. The project is running several survey missions out of Argentina and from scientific bases at the South Pole this fall, using gravimeters, magnetometers, and other sensors to measure changes in polar ice. They have taken a few flights so far that passed over Larsen C, the most recent leaving from Ushuaia, Argentina, on November 12.
The edge of A-68 / NASA/Nathan Kurtz
Aerial IceBridge photos taken in the last few weeks show the massive size of the ice shelf and the iceberg it calved this summer. "Most icebergs I have seen appear relatively small and blocky, and the entire part of the berg that rises above the ocean surface is visible at once," Kathryn Hansen, a member of NASA's news team, wrote on NASA's Earth Observatory blog after seeing A-68 for herself on the most recent IceBridge flight. "Not this berg. A-68 is so expansive it appears [as] if it were still part of the ice shelf."
NASA tweeted out these incredible images from IceBridge's October 31 flight earlier this month.
The ice on the left is the Larsen C ice shelf; the right, the western edge of A-68. / NASA/Nathan Kurtz
A view across sea ice toward A-68 / NASA/Nathan Kurtz
The November 12 flight was aimed at mapping the bedrock below the polar ice with NASA's gravimeter, but the scientists still have more research planned. Additional IceBridge flights will be leaving from Antarctica later this month, collecting data with different instruments than the flights that left out of Argentina.
[h/t The Washington Post]