The World's Most Amazing Staircases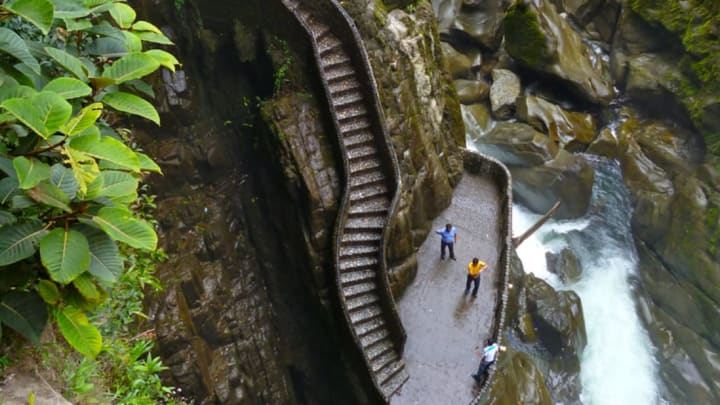 Flickr user Sherry Ezuthachan / Flickr user Sherry Ezuthachan
They say life isn't about the destination, but the journey—and that also seems to be true about these amazing staircases. Sure, your knees will probably want to stop bending and your feet will feel like they're going to fall off by the time you finish walking up most of these massive stair-filled walkways.
Image credit: Flickr user arbolande
Image credit: The Zoom
But when it means scaling a cliff without climbing gear or getting to see all of O'ahu while strolling across the top of a massive mountain range, you have to admit that the physical pain is worth the elevating experience you may never encounter again.
* * *
A few years ago, Miss Cellania rounded up the most amazing indoor staircases. Like these!
Hanging Spirals
432hangingdoublespiral.jpg /
This design makes sweeping under the stairs easy! A hanging double spiral staircase is part of the Didden Village project in Rotterdam. There are two such staircases; the other is a single spiral.
Bookshelf Stairs
432leoniestair3.jpg /
Levitate Architects of London designed this bookshelf staircase to combine storage space with access to a loft bedroom. The skylight above provides enough daylight to read a book while you sit on the stairs!
Staircase Drawers
432staircase_drawers.jpg /
Another way to use stairs for extra storage is to put drawers in the risers. That's a lot of drawers. When this design went around the internet, everyone loved it, but all I could think of was how my kids tend to leave drawers open, and how easy it would be to trip over one that was left even the slightest bit ajar.
Alternating Stairs
432altstairs.jpg /
Gabriella Gustafson and Mattias Ståhlbom of TAF designed this unusual staircase for a private residence in Stockholm, Sweden. The alternating stair design takes up much less room than conventional stairs, but you cannot rush up or down without thinking about where you put your feet!
Step Up, Slide Down
432slide.jpg /
Entrepreneur Scott Jones built a spiral staircase combined with a slide for his home. The mahogany slide took 15 months to build, and the spiral staircase was added afterward.
The Stairway as Art
432munich.jpg /
Artist Olafur Eliasson created this steel sculpture called Umschreibung (Rewriting) in 2004 for the KPMG building in Munich.
Stairs to Nowhere
432Stairstonowhere.jpg /
The Winchester Mystery House in San Jose, California, was built by Sarah L. Winchester, widow of the famous gun maker. The 160-room house was under constant construction for 38 years, until Winchester's death in 1922. She believed that the house was haunted by the spirits of those killed by Winchester rifles, and only constant building would keep them from taking her life. One of the many strange features of the house is this staircase that leads straight to the ceiling!
The Miraculous Staircase
410loretto.jpg /
The helix staircase at Sisters of Loretto Chapel in Santa Fe, New Mexico, has legendary roots. The story goes that the chapel was built without access to the choir loft. There was no room for a normal staircase, so the sisters prayed to St. Joseph (the carpenter) for a solution. A mysterious man arrived, looking for work, and built the spiral staircase without a center support pole. He then left without being paid. The nuns believed the stranger to be St. Joseph himself. Later evidence points to the staircase as the work of French woodworker Francois-Jean Rochas. Some say the staircase is a miracle since it has no visible means of support, while others say the support is there, it's just hidden from view.
Many more awesome staircases here.
Primary image courtesy of Flickr user Sherry Ezuthachan.