Alaska Got 15 Inches of Snow in 90 Minutes Last Week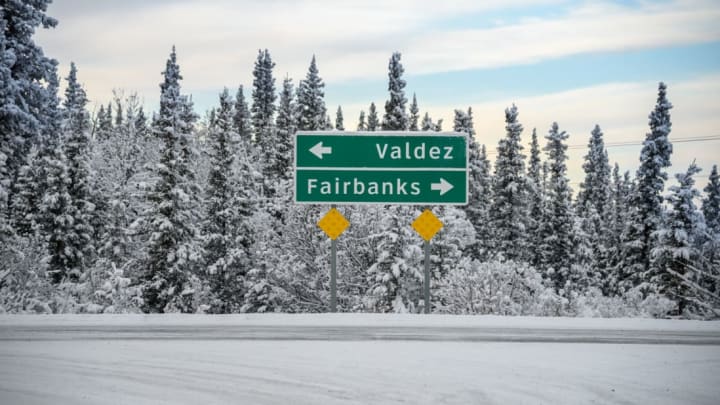 iStock / iStock
Alaska is obviously no stranger to snow, but this month's white weather will likely go down in the state's record books. As The Weather Channel reports, Thompson Pass—a 2805-foot-high area in Alaska's Chugach Mountains—received a whopping 15 inches of powder in just 90 minutes on Wednesday, December 6.
Thompson Pass sits just outside of Valdez, a tiny port city on Alaska's south coast. Located along the Gulf of Alaska, Valdez is perhaps best known for the infamous 1989 Exxon Valdez oil spill, and for its rich Gold Rush history. Today, it's important for commerce, since it's the northernmost ice-free port in North America. But ice-free doesn't mean blizzard-free: The city is regularly cited as one of the snowiest places in the U.S., if not the snowiest. On average, locals can expect to see (and smell) 300 or more inches of frozen precipitation per year. As for Thompson Pass, it very often receives more than 700 inches of the wet stuff in a year.
Still, Mother Nature truly outdid herself on December 6, when Thompson Pass was slammed with what weather historian Christopher Burt deemed to be one of modern history's most intense snowfalls. By the storm's end, 40 inches of heavy snow had accumulated in just 12 hours, according to The Washington Post.
Who angered the winter weather gods? Or, more scientifically speaking, which atmospheric conditions led to the storm? According to experts, a stream of warm water vapor from the Pacific Ocean hit Alaska's coast, traveling through an aerial channel known as an "atmospheric river." When atmospheric rivers hit land, they release this water vapor as either rain or snow, according to the National Oceanic and Atmospheric Administration.
Intensifying the phenomenon was the North American Winter Dipole, which The Washington Post's Jason Samenow described as a "fancy term to describe abnormally warm conditions in the West and cold conditions in the East."
"Under such a pattern, the jet stream, the super highway for storms that divides cold and warm air, surges north in the western half of the nation, and crashes south in the eastern half," Samenow said.
Valdez residents are accustomed to snow, but last week's storm was particularly challenging for townspeople. An avalanche buried Richardson Highway, the city's only overland route that leads in and out of town. It reopened on Thursday, December 7, according to The Cordova Times, but driving conditions were poor.
While extreme, the Thompson Pass blizzard might not be history's weirdest snowfall. For example, arid countries like Kuwait and Iraq have experienced snow. In January 1887, 15-inch snowflakes were reportedly spotted at Montana's Fort Keogh. And in 1921, over six feet of snow fell between April 14 and April 15 in Silver Lake, Colorado—the most snow to ever fall in a 24-hour period in the U.S.
[h/t The Weather Channel]