A New Roller Coaster is Whizzing Through Colorado's Rocky Mountains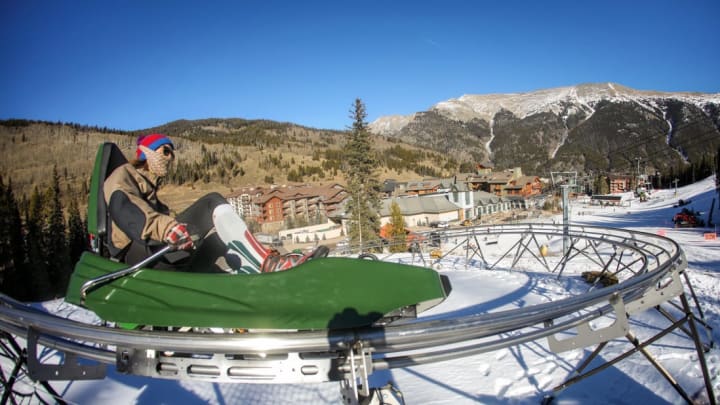 Tripp Fay//Copper Mountain / Tripp Fay//Copper Mountain
There are plenty of ways to explore the majestic Rocky Mountains, but few offer the adrenaline rush of the Rocky Mountain Coaster, a brand-new roller coaster that sends riders soaring along the range's natural twists and turns.
As Urban Daddy reports, the Rocky Mountain Coaster recently opened at Copper Mountain, a mountain and ski resort that's located near the tiny town of Frisco, about 75 miles west of Denver. Nestled in the heart of the Rocky Mountains, the vacation spot is ideal for hikers, skiers, and mountain bikers. Now, visitors looking to enjoy the surrounding scenery without breaking a sweat can cruise for roughly a mile down to the resort's high alpine Center Village.
The ride's raised track "runs along the natural curvature of the mountain, with zigs, zags, dips, and 360-degree turns for guaranteed thrills," according to a press release. Each personal car is equipped with manual hand brakes to control the ride's pace, but the coaster does feature a 430-foot drop, so be careful with your phones while Instagramming the view.
The Rocky Mountain Coaster is open-year round, though it will initially mostly only be open on weekends. Solo rides cost $25, and a two-ride pass can be purchased for $35. (Resort guests get an exclusive discount.)
[h/t Urban Daddy]