11 Gifts for the Hygge Enthusiast
Hygge is still having a moment. In October 2017, the Danish term—which is used to convey a kind of warm coziness, and has no English equivalent—was one of Dictionary.com's top 10 most searched words. But it's a lifestyle that's best understood when experienced firsthand. To help that special peace-seeking someone in your life find the ultimate level of relaxation, might we suggest one of these goodies?
The first rule of hygge is to learn everything you can about hygge—like how it's pronounced for starters (it's hoo-ga). That's just one of the gems serenity-seekers will find in The Little Book of Hygge: Danish Secrets to Happy Living, which offers a history of the philosophy and tons of tips for how to easily integrate the concept into your life. Plus, it's written by Meik Wiking, CEO of Copenhagen's Happiness Research Institute, so a brighter mood is practically guaranteed.
Find It at Amazon for $14 and also at these other retailers: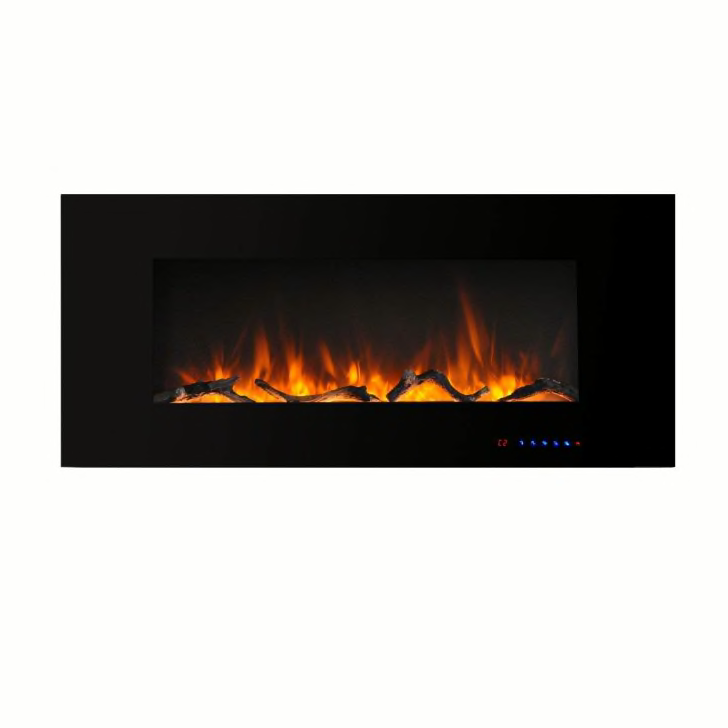 Whether reading a book or chatting with friends, there are few snugger places to do so in the wintertime than in front of a flickering fireplace. But if your giftee isn't lucky enough to have a home with a fireplace, there's a simple workaround: They can mount an electric one to the wall, just as they would a plasma TV. They're sleek, smokeless, and add instant ambiance.
Find It at Amazon for $250.
A fireplace isn't the only thing that flickers in a hygge-happy home: Candles are a simple way to dazzle the eyes and indulge olfactory senses. While a handful of tea lights are a quick and inexpensive way to create the effect, a richly scented candle—in a natural flavor like vanilla or cinnamon stick—can take anyone's cozy quarters to the next level.
Find It at these retailers:
With or without a fire to keep them warm, your loved one is also going to want a blanket—and a soft and cozy one at that. Eddie Bauer's fleece blanket is lightweight, so easy to carry from room to room or on the go. And its bold buffalo check style screams comfort.
Find It at Amazon for $36.
5. Faux Fur Blanket
If your giftee is partial to more natural design schemes and materials, a faux fur blanket is the perfect way to bring a bit of the outdoors inside—and keep extra warm all at once. West Elm carries a full line of different styles and colors to satisfy even the pickiest faux fur-lover.
Find It at West Elm for $50 and up.
Slippers or socks? The ACORN Slipper Sock offers the best of both worlds. It's essentially a big, warm, woolly sock with serious traction. Perfect for both lounging on the couch and padding into the kitchen to get a refill on that hot chocolate.
Find It at Amazon for $30 and up and also at these other retailers:
If your favorite hygge enthusiast's quiet contemplation tends to attract a few interruptions—like taking the dog for a walk—these rubber-soled Glerups slippers are tough enough to handle the outside elements, while keeping feet warm.
Find It at Amazon for $130 and up.
A hot cup of something is an essential part of any hygge environment. While coffee and cocoa are all well and good (and delicious), a cup of tea can offer additional healing properties. To find out just what kind of tea fits your giftee's personality best, why not allow them to sample as many as they can with this giant box of black, green, fruit, and herbal teas.
Find It at Amazon for $35.
When your loved one does have to head outdoors, there's no reason they can't keep that cozy vibe going—especially when wrapped up in a down vest.
Find It at Amazon for $105 and up and also at these other retailers:
Whether they're taking a walk in the snow or hunkered down with a book, nothing says cold-weather comfort like a soon-to-be-favorite sweater. This Irish knit sweater, made by West End Knitwear, comes in a variety of sizes and colors and is unisex, so perfect for sharing.
Find It at Amazon for $60 and up.
Though smart technology might seem to fly in the face of everything that hygge stands for, the environment that one surrounds oneself with—from the temperature to the lighting—is all a key part of creating the perfect setting. This smart plug from Wemo, which works with both Amazon Alexa and Google Assistant, allows the user to control those things right from a smartphone—no climbing out from under the blanket required.
Find It at Amazon for $33 and also at these other retailers: