11 Creative Film Interpretations You Probably Hadn't Considered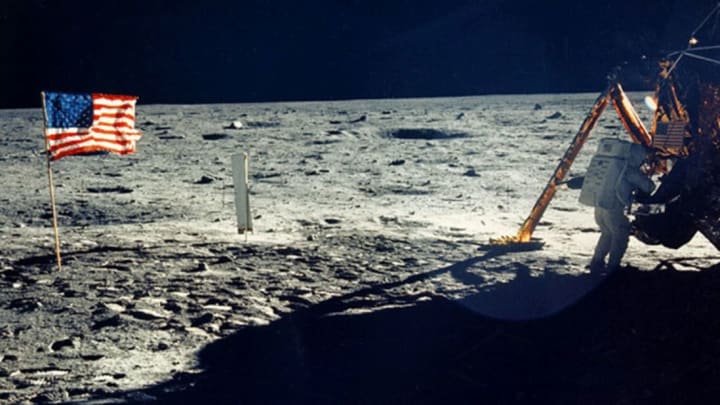 Getty Images / Getty Images
Every once in a while, a movie comes along that has tons of people scratching their heads. Memento, 2001: A Space Odyssey, Mulholland Drive ... what was going on there? But according to film theorists, even the movies you thought were totally straightforward may have had a little more to them. From Disney to horror to superhero flicks, here are 11 creative film analyses that will either blow your mind or leave you shaking your head.
1. The Shining is Stanley Kubrick's confession of staging the moon landing
Theorist: Jay Weidner, who appeared in a 2012 documentary featuring four theories about The Shining called Room 237.
Plot: The Shining is Kubrick's adaptation of Stephen King's horror novel in which a family watches over a hotel for the winter and events go amiss.
The Supporting Evidence: Many people already believe that the moon landing was staged, with help from Kubrick, and that The Shining is Kubrick's way of expressing guilt and dropping hints regarding his help in the conspiracy. Room 237 is relevant to the plot of The Shining. The room is constantly mentioned and it is the location for one of the most horror-filled events of the movie. The moon is a little over 237,000 miles from the Earth, and Weidner believes that the moon landing was shot on a soundstage numbered 237. What's more, the little boy in the film, Danny, wears a sweater showing the Apollo 11 rocket (the first craft to land on the moon). He also plays on a carpet patterned with red hexagons that mirror Launch Pad 39A, where Apollo 11 was launched. Theorists don't see these as coincidences.
2. Ferris is imagined by Cameron in Ferris Bueller's Day Off (also known as the "Ferris/Fight Club Theory")
Theorist:
, among many
Plot: High school senior Ferris Bueller skips school and goes on an adventure, with help from his best friend Cameron.
The Supporting Evidence: This theory involves entertaining the possibility that Cameron never even leaves his bedroom over the course of the film. Roda believes that Ferris was invented by Cameron to cope with both his parents inattentiveness as well as his own insecurities. Ferris seems to be everything that Cameron would want to be (adventurous, assertive, has a girlfriend), so it makes sense that he might be a projection of Cameron's imagination rather than an actual mischievous friend. Like the romance in Fight Club, this theory makes sense if Cameron has a crush on Sloane, so he develops an alter ego, so he can experience a relationship with her.
3. Aladdin is Set in a Post-Apocalyptic Future
Theorist: Popular on the Internet
Plot: A poor boy falls in love with a princess and uses wishes from a magical genie to court her.
The Supporting Evidence: Based on the Genie's comment to Aladdin that his clothes are "so last century," fans have pieced together that he probably became trapped in the lamp during the third century. The Genie also claims to have been trapped in the lamp for 10,000 years, which means that the film would have to take place in 10,300 AD or later, therefore the film must be set in some post-apocalyptic future time. Language has become muddled, as it so often does in the post-apocalyptic future, so "Arabia" became Aladdin's home of "Agrabah." The Genie makes references to modern day figures, such as Jack Nicholson and the Marx brothers, which supports the argument that the film is set in the future rather than the past. People have even looked beyond the film with this theory, noting that an anachronistic stop sign is buried in the sand of the Aladdin video game for Sega Genesis.
4. Doc is Suicidal in Back to the Future
Theorist: People of the Internet, particularly on Reddit
Plot: After accidentally travelling back in time to the 1950s, Marty McFly must figure out how to return to his own era.
The Supporting Evidence: This theory primarily tackles the beginning of the film, wondering if Dr. Emmett Brown (Doc) could be suicidal and planning to use his latest invention to kill both Marty and himself. Rather than testing the DeLorean time machine, as he claims to be doing, perhaps Doc assumed there was no way his new invention could possibly work, so he was prepared to kill himself by setting the car in motion. Before the test, Doc acknowledges that all of his inventions up until this point have not been successful. Considering that, a time machine seems like a pretty elaborate invention. In the scene, Doc sets the DeLorean up so that it is headed straight for himself and Marty, yet is still shocked when it actually works.
5. Fight Club is a Sequel to the Calvin and Hobbes Comic Strip
Theorist: Galvin P. Chow
Plot: A bored man creates a more adventurous friend and the two form a violent, rogue fight club.
The Supporting Evidence: The character played by Edward Norton is never given a name, therefore his name could be Calvin. At the end of the film, it is revealed that Tyler Durden is not his own man, but rather part of Norton's character's split personality. This twist reveals similarities to the comic strip. Calvin's stuffed tiger, Hobbes, is completely different from Calvin, with his own unique personality, but is entirely created by Calvin's imagination. Both Durden and Hobbes stir up mischief so that Norton's character and Calvin don't have to feel the blame or consequences of their actions. As Chow writes, "Calvin often blames broken lamps ... on Hobbes, and Jack is inclined to believe that Fight Club and other various anti-society mischief is brought about by Tyler, not himself."
Those who support this theory believe that Hobbes became a repressed part of Calvin's imagination, which reemerges as Durden in later years. The fight club created in the film is a grown up version of Hobbes and Calvin's club G.R.O.S.S. (Get Rid Of Slimy girlS), as both are exclusive male-oriented clubs.
6. Toy Story 3 is an Analogy for the Holocaust
Disney/Pixar
Theorist: Jordan Hoffman at UGO.com

Plot: Toy Story 3 is the final installation of Pixar's Toy Story franchise in which the toys, thanks to their owner's upcoming departure for college, are donated to a local daycare.

The Supporting Evidence: There are parallels between moments in The Pianist (about the Holocaust) and moments in Toy Story 3 (including Woody's speech, "No, we won't just be abandoned. Surely we can be useful to them somehow. Yes, we've lost friends, but surely that can't happen to us," which closely echoes a speech given at a train station in The Pianist). There's more: Buzz Lightyear recommends they safely remain in the attic, eerily paralleling the story of Anne Frank. Sunnyside Daycare, where the toys end up, can be seen as a work camp. And towards the end of the film, the protagonists are almost burned alive. Though they manage to escape, the implication is clear that they are the lucky survivors—the exception, not the rule.
Toy Story 3 director Lee Unkrich says the movie "has absolutely nothing to do with the Holocaust...The Holocaust was never anything that was discussed in the making of [Toy Story 3]." 
7. The Wizard of Oz is about Populism in the United States
Getty Images
Theorist: Originally a high school teacher in the 1960s named Henry Littlefield
Plot: A Kansas girl named Dorothy gets caught up in a tornado and ends up in a fantasy land from which she must find her way home.
The Supporting Evidence: Like The Shining, The Wizard of Oz is a book adaptation that sparked a lot of politically oriented theories. Many still believe that the film is about Populism, a political movement which supported the common majority versus the elite minority in the 1890s. Dorothy lives on a farm in Kansas with her aunt and uncle, and the state of Kansas historically had a huge amount of support for Populism. Depictions of Dorothy's farm life are also the black and white portions of the film, which makes sense as Populism was about how the majority was suffering.
Theorists go further than this though, attributing a connection to the Populist movement for each character and location in the film. For example, Dorothy represents the everyday person who struggled in Kansas, which led to the rise of Populism. The Scarecrow would be a farmer, the Tin Man shows industrialism (his lack of heart is a not-so-subtle metaphor), the Cowardly Lion provides a stand-in for Populist presidential candidate William Jennings Bryan. Gold is measured in ounces, abbreviated "oz," which could correspond to Oz, and the Emerald City might reflect the green of money.
8. Willy Wonka of Charlie and the Chocolate Factory makes candy from children
Theorist: Popular on the Internet
Plot: Candy maker Willy Wonka holds a contest in which five children are allowed to take a tour of his ultrasecret chocolate factory.
The Supporting Evidence: The film makes the point that Willy Wonka is weirdly secretive about his recipe. His factory originally shut down because he couldn't trust his workers to not be spies for other companies, which is why the Oompa Loompas were brought to work for the factory. Theorists find it strange that the pipe Augustus Gloop flies into is the perfect size for a child to fit. Additionally, in the Nut Room, there is a similar tube, but this one connects to an incinerator. Both tubes seem to be the invention of a Freddy Krueger-type rather than a kindly candy maker. Later in the film, when Wonka's candy literally turns Violet into a blueberry, he has her "juiced," which is the least subtle hint at cannibalism. Finally, based on the transportation the group uses to get around the factory, it is clear that Wonka knew they would lose members along the way. Though they lose people along the tour, there are never empty seats in future transportation that they use.
9. Drag Me to Hell is About a Girl Suffering from Bulimia
Universal Pictures
Theorist: An IMDb user, as reported on SlashFilm
Plot: A girl gets cursed by a gypsy and her life becomes progressively terror-filled.
The Supporting Evidence: Though this seems like a standard horror film, the events can all be read as eating disorder induced hallucinations. For example, a picture is shown of Christine as a young girl, posed in front of a sign that says "Pig Queen." She has clearly lost weight since the photo was taken, and way too much weight to have been unintentional. She also claims to be "lactose intolerant," but is later seen eating ice cream. It is a strange thing to lie about, and even stranger to randomly insert into a horror film, but this would make sense as an excuse for not eating food therefore a reason for hallucinations. Christine is rarely seen eating, whereas the film makes a point to show other characters eating. Many of the horror elements are oriented around food, including a cake that she's eating, which turns rotten. And, of course, many characters throw up on her throughout the movie.
10. Spider-Man is about Peter Parker hitting puberty
Tumblr
Theorist: Among many, Gaye Birch of "Den of Geek"
Plot: In the 2002 version of Spider-Man, Tobey Maguire plays Peter Parker, who gets bitten by a spider and becomes a superhero.
The Supporting Evidence: Peter Parker gets bitten by the spider as he's photographing his crush, Mary Jane Watson, which will lead to his eventual transformation. The spider bite is a pretty clear metaphor for what commonly happens during puberty when boys start to discover their sexual interests. Throughout his transformation into a superhero, Parker often stares at himself in the mirror. He continues to be shocked by his body's changes and new abilities, another symptom of puberty. At one point in the film, his Aunt May comes to the door of Peter's room and suspiciously asks what he could possibly be doing in there. It isn't hard to imagine this conversation being about a more R-rated discovery. And as for the sticky white stuff that starts coming out of Peter's hand ... again, the metaphor isn't that much of a stretch.
11. Inception is About Movie-Making
Warner Bros.
Theorist: Maria Bustillos and Devin Faraci
Plot: A group must invade someone's dream in order to plant an idea in his subconscious.
The Supporting Evidence: Star Leonardo DiCaprio may be one of the supporters of this theory, as he compared Inception to Fellini's 8 ½, which is a movie about making movies. For this theory to make sense, DiCaprio's character, Cobb, is the artistic director, who must abandon his muse, Mal, in order to create a comprehensive work. Maria Bustillos refers to this as the question of "Who are you doing this for? For your own vision, or for the audience?" Each character fits into a role within the movie-making process as well: Arthur as a producer, Eames as an actor, Yusuf as special effects, and Ariadne as a screenwriter.
These roles make sense within the plot, but also have presence in the film's imagery. Eames changes the way he looks while looking into a mirror, just as an actor would. And, as Jacopo della Quercia and J.F. Sargent point out, Yusuf is responsible for "the coolest special effects moment in the movie...and the movie specifically points out that he gets no credit for it," as production design and special effects rarely do in the film world. Some of the movie's tricks for dreams are pulled straight from movie sets as well, such as the infinite staircase.
* * *
In comments, let me know which theories you're buying and whether you have more supporting evidence for them!