11 Artists Accused of Music Plagiarism
Could it be true? That the summer's biggest hit is not really a Robin Thicke original? That's the latest controversy brewing over Thicke's "Blurred Lines." After being warned that a lawsuit was perhaps forthcoming, Thicke preemptively sued the copyright holders for Marvin Gaye's "Got to Give it Up" and George Clinton's "Sexy Ways," asking a federal judge to determine that the song is not derivative of the other two works. You can decide for yourself: Thicke vs. Gaye.
Thicke is far from alone, though: There's a long line of accusers and accused who have found themselves in similar situations.
The Issue: Although it contained some embellishment, Harrison's 1970 solo effort "My Sweet Lord" basically had the exact same melody as The Chiffons' 1963 hit "He's So Fine."
The Ruling: Though it was decided that Harrison didn't purposely steal the song—it was considered a case of subconscious theft—he was ordered to pay $1.6 million to Bright Tunes Music Corporation, about 75 percent of the song's North American sales. This was later downgraded to $587,000, but Harrison later admitted that the ruling left him too paranoid to write songs for quite some time.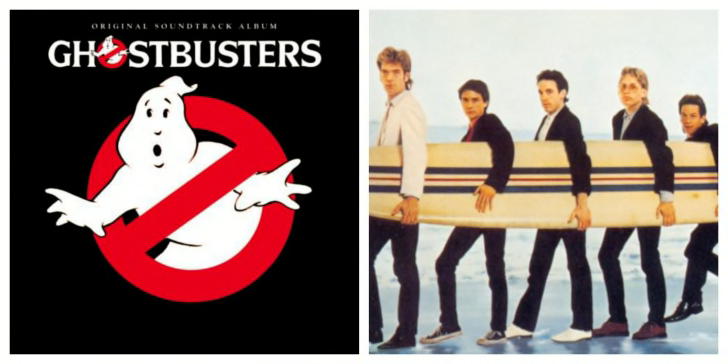 The Issue: Allegedly, the producers behind Ghostbusters approached Ray Parker, Jr., and asked him to come up with a song that included the name of the film, but was rather simple otherwise. They played Huey Lewis' "I Want a New Drug" for Parker as an example of the sound they wanted, and Parker apparently just lifted the bass line and guitar riff almost directly. Huey Lewis and his people sued for $5 million.
The Ruling: They settled out of court, and the terms of the settlement were confidential until Huey Lewis did VH1's Behind the Music series in 2001, when he said, "The offensive part was not so much that Ray Parker Jr. had ripped this song off, it was kind of symbolic of an industry that wants something—they wanted our wave, and they wanted to buy it. ... [I]t's not for sale. ... In the end, I suppose they were right. I suppose it was for sale, because, basically, they bought it."
Ray Parker, Jr., sued him for breaching the confidentiality agreement. It doesn't appear that the results of that lawsuit were made public, so it looks like people are keeping their mouths shut this time.
The Issue: The Strokes flat out admitted that they took the opening of "Last Night" directly from "American Girl."
The Ruling: Tom Petty wasn't interested in a lawsuit. "That made me laugh out loud. I was like, 'OK, good for you.' It doesn't bother me … If someone took my song note for note and stole it maliciously, then maybe. But I don't believe in lawsuits much. I think there are enough frivolous lawsuits in this country without people fighting over pop songs." Petty had a similar reaction when people pointed out the similarities between the Red Hot Chili Peppers' "Dani California" and Petty's "Last Dance With Mary Jane." He told Rolling Stone, "The truth is, I seriously doubt that there is any negative intent there. And a lot of rock and roll songs sound alike. Ask Chuck Berry."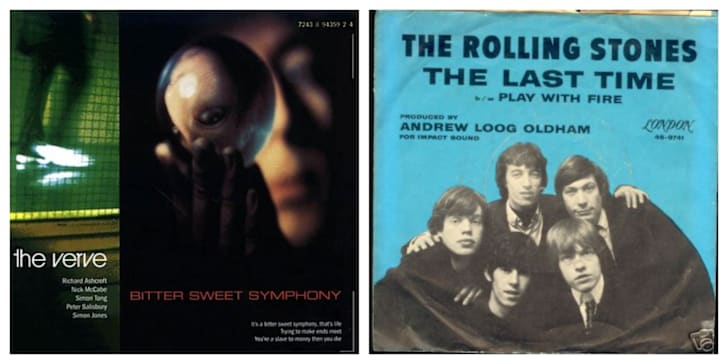 The Issue: The famous opening (and continued theme) from "Bitter Sweet Symphony" was borrowed from an orchestral version of the Stones' "The Last Time."
The Ruling: It was bittersweet, all right. A judge ordered The Verve to give musical credit entirely to Jagger-Richards—not to mention all of the profit, meaning that the band didn't make a dime off of their most popular song. Lead singer Richard Ashcroft called it the best song the Rolling Stones had written in 20 years.
The Issue: The chord structure and rhythm are the same in both songs, and the choruses share the same melody.
The Ruling: Despite urging from their lawyer, The Kinks never took legal action. Doors guitarist Robbie Krieger later stated in the liner notes of a box set that although they didn't rip anything off from the Kinks, they did rip the drumbeat of the song from Cream's "Sunshine of Your Love."
Frank Micelotta/ImageDirect/Getty Images
The Issue: The opening four bars to "Frozen" from Madonna's Ray of Light album are virtually identical to "Ma vie fout le camp" by Salvatore Acquaviva.
The Ruling: Madonna lost... but only in Belgium, where Acquaviva is from. Although a Belgian judge ruled that "Frozen" was, in fact, plagiarized, Madge didn't have to pay any damages. The judge ruled that the album be pulled from shelves and that the song be removed from radio and television play in Belgium. Just Belgium. Madonna being Madonna, she of course flouted the ruling and played the song on her Sticky and Sweet tour stop in Belgium in 2009. Aqcuaviva's representatives declined to sue.
Madonna was also accused of stealing parts of "Justify My Love" from Public Enemy.
Getty Images
The Issue: "Folsom Prison" is almost the exact same song—even down to the lyrics—as "Crescent City Blues," which came out two years before the Johnny Cash hit. Gordon Jenkins, the original songwriter, was not credited at all.

The Ruling: Cash ended up paying Jenkins about $75,000 after the At Folsom Prison album became popular. He got off easy. Listen to the songs. They're almost identical.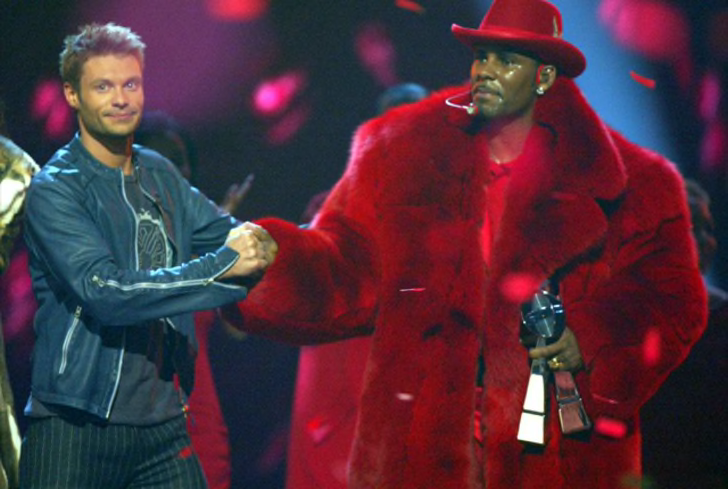 Getty Images
The Issue: Twin composers Eddie and Danny Van Passel alleged that songwriter R. Kelly stole pretty much their entire 1993 song "We Can Start All Over." "You Are Not Alone" was released in 1995. 
The Ruling: In 2007, a Belgian court finally ruled that R. Kelly did indeed steal from the Van Passel brothers. The judgment is only recognized in Belgium, where airplay of "You Are Not Alone" has been banned.
The Issue: It's the same song. Seriously, you can play "Sweet Little Sixteen" and sing the lyrics to "Surfin' USA" and it fits perfectly. Berry's record label noticed the striking similarity and went after the Beach Boys, who freely admitted they had ripped off the melody—and even the lyrical theme of visiting various locations. "I was going with a girl called Judy Bowles, and her brother Jimmy was a surfer. He knew all the surfing spots," Brian Wilson said. "I started humming the melody to 'Sweet Little Sixteen' and I got fascinated with the fact of doing it, and I thought to myself, 'God! What about trying to put surf lyrics to Sweet Little Sixteen's melody?'"
The Ruling: Berry won co-authorship on the song, plus a portion of royalties from "Surfin' USA."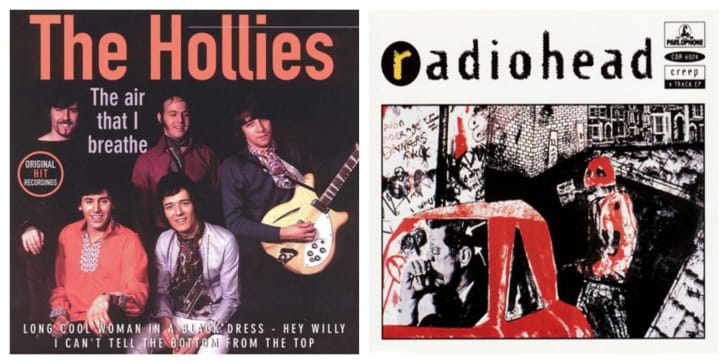 The Issue: Radiohead's debut single borrows a bridge section from The Hollies' "The Air That I Breathe". I was kind of doubtful about this one, but parts of these songs are shockingly similar.

The Ruling: According to Albert Hammond, co-author of The Hollies' song, he and Thom Yorke agreed "Creep" had creeped on "The Air That I Breathe," so Yorke agreed to share writing credit with Hammond and Mike Hazlewood and gave them both a portion of the royalties.
Getty Images
The Issue: Berry's song "You Can't Catch Me" contains the lyric, "Here come a flattop, he was movin' up with me." Sound familiar? It sounded familiar to Chuck Berry too, right down to the voice inflections.
The Ruling: To keep Berry and Morris Levy, his publisher, happy, John Lennon agreed to record three more songs from Levy's catalog. This did not go well. When Lennon only came through with two songs, Levy sued Lennon and ended up winning just under $7000. This was a pittance compared to what Lennon sued Levy for. Levy released an unauthorized album of Lennon songs based on the rough cuts Lennon sent over when he was trying to pick three songs to record to fulfill the original agreement. Levy ended up having to pay EMI $109,700 and $42,000 to Lennon for damaging his reputation with the poor quality of the record and the "horrible" cover art.
See Also:: The Time John Fogerty Was Sued for Ripping Off John Fogerty