These Are the 157 New Emojis Coming to Your Phone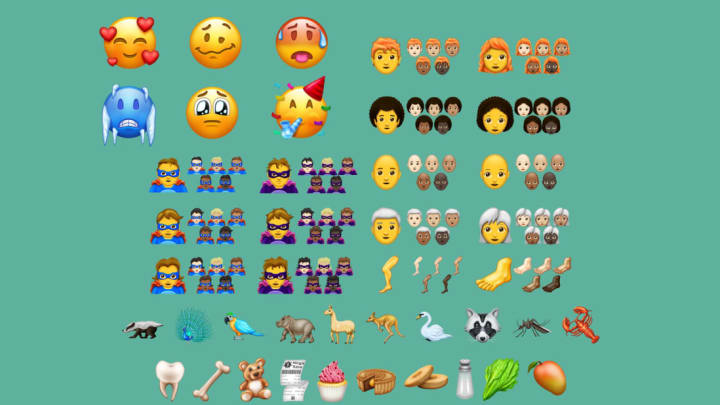 Emojipedia / Emojipedia
If words alone aren't enough to express yourself while texting, there are now new emojis at your disposable. As Slate reports, the roster of flags, smiley faces, and random sports equipment just grew by 157 pictographs. After receiving the stamp of approval from the Unicode consortium, these emojis will soon be making an appearance on your keyboard.
The release of the redhead emoji has been long-anticipated, but this newest batch includes curly hairstyles as well for the many people without straight locks. Texters also now have the choice of gray hair or no hair at all when designing their emoji avatars.
Other human-related additions include superhero and super villain emojis in various skin tones and hairdos. There are 10 new animal emojis, including a badger, a peacock, a lobster, and a kangaroo, as well as six new food emojis, like a cupcake, a mango, and a lettuce leaf.
People who prefer classic smiley-face emojis will be happy to see the six new options in that category: cold face, hot face, partying face, pleading face, woozy face, and smiling face with four hearts. Along with these come plenty of new entries, like the dismembered leg, petri dish, abacus, safety pin, and lacrosse stick.
After announcing the initial designs on February 7, the emoji-standardizing team at Unicode will vote on the final versions in June before they're made available to phone companies.
[h/t Slate]