Loch Ness Monster Spotted on British Coin Series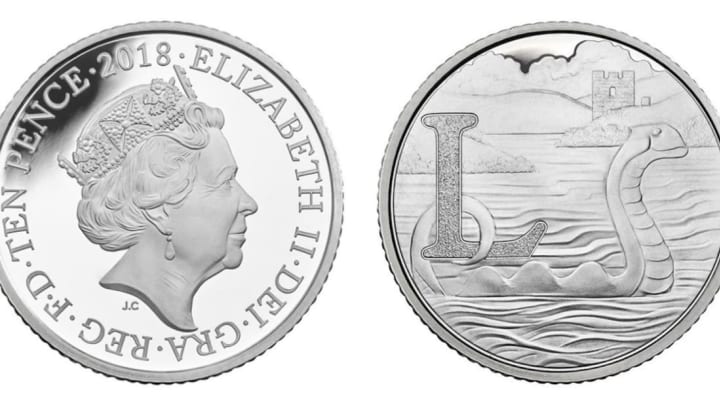 The Royal Mint / The Royal Mint
The latest British icon to be immortalized on currency isn't human (or real, for that matter). As Atlas Obscura reports, the Loch Ness Monster is the face of a new 10-pence piece from the British Royal Mint.
The nickel-plated steel coin depicts Nessie swimming in her natural habitat, with her tail curled around the letter L. The cryptid (a creature that hasn't been confirmed to exist by science) has been described as everything from a prehistoric marine reptile to a giant salamander, but the version on the coin shows a serpentine creature with a humped back.
The Nessie coin is one of 26 10-pence pieces in the new Quintessentially British A to Z series. Each coin represents a different letter of the alphabet and a corresponding piece of British culture. Along with L for Loch Ness, there's B for Bond … James Bond, F for Fish and Chips, S for Stonehenge, and Q for Queuing. Britons are encouraged to take part in the "Great British Coin Hunt" by looking for the coins in their change and collecting all 26.
For coin collectors more interested in currency adorned with non-existent beasts than British treasures, there are many options. In 2011, the Canadian Mint produced a Bigfoot coin and a series of 25-cent coins commemorating legendary lake dragons and aquatic panthers. Though the pieces were limited-edition, they're still easier to track down than an actual cryptid.
[h/t Atlas Obscura]