Larry Fine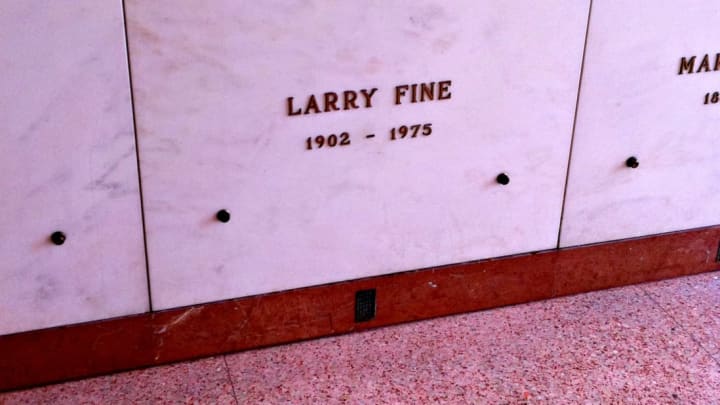 Stacy Conradt / Stacy Conradt
For years, every time we so much as touch a toe out of state, I've put cemeteries on our travel itinerary. From garden-like expanses to overgrown boot hills, whether they're the final resting places of the well-known but not that important or the important but not that well-known, I love them all. After realizing that there are a lot of taphophiles (cemetery and/or tombstone enthusiasts) out there, I'm finally putting my archive of interesting tombstones to good use.

As one of the Three Stooges, you might think that Larry Fine's final resting place would be larger than life. In reality, though, Fine's understated mausoleum spot suits the unassuming comedian to a T. Though Larry was famous for being one-third of the Stooges' slapstick style and general buffoonery, in real life, his friends said he was easygoing, agreeable, and generous to a fault, giving away enough of his fortune that he had just a few hundred dollars in his bank account when he moved into an industry retirement home. 
Prior to a debilitating stroke that paralyzed the left side of his body in 1970, Larry resided in Hollywood's famous Knickerbocker Hotel. Though he moved into Motion Picture Country Home and was confined to a wheelchair after his stroke, Larry certainly wasn't sitting around doing macrame or resting quietly in bed. Not only did he stay busy by speaking at area high schools and entertaining his fellow residents, he also started writing his memoirs and met with a constant stream of fans that wanted a chance to chat with their hero—youngsters Kevin Spacey and Bob Saget among them.
Larry suffered several more strokes, and was finally felled by one on January 24, 1975. Should you want to pay your respects to the frizzy-haired Stooge, you can find him at Forest Lawn Memorial Park Cemetery alongside his vaudevillian wife, Mabel, and other Hollywood legends such as Gummo Marx and Chico Marx, Dorothy Dandridge, George Burns, Jimmy Stewart, Clara Bow, and more (many many more).
See all the entries in our Grave Sightings series here.