Could Color-Coded Maps Be the Answer to City Parking Problems?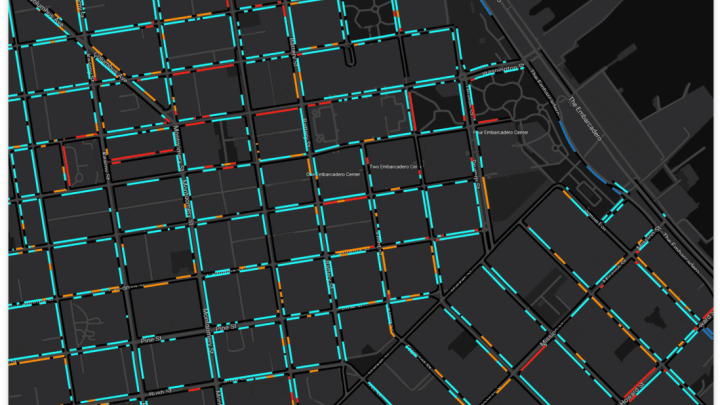 Coord / Coord
Driving in a city isn't as simple as traveling from Point A to Point B. For many motorists, it's interpreting the parking signs, scoping out curb space, and avoiding tickets once they've already reached their destination that are the challenges. A new website aims to make the urban parking process a little easier to navigate: As City Lab reports, the new Curb Explorer tool from Coord uses a handy color-coded system to map out which San Francisco curbs are fair game for drivers and which are off limits.
You can navigate Coord's San Francisco street map like you would any other digital map. But instead of just a starting point and destination, Coord asks for more information about your parking needs, such as the day and time you plan to be arriving, the type of vehicle you're driving, and its uses. Based on those variables, the map highlights curbs in different colors that signify their parking availability. Red means no parking allowed, light blue indicates free parking, and dark blue means paid parking. Whether you're looking to park some place all day or for just a few minutes, you can input that information in the system and the map will update itself accordingly.
The new tool isn't just for private car owners: It's also for the employees of ride-hailing services like Uber and Lyft, who received over 75 percent of the lane-obstruction tickets issued by San Francisco police between April and June of 2017. Since November 2017, the city has rolled out dedicated pick-up and drop-off zones for such vehicles and now Coord makes it easy for drivers to find them.
Coord has a map for only one city at the moment, and even drivers in San Francisco may find it difficult to use. It's not an app; rather, it's a website that can be accessed through mobile, and the focus is just on parking rules rather than finding you a space. But if the technology is successful it may eventually work its way into other cities and even into established navigation apps.
Coord
Coord
[h/t City Lab]