8 Things You Might Not Know About B.C.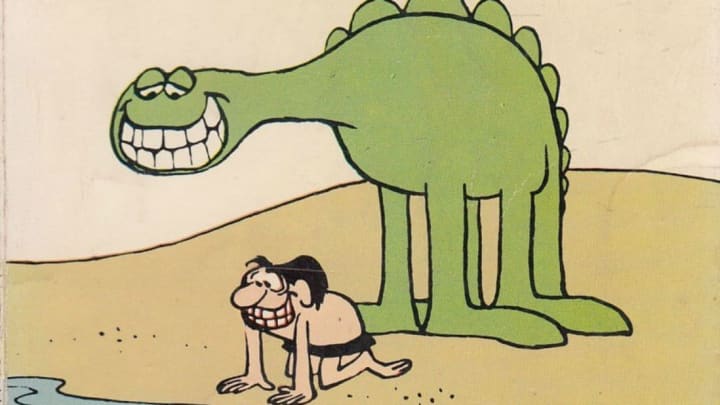 Creators Syndicate / Creators Syndicate
Debuting in 1958, cartoonist Johnny Hart's B.C. took a humorous view of Stone Age life that pre-dated The Flintstones by two years. Although Hart passed away in 2007, the strip continues daily, with Hart's grandson Mason Mastroianni currently at the drawing board. For more on the misadventures of Hart's cavemen, check out some facts about the strip's origins, its controversies, and how it changed the face of one California college.
1. IT WAS ORIGINALLY CALLED SUCK EGG.
After getting encouragement from artist—and future collaborator on The Wizard of Id—Brant Parker in a high school art contest, Hart decided to become a freelance cartoonist. But after seeing Peanuts in print for the first time in the late 1950s, Hart realized that comic strips provided a sequential freedom that single-panel gag cartoons didn't. Fond of caveman jokes, Hart began designing triangular-shaped characters who could juxtapose primal life with modern day observations. He decided to call it Suck Egg based on an egg joke in an early strip; recalling his wife, Bobby, talked him out of it, the strip was later titled B.C. after one of its lead characters.
2. HART HAD A JOKE-GENERATING STRATEGY.
For the anachronistic punchlines in B.C.—his cavemen had concerns over technology, romance, and religion—Hart enlisted two of his friends, Jack Caprio and Dick Boland, for joke-writing sessions. Hart liked to focus on one concept, like books or jobs, and then write down every word he could think of that was associated with the idea, hoping to turn one or more of them into puns. 
3. HE DREW VERY QUICKLY.
While some cartoonists can take a full day to pencil and ink a strip, Hart preferred to expedite the process. Although writing jokes could resemble a marathon, executing them in panels was a sprint. Aided in some measure by the stylized, spare style of B.C., Hart could draw a week's worth of strips in a matter of hours.
4. THE CHARACTERS WERE PATTERNED AFTER HIS FRIENDS.
Trying to assign distinct personalities to the cast of B.C., Hart took his wife's suggestion that he use his friends as inspiration. Working as an art director for GE at the time, Hart created Thor after co-worker Thornton Kinney; Clumsy Carp was the nickname of a childhood friend; the one-legged Wiley was modeled after his brother-in-law, who had lost his leg in World War II. Wiley was an avid athlete, so Hart made him captain of the (prehistoric) sports teams.
5. HART ENDORSED DR PEPPER.
In 1963 and 1964, Hart agreed to design some original characters to accompany print ads for the Dr Pepper soft drink. After drafting a caveman named Harmon—who could eat bottles and extract the caps—he used him as inspiration for the monosyllabic Grog in the B.C. strip. The campaign also involved a 1966 television commercial featuring an animated interlude.
6. SOME NEWSPAPERS DROPPED THE STRIP OVER ITS RELIGIOUS CONTENT.
In the 1980s, Hart experienced a religious conversion, embracing Christianity and using B.C. as a pulpit for expressing his faith. At times, he would use overt Christian symbolism that alienated readers who believed comic strips should be nondenominational. Several newspapers dropped the strip, including the Chicago Sun-Times. Others, like The Washington Post, opted not to run the Sunday installments, which focused more on theology. Following a 2001 strip that depicted a menorah transforming into a cross, some readers took it as Hart implying Christianity was superior to Judaism. In a press release, Hart apologized if the cartoon caused any offense.
7. IT WAS ADAPTED INTO ANIMATION.
Hart's first involvement in animation, B.C.: The First Thanksgiving, aired on NBC in 1973: The characters go in search of a turkey without actually knowing what one looks like. Preceding Hart's future focus on religion, B.C. was also adapted into an animated Christmas short for HBO, B.C.: A Special Christmas, in 1981.  
8. IT INSPIRED A COLLEGE SPORTS MASCOT.
Like Snoopy, the personable anteater of B.C. became an early breakout animal character that helped draw attention to the strip. It also inspired a movement at UC Irvine, which had settled on an anteater mascot in 1965 and proceeded to use Hart's drawings (with Hart's permission) as the basis for their graphic design. "Peter the Anteater" appears as bronze statues and personal accessories like key chains on campus.