Tug of War Used to Be an Olympic Sport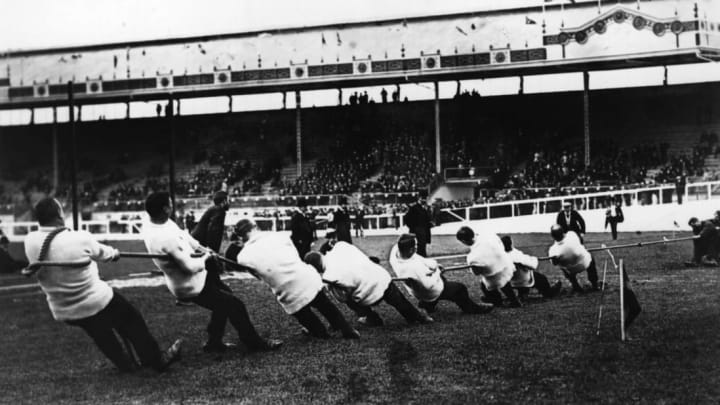 Great Britain's Liverpool St Police tug-of-war team taking on Ireland at the 1908 London Olympics. / Topical Press Agency/Getty Images
It might be hard to imagine these days, but tug-of-war was once an Olympic sport—in fact, it made the program for every Olympics from Paris in 1900 to Antwerp in 1920. Tug of war appeared in six games total (though the 1916 Olympics was canceled because of World War I, tug-of-war was included in the Intercalated Games held in 1906) as part of the track and field athletics program.
For the first two Games, five or six members made up a team; that number changed to eight with the 1908 Olympics. Olympic tug-of-war was played in pretty much the same way you remember from grade-school field days: According to Time, "Official rules stipulated that an eight-man team had to pull their opponents six feet to win. If either side failed to do so, judges gave the struggle a further five minutes and then declared the team who had made the most progress the victors." Each country could enter multiple teams (though they didn't always do this).
The sport was a magnet for Olympic controversies. The 1904 gold medal–winning American squad was ostensibly representing the Milwaukee Athletic Club, but further research established that the team was actually composed of ringers recruited from Chicago.
Scandal struck again at the 1908 Games when the American squad protested that the police boots worn by the British pullers from the Liverpool Police team were equipped with illegal cleats for extra traction. According to Alan Knott of England's Tug of War Association, "At the close of the competition, the Liverpool Police team offered to pull their American opponents in bare feet, but that offer was declined." The Americans withdrew from the competition, and Great Britain, who entered three tug-of-war teams that Olympics, ended up taking the gold, silver, and bronze medals.
In 1912, a number of countries withdrew from the tug-of-war competition, which meant the only match that occurred was between Great Britain and Sweden. Sweden eventually won after the British team sat down in the second pull, leading to their disqualification.
Tug-of-war was ultimately dropped from the Olympics after 1920. Great Britain was the reigning champ of the event, with five medals total over the course of the sport's inclusion in the Games.
A version of this story ran in 2014; it has been updated for 2021.