Six Flags St. Louis Is Daring Guests to Spend 30 Hours in a Coffin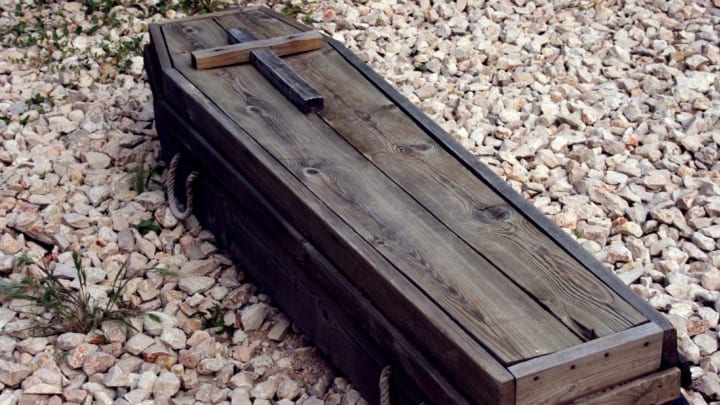 iStock / iStock
Six Flags St. Louis is inviting six guests to stay in the park for 30 straight hours this Halloween season. The only catch: Instead of riding roller coasters, they'll be spending over a full day inside a coffin, WATE reports
As the name suggests, the theme park's Fright Fest 30-Hour Coffin Challenge dares thrill-seekers to experience what it's like to live like the undead. On Saturday, October 13 at 1 p.m., the six chosen participants will crawl into the "slightly used" 2-by-7-foot caskets they'll call home until 7 p.m. the next day.
Compared to being buried alive, the challenge sounds downright cozy. The surrogate cadavers are free to bring pillows, blankets, and sleeping bags into their coffins to make their stay more comfortable. They will be allowed one six-minute bathroom break per hour, and meals, snacks, and drinks will be provided. The coffins have been outfitted with phone charging stations, so inhabitants can Instagram their experiences from the other side.
The challenge will take place during Fright Fest, Six Flags's Halloween celebration, so participants will have to put up with random visits from the 'Fright Fest Freaks' roaming the park. But if they can endure all that, they will be rewarded. Contestants who remain in their coffin for the full 30 hours, not including bathroom breaks, will receive two Six Flags 2019 season passes, a Fright Fest prize package with two VIP haunted house passes, and two tickets to ride the park's haunted train ride. The remaining participants will also be entered into a random drawing to win a $300 prize. And best of all—everyone who completes the challenge gets to take their coffin home with them.
If you're interested in spending one of your October weekends in a coffin, you can enter to participate in the competition by filling out this form and submitting it before midnight on October 3.
[h/t WATE]