14 Surprising Facts About William Shakespeare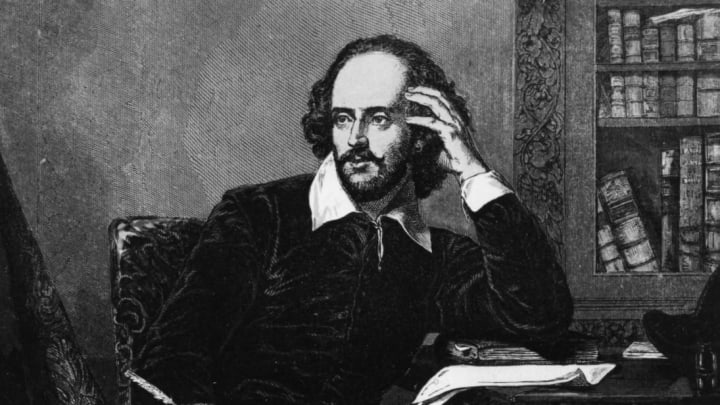 Hulton Archive, Getty Images / Hulton Archive, Getty Images
Despite his many contributions to English literature, surprisingly little is known about William Shakespeare's life. For the past four centuries, historians have had the difficult task of piecing together the Bard's biography with only a handful of old legal documents. Here's what we do know about the celebrated actor, poet, and playwright.
1. william Shakespeare's writing was likely influenced by his father's legal troubles.
When Shakespeare was about 5 years old, his father, John—a glovemaker—was accused of illegal money-lending and wool-dealing by Crown informers. The ordeal plunged the elder Shakespeare into legal troubles that would plague him for the next decade. "William grew to adulthood in a household where his father had fallen in social and economic rank," historian Glyn Parry told The Guardian . Parry argued that the experience likely shaped Shakespeare's attitudes toward power, class, and the monarchy—major themes in his future works.
2. William Shakespeare got married because of an unexpected pregnancy.
Shakespeare was 18 when he learned that Anne Hathaway, 26, was pregnant with his first child. The couple quickly decided to marry in November 1582 and greeted daughter Susanna in May 1583. Two years later, they had twins Judith and Hamnet. Unfortunately, Shakespeare has no living direct descendants: Hamnet died at age 11, probably a victim of some disease; Judith outlived her three children; and Susanna had one daughter, Elizabeth, who was childless.
3. Nobody knows what William Shakespeare did between 1585 and 1592.
It may be no surprise that the author of Romeo and Juliet had a penchant for bringing lovers together: He once helped arrange the marriage of his landlord's daughter. The only reason we know this, however, is because the marriage had a rocky start. When a dispute over the dowry boiled over, Shakespeare had to go to court to act as a character witness for his landlord, whom he called a "very honest fellow." The transcript is the only record of Shakespeare speaking.
4. William Shakespeare was, first and foremost, an actor.
An engraving of Shakespeare by E Scriven, after Humphrey's drawing known as the 'Chandos portrait,' circa 1590. / Hulton Archive, Getty Images
Shakespeare became an actor at a time when the job was considered downright unsavory. "[A]ctors were already marked as undesirables by England's vagrancy laws, which mandated that traveling troupes had to find aristocratic patronage," John Paul Rollert wrote in The Atlantic . "Rogue players ran the risk of being flogged, branded, and finally hanged." Little is known of Shakespeare's acting chops, but it's believed Shakespeare favored playing " kingly parts ," including the ghost in his own Hamlet .
5. William Shakespeare may have participated in organized crime.
In the 1590s, many of London's theaters operated as shady fronts for organized crime. (The Lord Mayor of London decried the theater—and specifically plans for the new Swan Theatre, where Shakespeare may have briefly worked—as a meeting spot for "thieves, horse-stealers, whoremongers, cozeners, conny-catching persons, practisers of treason, and such other like.") In 1596, Swan Theater owner Francis Langley accused William Gardiner and his stepson William Wayte of making death threats. Soon after, Wayte retaliated with the same accusations against Langley and—for some reason—William Shakespeare. This has led historian Mike Dash to suggest that Shakespeare may have been involved in some unspoken criminal activity.
6. William Shakespeare was a matchmaker (and a marital peace-maker).
After the birth of his twins, Shakespeare fell off the map for seven years. One unsubstantiated theory (and there are many) suggests that he supported his family by working as a lawyer or legal clerk. Indeed, Shakespeare's plays show an impressive grasp of legal knowledge. "No dramatist of the time … used legal phrases with Shakespeare's readiness and exactness," wrote 19th-century literary critic Richard Grant White. (High praise considering that Shakespeare once wrote , "Let's kill all the lawyers.")
7. The first printed reference to William Shakespeare as a playwright was an insult.
The first mention of William Shakespeare as a playwright appeared in 1592, when the dramatist Robert Greene (or possibly Henry Chettle) called him an "upstart Crow [who] … supposes he is as well able to bombast out a blank verse as the best of you." (In other words: A jack-of-all-trades, and a master of none.) Future reviewers would offer kinder words; in 1598, the critic Francis Meres called him "mellifluous and honey-tongued."
8. William Shakespeare likely helped steal a theater, piece by piece.
In 1596, the Theatre in Shoreditch—where Shakespeare cut his teeth as an actor—went dark. The lease for the property on which it was built had expired, and Shakespeare's acting troupe, the Lord Chamberlain's Men, were forced to take their show elsewhere. Two years later, the former owners hatched a crazy plan to take their playhouse back. One winter night in 1598, a group armed themselves with swords and axes , snuck into the theater, and began dismantling the playhouse piece by piece—although it would take more than one night to demolish it. While there's no evidence that Shakespeare joined the crew, he certainly knew about the raid. Eventually, parts of the playhouse would go into the construction of a new theater just south of the River Thames. Its new name? The Globe.
9. Only one handwritten script of William Shakespeare's exists.
Five examples of the autograph of William Shakespeare, circa 1610. / Hulton Archive, Getty Images
Anyone interested in studying the Bard's cramped handwriting has only one reliable place to look—the original draft of the Book of Sir Thomas More , a politically-charged play that targeted, in-part, xenophobia in England. Written mainly by dramatist Anthony Munday, the play was completed with the help of four fellow playwrights. One of them, presumed to be Shakespeare, helped write a stirring monologue in which the lead character asks an anti-immigrant mob to imagine themselves as refugees.
Say now the king … Should so much come too short of your great trespass As but to banish you, whither would you go? What country, by the nature of your error, Should give you harbour?
The play, by the way, would not be performed. Censors believed it could start a riot.
10. William Shakespeare may have been a tax cheat.
In the late 16th century, English residents had to pay a tax on personal wealth called a lay subsidy . In 1597, Shakespeare was supposed to pay a tax of five shillings. The following year, he was supposed to pay a larger tax of 13 shillings and 4 pence. Documents show that the Bard never paid the piper. (His reasons are a matter of speculation, but it could have been a clerical error because he'd already moved away from the parish.)
11. William Shakespeare was a grain hoarder.
According to the UK Parliament, between 1604 and 1914 over 5200 enclosure bills were enacted, which restricted the use of vital, publicly-used farmland. Ensuing riots in 1607, called the Midland Revolts, coincided with a period of devastating food shortages. It appears that Shakespeare responded to the situation by hoarding grain. According to the Los Angeles Times , he "purchased and stored grain, malt and barley for resale at inflated prices to his neighbors and local tradesmen."
12. The Globe Theatre burned down during a performance of one of William Shakespeare's plays.
An 1647 engraving by Hollar of Shakespeare's Globe Theatre. / Rischgitz, Getty Images
On June 29, 1613, a prop cannon caused a fire at the Globe Theatre during a performance of Henry VIII . Sparks landed on the thatched roof and flames quickly spread. "It kindled inwardly, and ran round like a train, consuming within less than an hour the whole house to the very ground," a witness Sir Henry Wotton claimed . According to The Telegraph , "the only reported injury was a man whose flaming breeches were eventually put out using a handy bottle of ale."
13. William Shakespeare laid a curse upon his own grave.
When Shakespeare died in 1616, grave-robbing was extremely common. To ensure he'd rest through eternity peacefully, the Bard is believed to have penned this curse , which appears on his gravestone.
Good frend for Jesus sake forbeare, To digg the dust Encloased heare: Bleste be [the] man [that] spares these stones, And curst be he [that] moves my bones.
Unfortunately, somebody apparently ignored the dead man's foreboding words. In 2016, researchers scanned the grave with ground-penetrating radar and discovered that grave robbers might have stolen Shakespeare's skull.
14. William Shakespeare's legacy lived on thanks to two fellow actors.
Rischgitz, Getty Images
Shortly after Shakespeare died, two of his longtime friends and colleagues— John Heminge and Henry Condell —edited Shakespeare's plays and collected them in a 1623 book titled Mr. William Shakespeares Comedies, Histories, & Tragedies . That same book, now called the First Folio, helped preserve Shakespeare's work for the coming generations and is widely considered one of the most significant books printed in English.