Google's Celebrating Its 20th Birthday With Some Retro Easter Eggs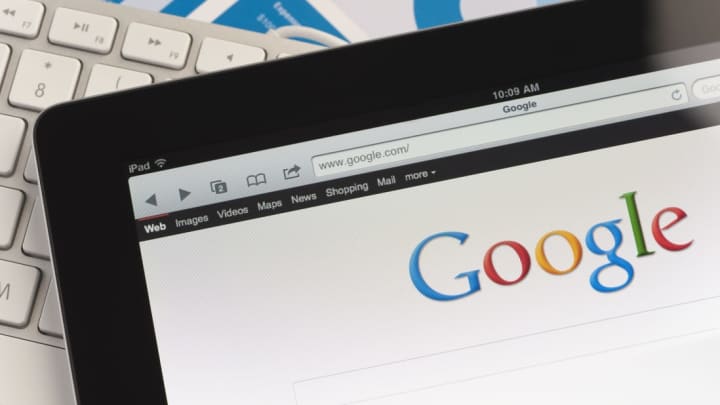 iStock / iStock
A lot has changed at Google since the search engine launched in 1998. The company has changed its name from BackRub, moved out of the San Francisco garage where it was founded, and grown into a multibillion-dollar company. The world has changed a lot too in the past two decades, and Google is reminding users of that today with some retro Easter eggs created for its 20th anniversary.
According to TechCrunch, searching these 16 terms pulled from the late 1990s on Thursday, September 27 brings up special prompt suggestions meant to bring you back to the present. Search "digital pet," for example, and Google will ask "It's 2018! Did you mean fidget spinner?" "Screen name" brings up the suggestion "social handle," "clip art" prompts "GIF," and "gettin' jiggy wit it" leads to "floss dance." You can check out the full list of keywords below.
1. mp3 file // stream music
2. watch a dvd // streaming subscription
3. googol // Google
4. gettin' jiggy wit it // floss dance
5. page me // New phone, who dis?
6. butterfly clip styles // top knot
7. soccer world champions 1998 // soccer world champions 2018
8. chat room // text the group
9. how to tell someone you like them // swipe right
10. low-rider pants // how to style high-waisted pants
11. digital pet // fidget spinner
12. baby // bae
13. 143 // ILYSM
14. what is Y2K? // how does cryptocurrency work?
15. screen name // social handle
16. clip art // GIF
The special search suggestions aren't the only way Google is celebrating 20 years online. Today the site's doodle features some popular searches from past years (you can watch it below). You can also check out Google Street View today to take a tour around the garage where internet history was made in 1998.
[h/t TechCrunch]