11 Alternative Summer Camps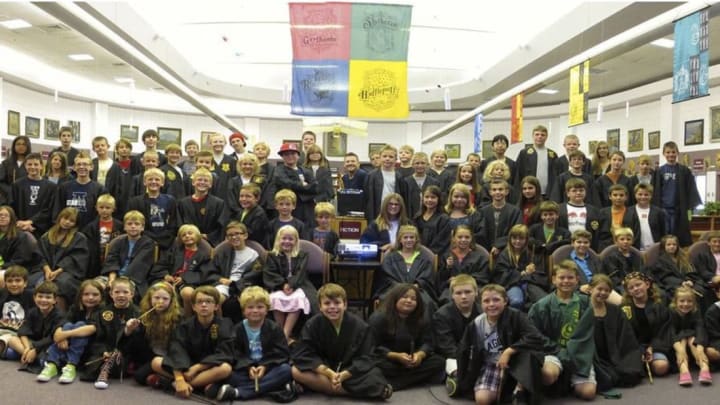 harry potter camp / harry potter camp
All a summer camp used to need to keep kids entertained was a good ball field and a place to go swimming. Now, though, campers can while away their summer days doing all sorts of specialized camping. Let's take a look at some camps that appeal to kids with specific interests.
1. Kids 'N Comedy Camp
"Take a break from the mosquitoes and the kumbayas," says the official website, "and spend 2 weeks at the Gotham Comedy Club in Manhattan, learning about improv, comic acting, and stand-up comedy!" Every session ends with the participants putting together a live "graduation" show like the one above from 2008.
2. Explosives Camp
If your teen loves pyrotechnics, don't let her summer go up in smoke. The Missouri University of Science & Technology admits 20 lucky high-schoolers into this elite program every June. During the application process, prospective campers are asked to submit a 500 word essay about "Why I am interested in a career focusing on the application of explosives." If accepted, your son or daughter will learn safety procedures, demolition basics, and how to build 3-inch firework shells.
3. Ninja Camp USA 
Here's an epic recruitment video guaranteed to stir your inner ninja. Sessions are held in New York state's Orange County during June, July, and October. 
4. Spy Camp
Spy Camp feels so authentic, it might as well be classified. Training missions, making top-notch disguises, and learning the ropes from actual spies are all part of the package. And as an added bonus, the super-secret camp is hosted by Washington D.C.'s International Spy Museum.
5. Fiji Shark Studies Camp
Before departing for college, kids can go scuba-diving off the coast of Fiji with the ocean's most misunderstood denizens.
6. "Talk to the Hand" Puppet Camp
With a name like that, it has to be good! Aspiring Jim Hensons throughout the greater Portland area construct their very own puppets before showing them off in an original stage play.
7. Pali Hollywood Stunt Camp
"There's a lot of trust involved," says stunt director Dean Cudworth. "I start kids off at a two-foot fall. Every day, I go up about two [to] three feet." That all adds up. Other heart-pounding activities include stage-fighting and motorsports.
8. Wizards and Warriors Camp
Located in northeastern Massachusetts, the camp helps kids create their own characters and partake in a large-scale fantasy roleplaying game. 
9. Urban Kid Adventures
New York City's Urban Kid Adventures teaches city kids about the wonders of nature. Their goal is to "provide a fun, safe, environment where the children can discover first hand how awesome nature is"—from friction fires to archery. UKA also runs seminars and workshops for adults.
10. Canada's 1st Zombie Survival Training Camp
It's the trend that just won't die! These brain-eaters have become media darlings lately. Should the living dead ever actually rise, you'll be well-prepared to fend them off after mastering "hand-to-rotting-hand combat" and this unique camp. 
11. Harry Potter Camp
This delightful camp (run by Logan, Utah's school district) has been "Bringing Magic to Muggles" by helping Potter parents educate the next generation of witches and wizards for over a decade. Now, if only somebody would start a Game of Thrones version…