The Curious Case of the $2 Bill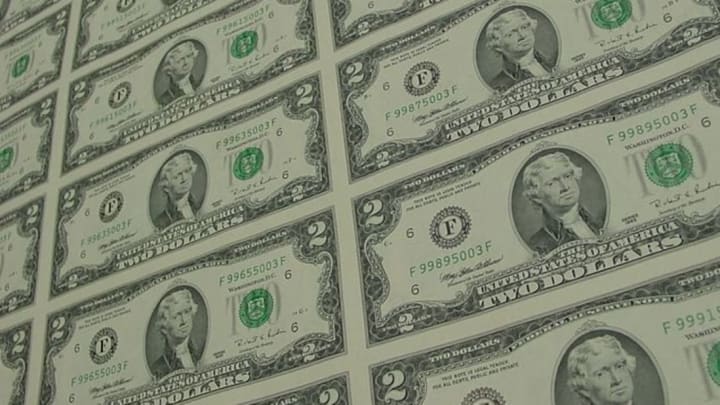 Wikimedia Commons / Wikimedia Commons
The funny thing about $2 bills is that when people talk about them—and they do talk about them, in a niche but thriving community—there seems to be a step missing in the logic. And that step is the first one. Everyone who deals with American money—even people who dedicate very little thought to the matter—knows that $2 bills are something worth commenting on. They're something worth commenting on because they aren't seen very much. They aren't seen very much because they aren't printed very often. They aren't printed very often because people are disinclined to use them. People are disinclined to use them because they are thought to be special—or sometimes even fake—because of how rare they are. And now we have come full circle without establishing how this thinking got started.
$2 BILLS IN HISTORY
The first printing of $2 bills was in 1862, just one year after the U.S. Treasury began printing paper money. Initially, the bill featured Alexander Hamilton, but in 1869, the first Secretary of the Treasury was replaced with Thomas Jefferson, whose portrait still graces the tender. Production was discontinued in 1966, with the Economic Review citing "insufficient use."
A decade later, twos were revived as part of a bicentennial celebration. A New York Times article from the year before the reintroduction reminded readers that "public reluctance to accept and use the $2 bill was the principal cause of its discontinuance nine years ago, and the main reason for that reluctance was the relative scarcity of the note in circulation." Again, circular logic: No one uses them because ... no one uses them. The Times went so far as to cite a Harvard Business School study that found an unlucky reputation was not to blame in the two's demise, with only two percent of respondents claiming to have ever associated the tender with bad luck.
The article reported government trepidation that a bicentennial bill would also be held out of circulation as a souvenir. Despite this concern, the 1976 twos were released with an image of the 1776 signing of the Declaration of Independence on the back and a plan to print 400 million bills annually.
$2 BILLS NOW
However, these days, they're printed whenever the demand arises—which isn't often, considering the reluctance to spend them. But as recently as last year, 45 million more $2 bills were introduced into the economy. To put that in perspective, the oft-overlooked denomination still makes up a mere 3 percent of all U.S. bills in circulation.
And now, it seems, we are living in a peculiar moment in the $2 bill story. As documented in a New York Times story from earlier this year, aficionados are trying to bring the bill back into vogue. The paradox is that the appeal of these bills is their very scarcity.
Heather McCabe—who is profiled in the piece—runs a blog, Two Buckaroo, where she documents the reactions of unsuspecting cashiers when she uses $2 bills in everyday transactions. I figured she might have some insight into our mystery. First, though, we needed to establish something. "When you ask why the bills became rare in the first place, are you asking about pre-1966 or post-1976?" she asked.
THE COLLECTIBLE $2 BILL
Post-1976 is easier to understand: The ten-year gap in production meant that the bills were, at least at first, naturally rarer than other denominations. And the concern about souvenir status was apparently not unfounded. According to McCabe, "When the $2 bill was reintroduced [on April 13, 1976], people could take first-day issues of the bill to the post office to get them stamped with a postage stamp and a rubber cancellation stamp. This made the bill seem special, a collectible, a keepsake." So many people had this same idea that the postmarked bills were rendered no more special than the regular old twos, but they still couldn't shake the status as a collector's item.
Pre-1966 is trickier, but McCabe has a theory that is reinforced each time she hands a cashier a $2 bill: "There's no commercial infrastructure for the bill in retail situations. Cash registers don't have a drawer for the $2 bill. As long as that's the case, the $2 bill will be a cash outcast."
That was true before 1966, and continues to be the case to this day. It seems like such a small thing, but the process can be internally exponential in that way. If $2 bills were always just a little bit more difficult to use than other denominations, perhaps that was just the push they needed to reach the incredulity-inducing, superstitious status they hold today.
Of course, why the cash registers were originally made without room for twos is just another question in the curious case of the $2 bill, but that might be a quirk that is lost to history.
Primary photo courtesy of Christopher Hollis via creative commons.